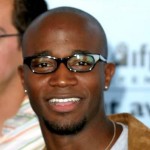 When this picture first showed up a ways back I wrote it off, just like any reasonable individual would. I wouldn't give EQUILIBRIUM the time of day. Or watch it. I figured it was a poor man's MATRIX. Nothing against the poor, we are good people. I'm just saying a poor man can't make the real matrix, only a fake one starring Jim Belushi and Coolio. Admittedly, this one stars Christian Bale and Taye Diggs, so it's not that poor. Still, I really wasn't too curious to see the movie, the only thing I was curious about was how poor Christian American Psycho Bale wound up trading his unending integrity for a leather coat and a pair of pistols. But the picture has stuck around sort of, kept alive by a small but dedicated cult following. Which I guess is the definition of a cult following, small but dedicated. Man, let's just move on to the next paragraph.
Point is, I've seen a whole lot of weirdos on the internet calling the director Kurt Wimmer a genius who reinvented action and why can't Kurt Wimmer direct X-Men 3 and Mission Impossible 3 and Brown Bunny 2 and etc. Actually it was probaly just one guy but it seemed like more than one at the time. So all the sudden it turned out I was curious just what the hell this EQUILIBRIUM was all about. Incidentally, I don't know if you know this but curiosity is the number one suspect in the murder of the cat. Just a little aside there.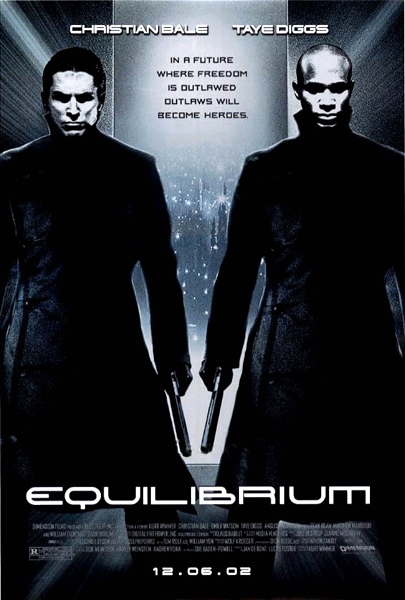 Well I can sort of understand why these guys are in love with EQUILIBRIUM. Sort of. It's involving enough, it's got a couple original spins on alot of shit you've seen before. But mainly it's got Christian Bale. This guy is Batman by the way, you would recognize him. But he doesn't wear a cape in this one though, this was before.
Christian Bale plays an elite government enforcer in a dystopian future, A WORLD WHERE FEELINGS ARE AGAINST THE LAW. It seems that ONLY ONE MAN – and I'm talking about Christian Bale here – well, you've heard narration before, you can probaly figure out what the one man will do in the world where etc. But first of all he's on the wrong side. His job is to go around burning art (in fact he burns the Mona Lisa, which is a pretty fuckin big notch in the belt for a guy with the job of burning art, so way to go on that one Christian Bale, you deserve a promotion) and executing people for listening to records or reading book of Yeats poetry. My poems are not mentioned. Everybody looks grim all the time and wears black, and the insdes of buildings and even car interiors are white. You know, like THX-1138, or DMX's house in BELLY. This is one of them futures where everybody has to take drugs and there's big video screens and loudspeakers in public squares where Big Brother, whose name is Father, has to fuckin yap about it all the time, like they don't already know the premise of the world they live in. A world without feelings, love is against the law, our great society blahgety blahgety blah. It looks like a dystopian future that would be created for a car commercial.
Of course, Christian stops taking his drugs, listens to a record and helps the rebels overthrow the fuckin Man. He's good at fighting because he's "GRAMMATON CLERIC JOHN PRESTON," a phrase the director tosses around casually on the commentary track like it captured the popular consciousness and kept it in a little baggie all summer. Little kids running around wearing EQUILIBRIUM pajamas talkin about Grammatron Cleric this and Grammatron Cleric that. E.T. phone home, Luke I'm your father, I'll be back, Grammatron Cleric John Preston.
I don't know why I'm explaining this to you, it's not like you've been living in a cave, but KURT WIMMER'S GRAMMATON CLERIC is a specially trained Mona-Lisa-burner who does GUN-KATA, a special type of karate where you hold two guns and every time you do a karate WHOOSH or WHAP you also fire off a couple shots. Also the guns have little spikes that pop out of the handles so you can hit people with them. And there's this whole thing about how they memorize the statistical probability of each gun move for maximum accuracy in busting caps in asses. That part of the concept seems about 99% bullshit to me, but I am no statistician. Anyway, this gun version of gymkata is a silly idea but I thought it worked, it made for an interesting new take on matrixy action. And no matrixy camera shots, by the way. That helped.
One problem with the action, they gotta play dance music every time GRAMMATON CLERIC JOHN PRESTON is gonna fight. Isn't it time we moved on from that one? I want to see karate with a jazz score. Or maybe some old country. Willie Nelson's "crazy" is a pretty song, isn't it? How bout a piano version of "I Get a Kick Out of You." I always figured that would make a good end credits song on a KICKBOXER sequel. At least try something else besides the ol' dance music is what I'm saying.
It's hard not to get involved in a movie like this, because Christian Bale is real good as always, and he gets to kick people and shoot guns and at the end he puts on an all white suit for the final battle. (Statistics prove that wearing a white suit improves the probability of dodging bullets, maybe. I don't know, you'd have to ask a GRAMMATON CLERIC.) And as matrixy as the ending is, it's alays a thrill to see the revolution, the masses actually throwing down, revolting against the system, throwing shit at the riot police. Little kids in class, smiling because they hear the drug factories exploding across town. I mean you gotta enjoy a movie like that. It's an easy ball to hit.
BUT. But there's a big but. The but is I couldn't really cotton to the basic science fictional premise here. And that made it a little hard to swallow. I'm not talking about the plausibility, although you could pick at that. It's fun to pick at scabs. But my trouble is, why does this Kurt Wimmer imagine a dark future where feelings are against the law? I listened to some of his commentary track to try to understand where he was coming from, but I'm still in the dark. He says 1984 is about socialism, and Fahrenheit 451 is about McCarthyism, but Equilibrium is about, um, "numbness."
Come on man, NUMBNESS? 1984 is still relevant today, Orwell comes up on pretty much a daily basis because the problems he was writing about, the future he was extrapolating, that shit is as relevant as ever now. The memory hole, war is peace, Department of Peace, 3+2+4, all that shit. Orwell saw all that and what Kurt Wimmer sees is… fucking numbness?
That's the best you can do, numb nuts? Come on.
He brings up psychiatric drugs, "oversaturation of media" and even the MPAA. You know, things I'd whine about too, but how the fuck do you leap from that to A WORLD WHERE FEELINGS ARE AGAINST THE LAW? People have been freaking out about Elvis's hips since before Elvis was born, now you think they're gonna outlaw poetry and burn the Mona Lisa because they think it causes feelings and feelings causes wars?
I mean I know it's not meant to be taken 100% literally, but it seems like a half assed premise to me. I couldn't shake the feeling that the guy was into the style of sci-fi stories with a message, but forgot his message at home and didn't have time to go back and get it. I just never felt a resonance, like this is a logical extention of problems we have today. I don't think this type of future story has to seem like it might really happen, but come on. There is NO FUCKING WAY this world ever happens, either literally or metaphorically. It doesn't even make sense.
And the tyrannical government in this one destroys art not to control the people, but to STOP WAR. And it seems like it actually worked. Man, don't you wish you could even imagine a future where the biggest problem is the leaders trying to STOP WAR? And the leaders really believe what they're telling us! We can't worry about that, we don't have that luxury.
EQUILIBRIUM has the ring of familiarity, because we've seen movies like that. But it doesn't have the ring of truth. It's too bad because you can live with a stupid sci-fi movie, but it's harder to give a pass to a stupid sci-fi movie that thinks it's Albert Einstein.
Nice try, good action, but no dice.
NOTE: I thought the commentary track might improve my appreciation of the movie, but that plan backfired. The guy seems like kind of a jackass. First he tries to be open about the movie being similar to other sci-fi movies, but then he spends half the thing explaining why actually this part is not taken from Clockwork Orange, and actually this part is not taken from the Matrix, and etc. Oh well. I still plan to check out Wimmer's directorial debut though, a Brian Bosworth movie originally titled ONE TOUGH BASTARD. I'm not seeing it for Wimmer though, I'm seeing it 25% for the Boz and 75% for the title. Ask any GRAMMATON CLERIC they will draw you a chart.
This entry was posted on Tuesday, August 2nd, 2005 at 6:10 am and is filed under
Reviews
,
Science Fiction and Space Shit
. You can follow any responses to this entry through the
RSS 2.0
feed. You can skip to the end and leave a response. Pinging is currently not allowed.