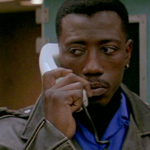 I have to thank you guys, because I only watched this because it was rated #1 in the suggestions, and I figured I owed it to everybody to do something with those. This is the third time I've seen PASSENGER 57, but the first time I properly appreciated it. I always saw it as a pretty eventless poor man's DIE HARD with one great line for the trailer, but now I can respect it as a solid, no-frills tribute to the abilities of Wesley Snipes. I mean, it's no BLADE obviously, but it's better than ART OF WAR 1-2.
First we meet our poor man's Hans Grueber, though: Bruce Payne as the infamous airplane bomber Charles "Rane of Terror" Rane. He's escaped capture by repeatedly getting plastic surgery, just like Parker between his first two books, or Michael Knight's evil cousin Garth. When we first meet Rane he's about to do go under the knife, and for security reasons he insists on no anesthetic. (Let me tell you man, that's no way to live.) But then he realizes the FBI is on to him, so he makes a run for it and fails.

One way you know this Charles Rane guy is an asshole is he asks "Have I made myself clear?" I mean, is there any situation where you can ask someone "Have I made myself clear?" and you're not a fuckin asshole? I don't think there is.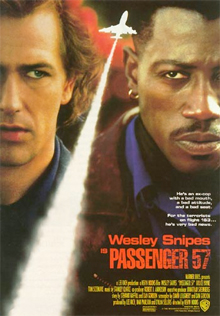 After an "actually they're only filming a movie" type fakeout that makes it seem like Wesley is a hijacker, we find out that he's actually John Cutter, volatile airline security expert. Then an economical montage tells us everything we need to know about him as an action hero: he kneels and burns incense at a shrine (just like Blade), then practices boxing and kickboxing, but this is intercut with flashbacks to the time he tried to foil a convenience store robbery and got his wife killed. So now we know why he's sad, why he's sensitive about heroics during hostage situations and also that he kicks ass and looks cool doing it.
(Also it shows how he's different from Seagal, the Boz,Trejo and most other action heroes, who always successfully foil the convenience/liquor/grocery store robberies that happen in their presence.)
Cutter decides to accept his old friend Sly Dilvecchio (Tom Sizemore)'s offer to become the Vice President of Anti-Terrorism for Atlantic International Airlines, and he takes a flight to Los Angeles to make it official. Gettin high on his own supply. But you remember how the one line that you remember from this movie is Wesley's piece of racially charged gaming advice?
Well I'm not sure he should be so cocky with his gambling analogies, because he's experiencing some bad fuckin luck today. First, he happens to take the same flight in which Rane is being transported with only 2 FBI agents guarding him, in clear violation of any security protocol that would happen post 9-11, as well as pre-9-11.
Second, nobody fuckin tells him that that's going on. If they did I bet he would've looked into the security situation and figured out that a bunch of the passengers and airline employees are actually sleeper agents planning to shoot a bunch of people, hijack the plane and help Rane escape.
But even if he'd done that he wouldn't have prevented himself from awkward run-ins with Marti (Alex Datcher), the flight attendant he chewed out in self defense class who also reminds him of his wife so much that he accidentally calls her "Lisa."
There are two luck factors in his favor, though:
1. He happens to be in the bathroom when it goes down, so he doesn't get shot
2. He's only in there to hide from Marti, so he's not in the middle of taking a dump or nothin
This was Wesley's first real action vehicle, the first time we got to see his fighting style as he beats up some guys in the close quarters of the plane. I really like the way he moves, he and his stunt doubles always know what they're doing. His martial arts trainer Marcus Salgado apparently choreographed the fights uncredited. One of the two stunt coordinators, Jeff Ward, doubled Wesley in MURDER AT 1600 and Bruce Leroy in THE LAST DRAGON. He was also stunt coordinator for other Snipes movies such as BLADE, THE ART OF WAR, and… MO BETTER BLUES?
By the way, on the plane Cutter is seen reading The Art of War, which of course was later the title for the movie THE ART OF WAR. It would've also been cool if he was reading Blade comics or the novelization of WHITE MEN CAN'T JUMP.
EXECUTIVE DECISION came later, and found more variations on what can happen with good guys sneaking around a hijacked plane. I totally forgot about this, but since Cutter dumps the jet's fuel they're forced to land at a small airport in Louisiana, so the last third of the movie is on the ground.
The story is by the guy that directed MAC AND ME, but one of the other credited writers wrote LAKEVIEW TERRACE, which was surprisingly good I thought. Also he wrote STAR TREK V. The director is Kevin Hooks, who was a child actor in SOUNDER, AARON LOVES ANGELA, A HERO AIN'T NOTHIN' BUT A SANDWICH, later he was on White Shadow. He started directing TV in the '80s, then in '91 I think maybe he went through the hole in the Hollywood wall that Spike Lee made and he directed the Tommy Davidson vehicle STRICTLY BUSINESS, followed by this and a couple others, most notably BLACK DOG I guess. But he didn't seem to be much of an auteur, so maybe it made sense for him to go back to TV and do Prison Break and shit. You know he's moving up in the world because he directed the remake of SOUNDER instead of child-acting in it.
There are some subtle signs that P-57 is made by a black director. If you look closely at the carnival near the airport, you'll see a Confederate flag flying. This is a hint about why the white local sheriff (Ernie Lively) sees Wesley thrown off the plane and then doesn't believe him about being the head of security. He even has to fight the deputies a little bit, they're total assholes to him, though they don't quite get to full Rodney King level beating. Later the head of the FBI shows up and he's black too, and I thought it would've been funny if the sheriff didn't believe him either. "Yeah, right. A black guy in the FBI? Do I look like I was born yesterday?"
But I don't think they want the commentary on racism to cut that deep. They deal with it in sort of a light-hearted way, with Cutter and the sheriff having to work together and sort of tossing each other shit back and forth but presumably gaining some respect for each other. Or at least that seems to be the formula they're going for.
I don't know if it makes sense that he's passenger 57. That's not his seat number or on his ticket or anything. It's just when they're doing a head count to make sure everybody's aboard (pre-hijacking) he happens to be the 57th person counted. I think we all would enjoy it more if it was a more definitive identifying number for him and if it came up like three or four times. "Why is this seat next to passenger 56 empty? WHERE IS PASSENGER 57?" Or, "Which one of you is Passenger 57? We're going to execute one hostage every 5 minutes until we find out!" That kind of thing.
Bruce Greenwood has a pretty small role as the airline boss who he communicates with on the outside, but this guy is all about covering the corporation's ass, so he's different from the cops or generals McClane or Ryback talk to. 27 year old Elizabeth Hurley plays a flight attendant in what I believe is her first American movie. She gets to be cute and flirty and then evil. Pretty good role for a model. Hooks's dad Robert is also in there as the FBI guy.
I don't know if this is worth bragging about, but shortly into the opening credits the fusiony slap bass tipped me off that the score was by Stanley Clarke. You might know his work from BOYZ N THE HOOD, ROMEO MUST DIE or THE TRANSPORTER, but he originally was a jazz guy, known largely for the band Return to Forever with Chick Corea. Fusion is kind of like the disco of jazz. I'm always wary of it. But I have to admit I kind of like some of that Return to Forever shit.
Here's my favorite Stanley Clarke thing I know of, this song from 1988 called "If This Bass Could Only Talk," which is just him playing while Gregory Hines tap dances:
Anyway, back to 1992. I don't think this is as dated as some movies from the era. I mean, obviously the airport security has changed drastically, and there's some pretty bad hair on Marti. But it's not too bad. The one very early '90s reference is a joke where Marti convinces an old lady that Cutter is Arsenio Hall. It comes back at the end when the old lady leads the surviving passengers in an Arsenio Hall Show dog pound barking chant thing. So I guess this means that all these traumatized people really believe they were rescued by Arsenio. I hope they never saw the news and found out otherwise. Sometimes the legend is better than the truth.