You know how there's that endangered sub

genre of "intelligent sci-fi"? Like the recent MOON and SUNSHINE and I guess people would say that movie PRIMER although I haven't seen it. Coming out on DVD today is another small, low budget, independent sci-fi full of smart ideas about the modern world and what could happen with our technology. This one's not an action movie at all though, it's a small drama, and from a Mexican perspective. So if you never heard of it that's why. Subtitles, and no exploding heads.
(There are robots and lasers, but not in a cool way. They're just tools. Maybe about as cool as a city employee riding a Segway. Exactly that cool or less, no cooler.)
The story is about Memo (Luis Fernando Peña) who grew up in a tiny Mexican village screwed over by the building of a dam. He's spent his whole life dreaming of getting away, but just like people in the not-future his way of getting away is just secluding himself in a little room and using technology to connect with the outside world. He builds a radio that he uses to tap different frequencies and listen to people's conversations, but this gets him into trouble.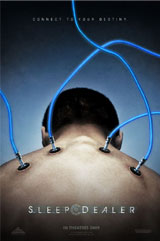 I don't really want to say too much because it's a small, quiet story that unfolds at a laid back, natural pace. But basically this is a story about the way technology both brings people together and distances them. Memo leaves his family to become a migrant worker – not by leaving the country but by plugging into a factory and remotely controlling a robot on a construction site in California. Another important character (played by Jacob Vargas from DEATH RACE) is a Mexican-American soldier who pilots a US fighter drone attacking alleged terrorist targets in Latin America. There's a wall between the US and Mexico now, and people don't physically cross very often. They just do it electronically.
So it's sort of about the internet, telecommuting and outsourcing. But in the face of all this technology Memo learns to appreciate good old fashioned face-to-face intimacy. You know, two people in the same place, enjoying each other's company. (I'm not talking about fucking, they plug into each other when they do that, it's kind of weird.)
There's so much irony in here. Memo's brother is obsessed with watching American HD channels, and his favorite show is about the drone fighters. Then one day he's watching it when one of the drones attacks in his village. Mexicans sitting at home watching American shows about Americans sitting at home sending out machines to attack Mexicans. So far away, yet so close.
Memo can't believe it when he's spent his whole life trying to get away from the milpa and then he meets a girl from Tijuana who thinks it's cool and envies how "real" that kind of work must feel. People never appreciate what they've got.
The woman's name is Luz (played by the beautiful Leonor Varela) and she's a "writer," which in this world means she uploads her memories to a server and people can buy them from her, like it's the iTunes store or something. It even asks her questions to help shape her memories. I would get pissed at TextEdit if it started doing that to me when I'm writing my reviews. "Would you like to give it a letter grade, or a star rating?" But I don't doubt that computers will one day give you creativity tips.
The idea of Luz posting and selling "stories" about the people she meets seems invasive and weird, but in the movie it also brings together people that otherwise wouldn't have met and creates an understanding. So it's not a 100% anti-technology movie. Don't get too excited, John Connor and Ted Kaczynski. And anyway what are you guys doing on the internet, you fuckin hypocrites. I can't believe you just fuckin Googled yourself, Kaczynski. What a Unaloser.
The digital effects of the drones are pretty cheap looking, but it doesn't matter. They're good enough. Director Alex Rivera creates a believable future by mostly showing the present. Visually it's pretty minimalistic, but he still manages to work in many subtle little details about the way things work. They keep running into automated voices informing them about tolls, taxes and surcharges. Instead of an American customs agent at the Mexican border there's an eye-scanning machine. A real person's voice comes out of a speaker to ask questions… with an Indian accent. Outsourced border patrol.
One little touch I love is when Memo is confiding to some homeless guys and one of them laughs that when he got divorced he decided to sell all his memories of his ex-wife. But nobody has ever bought them. You know, we all fantasize about the ol' revenge memory-selling, but that's the truth, nobody wants to pay for that shit. I guess in a way that adds further insult to his ex-wife, it proves that nobody cares.
While watching SLEEP DEALER I assumed it was a Mexican production, but it turns out Rivera made it through the Sundance institution. In a way the fact that a movie like this could be made is an example of the sort of globalizing that's going on in the movie. I'm guessing Rivera is Mexican-American, going to Mexico, making a movie from a Mexican perspective, with American money, to show in America. Through the technology of movies people reach across the border to try to understand each other.
In my opinion this one is better and smarter sci-fi than TRANSFORMERS 2 or even MEN IN BLACK 2.
This entry was posted on Tuesday, September 8th, 2009 at 2:05 am and is filed under
Reviews
,
Science Fiction and Space Shit
. You can follow any responses to this entry through the
RSS 2.0
feed. You can skip to the end and leave a response. Pinging is currently not allowed.