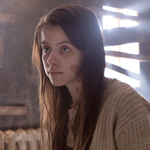 (Warning: this movie is about disturbing shit, and I'm going to describe what it's about)
THE SEASONING HOUSE is a very dark thriller from the UK circa 2012. How very dark? Well, it takes place in "BALKANS, 1996" and it's about a mute girl whose family got killed in front of her and she's forced to work in a brothel for war criminals. Not as a prostitute – the boss thinks the birthmark on her face makes her wrong for that, so she's sort of like his assistant. Her job is to go around to the poor girls tied to beds, shoot them up and fingerpaint makeup on them.
It's fucked up, man! And the light at the end of the tunnel that caused me to give this one a shot is the promise of "brutal revenge" on the box. Revenge is never righteous, but in movies I tend to enjoy it, despite not liking the muck you have to get through in order to make the comeuppance seem deserved.
The first shot is a dark, dirty room, and a couple tiny little fingers poke out of a vent in the wall. The vent opens and then a hand comes out, and then the girl that it belongs to. This is Angel (Rosie Day, IRONCLAD: BATTLE FOR BLOOD). The boss, Viktor (Kevin Howarth, GALLOWWALKERS) has taken a special liking to her – or whatever you want to call something like that when it's an abducted war orphan forced into slavery – and seems to sincerely think that some day they'll retire from pimping and live happily ever after together. So she's been around and left alone long enough to figure out how to climb through the vents, between the walls and floors. Though not how to escape. Escape is impossible she explains when she meets another girl who knows how to sign.
I considered giving up. It's so fucking grim and for a while you're stuck in this dank, grimy house where you know these grunting soldier assholes are there to rape children. So many dudes in leather jackets with long, slicked back hair and Eastern European accents like interchangeable villains of Seagal's early DTV era. The only time you're allowed out into the open air is for the flashbacks, which are even worse – ethnic cleansers gunning down crying mothers in front of their children. Horrible.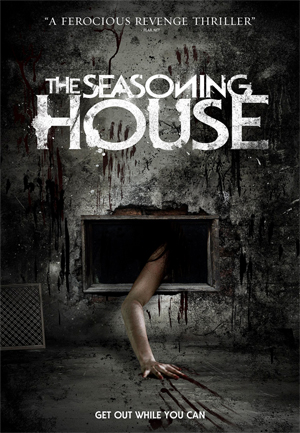 Also, the special effects in this movie are fucked up! Right at the beginning Viktor slits a random girl's throat in front of the others and the filmatists do it digitally so they can unflinchingly show the knife going in and out. There will be many more graphic stabbings like this, and they're hard to look at even though the rest will be on guys who sorely deserve it. If you could go back in time and show movies like this to the people who were flipping out over SILENT NIGHT, DEADLY NIGHT their hearts would explode on the spot.
And just as I most feared you see some guy's naked ass bobbing up and down on top of a young abductee. And the worst stuff isn't what you see, but the appalling stuff they describe. Poor Angel watches from inside the vent while a guy is so rough on her friend that they have to call in a medic. But it's okay, Viktor says, because "He pays extra."
The turn is not so much a plan as a final straw. A group of men show up who Angel recognizes as the militia who killed her family and gave her to Viktor. And again she has to watch as a big bald muscle guy (Ryan Oliva, GREEN STREET 3: NEVER BACK DOWN) has his way with her friend, finally killing her. And now she has had enough.
This may be a pointless review because I don't know who's going to read this description and say "This sounds like a way to spend my evening." But I hung in there and there was a pay off. The fight that she has with this guy – I mean, I can't recommend this to most people. But as far as those movies that take you to the depths of depravity go, it's well executed. This guy is naked and she's graphically stabbing him, puts a hole through his cheek, maybe a lung. And he's stumbling and wheezing and puking, slamming her agains the wall. It's a struggle. It's a cat against a German Shepherd. But the cat wins.
She gets to make a run for it through a few different weird settings, chased by the despicable Goran (Sean Pertwee, SOLDIER, DOG SOLDIERS, EQUILIBRIUM). I was reminded slightly of that movie RUNNING SCARED during a weird episode where she seeks sanctuary with a woman (Anna Walton, Princess Nuala from HELLBOY II) in a little cottage. She's an interesting character with some layers to her. I didn't really understand why she collects things with pigs on them, but it's a nice weird touch that results in piggy banks being bashed over heads.
Day is very good in a difficult role for such a young person, and it's inspirational to see her character triumph. It doesn't have to pretend to be a true story like EDEN did for us to know that this type of ugliness does exist in the world, and want to see the innocent overcome it. For me sometimes there's something cathartic about a story like this, a tiny flicker of light in a vast darkness, a character who has been through so much and up against people so bad, and she's small and presumably helpless but she fights and she survives and she claws her way out. If Angel can get out of this then you can make it to the weekend, my friend, I promise you.
Director/co-writer Paul Hyett is a veteran makeup effects guy who worked on THE DESCENT, HARRY BROWN, ATTACK THE BLOCK and BLITZ. This is his directing debut, but he later did a werewolf movie called HOWL, which also has Day and Pertwee in it. He scripted with fellow makeup artist Conal Palmer and Adrien Rigelsford based on an idea by Helen Solomon (still photography, HARD MEN).
I have to tell you, there's a 15 minute making of featurette on here and it's nothing groundbreaking but I am so glad I watched it because it made me feel much better about the movie. You get to see the men playing sleazy hairy assholes seeming like nice, supportive co-workers. You get to see that there are many women on set, including a fight coordinator who demonstrates all the fight moves to them (must be either Ruth Cooper-Brown or Rachel Bown-Williams of the company Rc-Annie). And you get to see the young women laughing and having fun in between shots where they're, for example, crying and stabbing a naked rapist, or falling face first into maggot-infested corpses and then puking. Obviously I knew IT'S ONLY A MOVIE IT'S ONLY A MOVIE IT'S ONLY A MOVIE, but this makes it look like it wasn't even miserable to make.