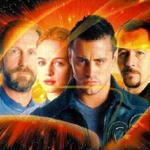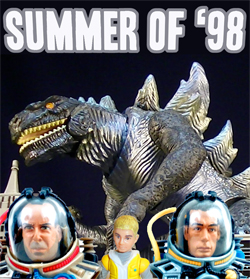 Every summer it hits me. The sun comes out and I start thinking about a certain type of movie: the summer blockbuster popcorn type movie. It doesn't even matter if I'm excited for the ones coming out this summer or not. And I'm not, really – there's a couple Marvels and a Star War, but I'm still high off the last ones, and don't think these will match them. Otherwise MISSION: IMPOSSIBLE FALLOUT is the main event.
Still, I get the fever, I get nostalgic for the old ones, just the feeling of them being out there. The ones I love, the ones I didn't, the ones I didn't see. I love the time travel of watching them and writing about them and remembering the time. This summer I have chosen the summer of 1998 as my topic, my destination. It doesn't seem like twenty fucking years ago. But then again it does.
This first movie was released on April 3rd, which obviously is not summer. But that's just because they kept making "summer movie" release dates earlier, like Christmas decorations. It had action figures and fast food tie-ins and was designed to stick around for the season. It counts.
Let's set the stage. Teletubbies was about to begin airing in the U.S. and become a sensation. NSYNC had released their debut album a week ago. Dave Navarro was fired by the Red Hot Chili Peppers on this very Friday. Billboard's #1 single had been Will Smith's "Gettin' Jiggy wit It" for three weeks in a row, on the cusp of passing the baton to "All My Life" by K-Ci & JoJo.
This was a time when people still went to see movies in theaters, projected from 35 mm film prints. Digital projection didn't exist and 3D hadn't come back yet. We rented and bought movies mostly on VHS, but increasingly on DVD. DOUBLE TEAM was brand new on DVD, with MORTAL KOMBAT: ANNIHILATION coming out next week. Netflix's DVD-rental-by-mail would launch later in the month. George Clooney had been the most recent People Magazine Sexiest Man Alive. And I'm not sure very many people gave much of a fuck about the 1960s TV series Lost In Space. But we knew what it was. We recognized it from Nick at Nite or something. So it got a movie.
LOST IN SPACE – April 3rd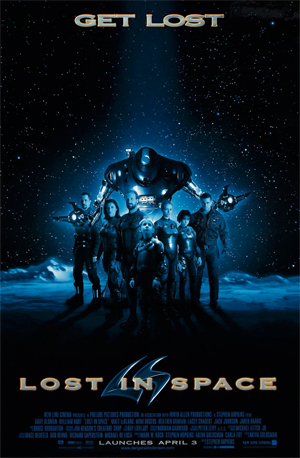 The 1998 movie version of Lost in Space is historic: it's the movie that knocked TITANIC out of the #1 spot at the box office after fifteen weeks. And stayed above it for three weeks. And then dropped a couple slots below it. In the end, the boat crash movie beat the space ship crash movie by about $505 million, but who cares? For just a minute there it was the king of the world.
Eh, not really. No one liked it. This is another one of those movies that I didn't see at the time. Everybody said it sucked, so I waited for the 20th anniversary. As you know there are many movies that people say sucked, big flop movies, that I have an appreciation for. This is not one of those movies.
Academy Award winner William Hurt (BODY HEAT, A HISTORY OF VIOLENCE, THE LEGEND OF SASQUATCH) stars as Professor John Robinson, the genius inventor guy who, in the futuristic year of 2058, will bring his family on a ten-year United Global Space Force mission to build a hypergate over Alpha Prime so the human race can escape our soon-to-be-uninhabitable planet. But Dr. Zachary Smith (Academy Award winner Gary Oldman, CRIMINAL, ROBOCOP – believe it or not, this will not be his worst movie of the summer), a member of the racist anti-alien terror group Global Sedition, reprograms their robot (original TV show voice Dick Tufeld) to attack them during cryo-sleep, and also gets knocked out and stuck in a heating vent while the ship launches. Whoops.
Anyway the robot fucks everything up before boy genius son Will Robinson (Jack Johnson – not the singer) re-reprograms him and quips "If the family won't come to the science fair, bring the science fair to the family." (Painful dialogue like this will make sense in a minute when we get to who the screenwriter is.) Then they're gonna crash into the sun so they have to do a tricky switcheroo hail mary magic space man maneuver loop (or whatever) that causes them to be spacecasted into a mystery dimension (or whatever). You know, they go missing in the stars. Misplaced in the cosmos. Turned around in the heavens. Whatever you want to call it. They try to go on a derelict space ship. They meet spiders and a monkey. There are time bubbles and a grown up version of Will (Jared Harris, NATURAL BORN KILLERS, RESIDENT EVIL: APOCALYPSE, THE MAN FROM U.N.C.L.E.) and a small fight, the end. It's longer than DAWN OF THE DEAD though. (Sometimes I measure movie length in units of DAWN OF THE DEAD.)
I have a soft spot for Australian director Stephen Hopkins (DANGEROUS GAME) because he did A NIGHTMARE ON ELM STREET 5: THE DREAM CHILD and PREDATOR 2. This was his followup to THE GHOST AND THE DARKNESS and obviously he flew too close to the sun this time, so he directs TV now.
(In fairness, the made-for-cable THE LIFE AND DEATH OF PETER SELLERS won two Golden Globes and nine Emmies, and he did the theatrically released Jesse Owens movie RACE in 2016.)
I'm not as fond of Academy Award winning screenwriter Akiva Goldsman. Just because I've learned to love BATMAN AND ROBIN after 20 years doesn't mean I condone the motherfucker. Here we have a similar type of slap-yourself-in-the-face stupid shit coming out of the characters' mouths without the benefit of Schumacher's gleeful explosion of tackiness. As the space-stranded family's oldest daughter Dr. Judy Robinson, Heather Graham (SCREAM 2) sees space slime growing on a ceiling and says, "That matter appears biological." God only knows what would've happened if they didn't have a scientist there to figure that out. Dr. Smith doesn't go over-the-top like Schwarzenegger's Mr. Freeze, but he has a similar attitude about openly describing himself as the bad guy. He says "Nothing good will come of" the slime because "Trust me, Major. Evil… knows evil." Later he tells Will that he knows about monsters because he is a monster. When the robot grabs him he says "Unhand me you mechanical moron!" I would think somebody was weird if they non-ironically said "unhand me" in 2018, but I suppose it could come back into use by 2058.
The military mind of the mission is Major Don West (Golden Globe winner Matt LeBlanc [Red Shoe Diaries]), whose primary occupation besides trying to get home is the mild sexual harassment of Dr. Judy, the old fashioned kind where she pretends to be turned on only as a way to then tell him to fuck off and justifiably tells him off multiple times because he's a piece of shit and then at the end they're in love. Also he says stuff like "If this is all a dream why can't there be more girls?"
I kinda feel bad for LeBlanc. It seems laughable that he would try to be a movie star, but only because 1) he's so associated with playing the dumb guy on that sitcom and 2) the movies he ended up in were dumb bullshit like this and the one where he plays baseball with a monkey. I haven't really followed his career, but I don't rule out the possibility that if he starred in something really good from this era (and without monkeys) he'd be George Clooney right now. I mean, there was definitely a time when it was hard to picture Woody Harrelson as something other than the dumb kid on Cheers. Tough luck, LeBlanc.
I can't say the story is very involving, so I had to amuse myself by overthinking the little references they make. When Dr. Smith calls Major West "Dr. Dolittle," I like to think he's referring to the Eddie Murphy version, which came out a couple months after this. But maybe he's referring to a remake that doesn't exist yet since Dr. Smith would've had to have been born around this year, and how aware are even today's kids of either of those movies?
Similarly, when Robinson matriarch Dr. Maureen (Mimi Rogers, THE MIGHTY QUINN, MONKEY TROUBLE, CRUEL INTENTIONS 2) thinks Professor John is taking credit for all the work, she asks "What do you think I'm doing, throwing Tupperware parties?" I ask you, youth of today, do you know what Tupperware parties are? Is that a reference you ever use? And do you think someone who's two years old right now will use it in 40 years? Because I'm skeptical.
In 2058 they'll still have Vogue magazine. I can buy that. But the reason we know is because when they leave on their trip, daughter Penny (Lacey Chabert, A ROYAL CHRISTMAS, THE TREE THAT SAVED CHRISTMAS, FAMILY CHRISTMAS, A CHRISTMAS MELODY, A WISH CHRISTMAS, THE SWEETEST CHRISTMAS, ALL I WANT FOR CHRISTMAS IS YOU, BLACK X-MAS) has some crazy just-out-of-the-shower thing she does with her hair and her mom gets mad about it but she says that Vogue says it will be popular in ten years. Is this supposed to be some idea of how futuristic fashion articles will work or is this some thing where Akiva Goldsman never read magazine articles before and has a weird idea of what they must be like? I mean generally his writing operates in some other place where nobody behaves or speaks like humans and nothing happens in a way that things happen. I should give the benefit of the doubt that it's a style and not some sort of derangement.
Another funny one: Dr. Smith boasts that he "fought in the Millennial Wars." Everybody was obsessed with the millennium around '98, but like I said, Dr. Smith was in no condition to fight a war during the millennium, not being anywhere close to existing yet. By math math, if he's the age Oldman was at the time he'd be eligible to join up in 2036, so I can only assume his generation were fighting wars against middle aged millennials. (something something avocado toast?)
As far as creating a plausible or original future, the movie's message about environmental catastrophe remains relevant, other than the emphasis on the depleted ozone layer. (Unless that comes back again.) Also Penny keeps a "Personal Digital Diary" shot in "Penny-Vision" that will surely be dated in 40 years but was ahead of its time for 20 years ago, I suppose. The media at a press conference on Earth, because they represent all nations, I suppose, seem to be very racially diverse. That's still good.
There's a bullet time type shot, rotating around them while they're frozen in time, before THE MATRIX and before, I'm sad to admit, BLADE. Also there are lens flares in space back when J.J. Abrams was a rewriter on ARMAGEDDON and apparently creating a tv show called "Felicity" if IMDb is to be trusted, I'm not sure if that's something that ever aired or not. Legend has it that Abrams was a huge fan of LOST IN SPACE and that's where he got the idea for lens flares and for the show Lost and for the movie Star Wars.
One design element that I thought was kind of cool was the glass-orb-based designs of some space ships in the opening, when Major West is battling alongside his buddy Jeb (Lennie James, a.k.a. Morgan from The Walking Dead). And I guess the helmet West later wears is kind of cool. And there's one cool monster, which (SPOILER) Dr. Smith has turned into in the future after being bitten by an alien spider. I mean, he looks ridiculous when his full CGI insect body is revealed, but under a cloak he's got a unique and strange look that I like, kind of like a creepy guy that could be in a STAR WARS. And he might be a puppet, I'm not even sure.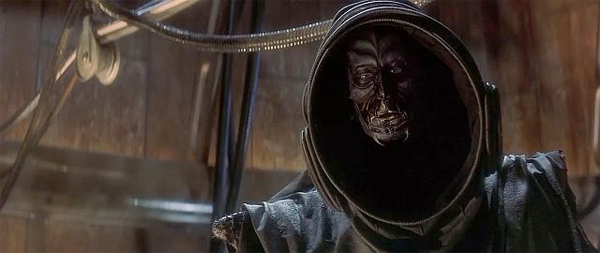 Everything else is generic and boring, from the rubber muscle suits to the only-in-1998-would-they-update-to-this-bullshit robot to even the sculpted L and S on the logo. I thought it looked like crap back then and if it's ever gonna hit retro-cool status it's gonna hafta be a while longer.
The most memorable part of the movie, and possibly the most hated based on a non-scientific survey I took, is the CGI alien space monkey character that West finds and that becomes Penny's pet.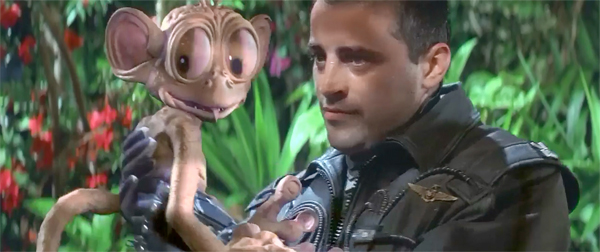 According to the merchandise her name is Blawp, and according to the script I found her name is Blip, but I swear they're calling her Blarp, and that's what the subtitles say too. Sorry Blip/Blawp, your name is Blarp now. Here is a picture of a doll of Blarp: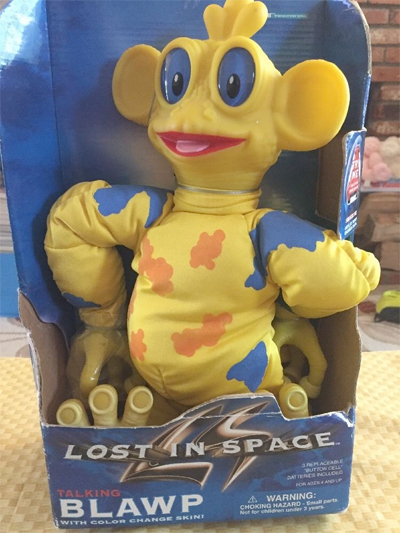 I guess that explains why Blarp never caught on. #1, because of that ugly ass doll that nobody would ever want in their house. #2, because they didn't know her name was Blarp. I have an idea though: next time you need a scary doll for a haunted doll movie like ANABELLE it should be a Blarp doll.
I noticed the Jim Henson Creature Workshop was credited with animatronic effects, and I couldn't figure out what that meant. Turns out they did Blarp using mechanical puppetry rigs to control the animated character. But these deleted scenes show that there was also an entire unused subplot about a grown up (and animatronic) version of Blarp that comes out of a time bubble.
I suspect there were some angry puppeteers when this shit came out minus grown up Blarp.
This cannot be emphasized enough: LOST IN SPACE came out the summer before STAR WARS EPISODE I. Whatever you think of THE PHANTOM MENACE, it is an enormous fucking leap from this movie, not only in all the important ways of entertainment but on a technical level. I guess I won't be able to convince most people, but it is astonishing to go from this fucking foam rubbery cgi monkey to Jar Jar Binks in one year. Or from the too clean digital space battles at the beginning of this one (though to be fair ILM had more money and were still using models in alot of their stuff).
Less than two weeks after the release of the film, murderous Khmer Rouge leader Pol Pot committed suicide. If LOST IN SPACE had anything to do with it then maybe it was worth it. More likely he did it because he was about to be handed over to an international tribunal. Therefore I cannot say this is a good summer movie.
Note: "Lost in Space" is also the name of the Kool Keith song that includes the classic dis "you comin so wack you sound like the BULWORTH soundtrack."
This entry was posted on Tuesday, May 8th, 2018 at 11:04 am and is filed under
Reviews
,
Science Fiction and Space Shit
. You can follow any responses to this entry through the
RSS 2.0
feed. You can skip to the end and leave a response. Pinging is currently not allowed.