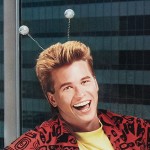 SPARTAN is named after some quote from Leonidas, so yes it sort of has something to do with 300. Or maybe David Mamet is really into John Spartan, Stallone's character from DEMOLITION MAN. Either way, this is a gritty thriller where Val Kilmer plays a badass special ops agent from a nameless government organization who investigates the disappearance of a high ranking politician's daughter. (It seems like it's the first daughter, but I think they leave it ambiguous.)
The movie feels much less Hollywood and more realistic than any other of its type, but at the same time you have to accept some pretty crazy shit. I'll just say it: "the girl," as the agents all call her, is mad at her dad so she whores herself out at a brothel one night and then, coincidentally it seems like, she gets shipped off to a white slavery ring in Dubai. I say coincidentally because they don't know she's anybody's daughter. They just like her because she's blond.
So that's pretty far-fetched, in my opinion. But just go with it.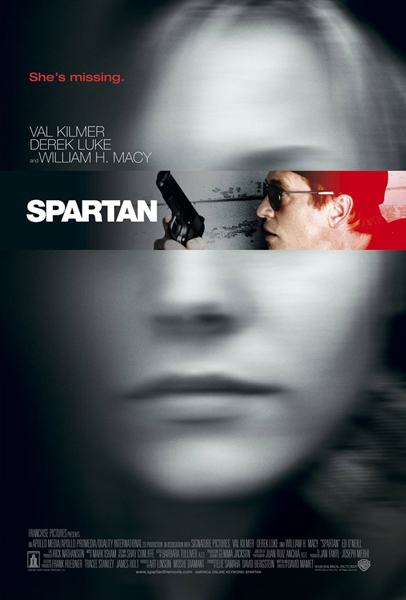 What's great about the movie is the way Kilmer executes his job. You never are really told what he's gonna do. He has these daring plans and then if something goes wrong he has to quickly come up with a plan B, C and C.5. For example, he maps out a complex operation with a recruited team of mercenaries who are going to raid the place where he believes the girl is. But scoping out the place the night before it's gonna go down he looks up at the stars and realizes that the north-south on his map is reversed. That means the sun will not be in the eyes of a driver they have to ambush. So he says "fuck it" and storms the place right then and there.
People always say that Mamet is a writer but not a director. I disagree because I see some serious directing going on here, some serious visual storytelling. I love the scene through the POV of a sniper's scope. The way it's paced, the way Mamet visually establishes everything you need to know in the scene but still doesn't make it obvious how he's gonna fake out the sniper. It's like the camera itself is trying to kill Kilmer and it can't do it. He beats the camera.
Mamet of course is known for his fuckin dialogue, and there's some of that here, but it's mostly pretty quiet. The music is really quiet too, which I think is a big part of the movie's unusual feel. I think with the same story and even cast this could've been a Jerry Bruckheimer movie, a better one from around the CRIMSON TIDE era. But Mamet's approach isn't Tony Scott, it's low budget art movie. So it really stands out.
One thing that keeps it Mamet is that Kilmer never turns out to have a heart of gold. When he rescues the girl he doesn't reassure her, he tells her "Shut the fuck up!" Later she complains so he punches her in the stomach. I'm pretty sure Will Smith wouldn't do that. When he tells her encouraging lies it is clearly not out of empathy, it's a calculated psychological trick to help with his mission. The mission is everything with this guy. He has a young partner you expect him to bond with. But when something bad happenes he doesn't get broken up about it. Like in many movies he holds onto his partner's meaningful-family-heirloom for him. Unlike many movies he uses that heirloom to roll a cigarette.
There are two exceptions to the character's cold-bloodedness, and although he would never admit it it seems like he ultimately ends up doing what he does for an emotional reason. But it's kind of like BAD SANTA. The fact that he's so much more of a pure cutthroat than most movie heroes makes it more meaningful when he does that. At best he has a heart of bronze.
This is a really good and unique movie. Or so I thought, but then I went onto IMDb and read that it is a terrible movie that makes no sense and the acting is horrible and the dialogue is so bad you could drive a truck with it or whatever. So you should all be ashamed of yourselves if you were involved in voting it onto the Badass 100, because those type of accolades are what got me to finally see it, and no doubt others will follow and also believe this is a good movie. Thanks alot guys, you embarrassed me in front of the IMDb message boards.