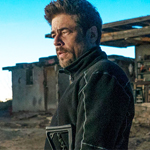 SICARIO: DAY OF THE SOLDADO, like its predecessor SICARIO, is a bleak, uncomfortable peek into a hellish world of violence depicted near our southern border. Cartels go about their business with savage brutality. U.S. agencies blur and push and blatantly leap across every legal or moral line they ever heard of. The Americans hire a Mexican lawyer turned killer to do the dirty stuff because he wants revenge on those who murdered his family. But they also seem pretty okay with doing the dirty stuff themselves.
Criminals, cops and soldiers all ride on the backs of humvees or pickup trucks or in helicopters, some of them caravanning across the border with impunity, wrapped in armor, strapped with high capacity rifles, hiding behind their sunglasses and gritting their teeth until something pops off and then they pound hundreds of rounds through glass, metal and meat, leaving the wreckage of vehicles and their inhabitants to bake under the hot sun on the pavement or in the dirt.
Caught in the middle of this war are innocent Mexicans. They are the migrants seeking a better life, treated as cargo by the coyotes, abandoned like excess baggage if they fall out of a boat. Or the children of the narcos. Or the kids in the area who get pushed into working for them. They don't have the luxury of doing it as a side gig like the white lady who gets paid to pick one of them up at the border.
Most of these people we don't hear much from in this movie. This is about the bad guys.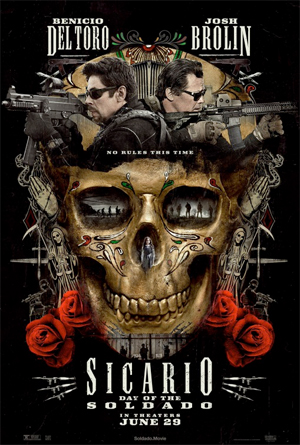 DAY OF THE SOLDADO pushes buttons, and sometimes they are the buttons of crazy people. I gotta admit there were times when I wondered if I should feel guilty for even watching this movie. In the opening you can't help but think "What the hell is this thinking-man's INVASION U.S.A. bullshit?" because it takes two of the greatest obsessions of the MAGA cult – Islamic terrorists and The Mexicans/The Illegals – and improbably combines them into one Super-Bugaboo. Border Patrol stops some migrants coming across the border and there is an Islamic suicide bomber among them. Then we watch with gruesome matter-of-factness the horrific scene of a bombing in an American store. A mother and child who survive the first bomb beg a second bomber not to detonate as a man missing his legs crawls along the floor in the background. Thank god Trump would never watch a movie with Spanish words in the title, and that if he did he would just fast forward to the action scenes, because otherwise he'd be jacking off to the opening of this movie as we speak. Probly calling in to Fox and Friends while doing it.
I was halfway convinced I was gonna have to forget about Taylor Sheridan and his brand of broody slow burn contemporary western machismo (he's the guy who wrote these SICARIOs, plus HELL OR HIGH WATER and WIND RIVER, which he also directed). There are these war movies and cop movies that deal with the scary grey area of men with guns and uniforms who get thrown into these endless conflicts that maybe they're not supposed to win anyway. They are people with amazing skills and terrifying jobs, who have seen horrors we don't want to ever see, who have learned to accept nightmares as daily life, who have been burned out and ground down and compromised their ideals and now they want to tell us we're naive to strive for anything better. For example Josh Brolin (THRASHIN')'s character Matt Graver believes he's working for the greater good and enjoys flouting the law, working with a hitman in part 1, basically invading Mexico in this one, kidnapping, covering up the truth. He can be as bad as he wants because he figures he's the good guy.
Usually movies about these types of characters are showing that they're wrong but interesting, or at least that it's complicated, but when identifying with them there's always a danger of the audience or the movie succumbing to an amoral view of the world, the way of the gun. The attitude that these are our boys in uniform and the heroism and the courage you guys, how dare you question what we made them do what about 9-11.
Is that what this is? DAY OF THE SOLDADO leaves you hanging for quite some time as you navigate through a fog of anti-heroism without the moral flashlight of Emily Blunt's character (this was originally planned as a spinoff about the sicario, not a straight up sequel). At the same time it leaves you unsure if this is even going anywhere. It swirls around the story of Graver running a military black ops mission in Mexico, and a teenager named Miguel (Elijah Rodriguez, THE BOOK OF LIFE) who's being groomed to be a coyote for a cartel, and the vengeful sicario Alejandro Gillick (Benicio del Toro, BIG TOP PEE-WEE) going after some motherfuckers, before Graver recruits him for their op.
The coyotes who they think got the suicide bombers across work for Reyes, the same guy who had Alejandro's family killed. They want to take him out by snatching his daughter Isabela (Isabela Moner, TRANSFORMERS: THE LAST KNIGHT) to trick them into starting a war with the other cartels. But, you know, a military incursion into a neighbor country to fake out a gang is, like, kind of an iffy plan, and things get very messy, by which I mean there is blood and brains and stuff everywhere, and Isabela alone in the desert, and Alejandro trying to find her to reunite with the Americans.
It's like a bunch of little pieces are thrown out there and it's interesting for a while and then it starts to seem like maybe it's just a bunch of pieces thrown out there and what is the point of all this and then just enough pieces show up in the middle to connect the outside ones to the inside and you see the big picture and now all the sudden you're in its grip. The random way the paths of Alejandro the sicario and Miguel the soldado cross, and the ticking time bomb it creates, brings it all together, and from that point on all bets are off. And by that point it's obvious that I never should've questioned Sheridan.
As far as the Chuck Norris shit, things turn out to be more complicated than they seemed. The Ultra-Boogie-Man that justified this mission turns out to be based on an incorrect assumption (SPOILER: the successful bombers were American citizens from New Jersey, border crossings had nothing to do with it). The sometimes-you-need-to-get-your-hands-dirty mission caused a deadly international incident and the government's way of cleaning it up is indefensible. You know it if you saw the trailer: Graver is supposed to kill all witnesses, meaning Alejandro and Isabel. So once again our vicious killer becomes the relative good guy. Though Isabel is the daughter of his worst enemy he makes the pledge to himself to get her over the border to safety. They become the hunted, disguised as migrants, hiding right under the noses of savages who will kill them before the Americans do if they figure out who they are.
The great Denis Villaneuve directed SICARIO, but this one is by the Italian director Stefano Sollima (ACAB – ALL COPS ARE BASTARDS). The first one had brilliant, Oscar nominated cinematography by Roger Deakins, here it's Dariusz Wolski, who's no slouch either (he did THE CROW, DARK CITY, PROMETHEUS, and more), though he doesn't make as much of an impression. In place of the late Jóhann Jóhannson as composer we have his fellow Icelander and collaborator on MARY MAGDALENE, the cellist Hildur Guðnadóttir. Jóhannson's incredibly ominous theme "The Beast" returns at the end, so I hereby nominate it for song of the summer.
Unsurprisingly del Toro is fucking great in this, a smoldering squinty-eyed badass performance. He gets to be the expert killer, the scary protector, he speaks English and Spanish and sign language. I like the realistic detail that he speaks in only partially audible Spanish when he signs, not really out loud like people often do in movies (we have subtitles for that).
By the way I have noted in recent years that Leonardo Dicaprio seemed to be physically transforming into Benicio. Here there's a stretch where del Toro gets to do a Dicaprio in THE REVENANT – completely fucked up and covered in dried blood and dirt stumbling on a long journey with obvious bodily limitations. An A+ physical performance.
The whole cast is good but I also want to single out Rodriguez for a really impressive low-dialogue performance as a kid maybe 14 or 15 years old, still growing into an adult body and pushed into this criminal life with obvious fear and reservations. He wants to impress these guys but only for his own safety and he loathes it and he feels like he needs to swallow it down and do what they tell him and also he might throw up and we see all of this on his face.
I felt like most of the young people who showed up for the 7pm Thursday first showing were practically asleep, but there is one part that made like three of them blurt out "What the fuck?" I don't know if they meant it in a good way, but I thought it was a good part. It gets pretty ferocious at the end. I liked it.
IMPORTANT POSTCRIPT THOUGH:
There's something else you should read for perspective:
What Latino Film Critics Are Saying About 'Sicario: Day of the Soldado'
They compile reviews by several critics; all find the movie reprehensible. It seems to me like they're not always being fair to the intentions of the movie, but they're absolutely right that it's the worst time in our country for a movie about characters like this. I tend to like movies where people do bad things and the movie doesn't find it necessary to judge them for you. That's your job. But I can't disagree with Claudia Puig's last paragraph:
"Perhaps if we saw more films with Latinx characters, one movie reeking of amoral machismo – even one that seems to revel in its viciousness – wouldn't be so disturbing. But when Latinx actors play only 2.7% of roles in top films, a major Hollywood release like Sicario: Day of the Soldado serves only to amplify stereotypes, encourage fear-mongering and intensify racial tension."