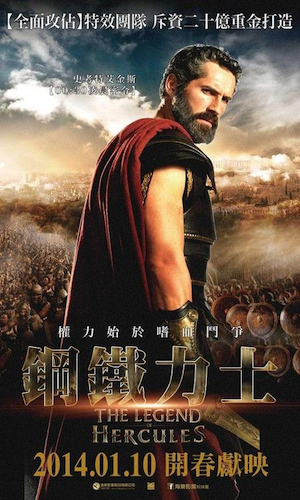 Do you all listen to ADKINS UNDISPUTED? It's a podcast done by a guy named Mike Scott, who goes through the Scott Adkins filmography in chronological order. I can imagine a version of that concept that's fun to listen to, but not as good as what Mike does. He takes the job seriously, with heavily researched scripted intros, followed by a more free-wheeling discussion with the week's guest (or "champion"). And very early in the run of the show Mr. Adkins himself caught on to it and has provided interviews for each episode. I've learned many things about the movies from Adkins, plus the side discussions have led me to all kinds of Hong Kong movies I hadn't seen, and the rotating guests have introduced me to some cool people from the world of action movie fandom. It is fun to listen to, but also a genuine work of action movie scholarship. I love it.
So it was a great honor to be a guest on this week's show. The subject is THE LEGEND OF HERCULES, which I hadn't actually seen until now, despite Adkins playing the villain and Renny Harlin being the director. Mike originally invited me on for a better movie a little later in the filmography, but we realized it was going to be months before he got to it and nobody was slotted for HERCULES so I was happy to do it. I hope I did okay!
HERE IT IS
P.S. I'll post a review of the movie after the episode has been up for a bit
This entry was posted on Thursday, May 6th, 2021 at 2:50 pm and is filed under
Blog Post (short for weblog)
. You can follow any responses to this entry through the
RSS 2.0
feed. You can skip to the end and leave a response. Pinging is currently not allowed.