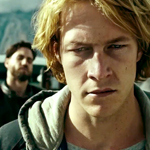 I got a good laugh when I went to see THE LAST WITCH HUNTER and they showed a trailer for the POINT BREAK remake. They'd been advertising it for a while, but this audience clearly didn't know about it since they gasped and groaned in disapproval when the title came up. They knew that this was going too far to remake POINT BREAK, even though they didn't know that a trailer about some guys robbing a bank wearing president masks and then an FBI agent who's a surfer has a theory that the robberies are being done by extreme athletes and he goes undercover in the group but he gets too close to the guru-like leader whose name is Bodhi means this is a remake of POINT BREAK. They didn't recognize it until the title.
But they're kinda right. POINT BREAK cannot be duplicated. It can be ripped off and turned into a great series of movies about globetrotting street racer super-thieves, sure. But it has a unique power that's a combination of a great/goofy premise, a script with a ton of funny dialogue, excellent sequences directed by the great Kathryn Bigelow at the top of her action game, incredible skydiving stunts and photography, a maybe-not-knowingly-funny performance by Keanu Reeves as surfer dude cop Johnny Utah, and most of all a towering performance of charisma and sincerity by Patrick Swayze, who (like Vin Diesel in THE FAST AND THE FURIOUS, actually) seems to truly, deeply believe the philosophy his character spews.
Of all those qualities, the only thing that can easily transfer to a remake is the premise, and that's what they've done best with. Screenwriter Kurt Wimmer (who wrote THE THOMAS CROWN AFFAIR, ULTRAVIOLET and SALT and directed EQUILIBRIUM and ONE TOUGH BASTARD) is a writer with some respect for a good genre convention, and he expands on the POINT BREAK concept in a pretty cool way. More than just surfers and skydivers, these guys are motocrossers, snowboarders and free climbers and this Johnny Utah determines that they are following an extreme sports quest called "The Ozaki 8," eight possibly-impossible tasks to challenge your limits against nature, invented by some legendary guru of adventure sports and environmental activism who died trying to complete them himself. Each one has a poetic name with sort of a self improvement philosophical type of meaning to it and you're supposed to give an offering after each one, such as stealing money and giving it to poor villagers, because this is all about making a point about saving the earth or what not.
I love it and I think the original Bodhi would too.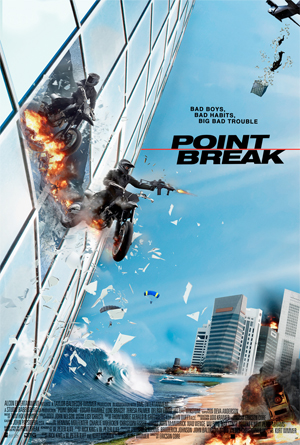 The new Utah, Luke Bracey (Cobra Commander from G.I. JOE: RETALIATION!), has a fittingly bland hunkiness, closer to a Hemsworth than Keanu, and he's made appropriately fake-cool by his many tribal tattoos. Unfortunately the trailer line "I believe they, like me, are extreme athletes" is not in the movie, but he does get to make presentations and speeches, trying to win over his instructor (Delroy Lindo – good to see him again) and get his disbelieving partner/chaperone (Ray Winstone in the Gary Busey role) off his nutsack. And there's a line, I wish I wrote down what it was, but he uses the words "point" and "break" in one sentence, like "it's the point where you break" or something like that. Good for him.
When the boss calls him Utah he corrects him – that's a nickname they gave him, not his last name. That's not necessary, but luckily the movie is otherwise un-self-conscious about treating absurdity with a straight face. The Ozaki philosophy is treated with reverence, the feats are untethered by realism, and the dark motivational tragedy in his past is a ridiculous motorcycle stunt. He jumps from an impossibly high cliff onto a tiny column of rock; when his friend who he pressured to do it too tries he skids off the edge, just like any reasonable person would expect. (I have no idea how Utah got down.)
As Utah predicts the pattern of robberies like he would themed killings in a Vincent Price movie he's haunted by his failure to his friend. Bodhi, as a good friend or Fight Brother, tries to convince him that he can't be blamed for another man's decision to jump a motorcycle off a fuckin cliff. This is the meaning the movie finds in these types of sports: to decide for yourself to do something insane is ultimate freedom.
There's constant talk of "lines." Your line is the path you want to take up or down a mountain. You scope it out until you're comfortable with it and then you go. Of course these characters are also following lines of destiny, a chosen direction of life. It's more important to them to follow the line they know belongs to them than to be sure that it's gonna take them all the way.
An interesting irony happens in the climax, when Utah catches up with Bodhi just as he's about to climb a giant waterfall in Venezuela. Bodhi's last remaining teammate has just decided that this is not his line, he's gonna have to sit it out and wish Bodhi well. But the FBI agent showing up forces his hand. He tries to climb to get away, and falls to his presumed death like Emperor Palpatine. I guess Bodhi would say he made the choice to climb, and also I bet if he'd tried to turn himself in Utah would've chased Bodhi instead and he could've just left. But I'd still feel bad about the whole thing if I was Utah. I'd feel like I got a man killed.
With the thieves pulling a Robin Hood with the money it seems for a while like the movie is sanitizing them a little, keeping them uncompromised so they won't be true bad guys. But then Utah and some cops try to stop them from robbing a bank and the thieves shoot at them with machine guns. This is actually a very effective scene, kinda creepy with Utah facing down people he cares about but not knowing who's who behind their motorcycle helmet disguises. And he keeps yelling "Bodhi!" at them. Even after revealing that he's an undercover agent trying to bust him he seems to feel like they're bros for life. He has to protect him.
Teresa Palmer (who is in everything from THE SORCERER'S APPRENTICE to KNIGHT OF CUPS, but I will always remember her from being cast in George Miller's unmade JUSTICE LEAGUE) is I think the only female in the movie, taking the place of the original's Lori Petty character. Her name is Samsara, and she explains what her name means, otherwise I would've assumed she named herself after the movie SAMSARA, because it seems like something she'd be into. At first you assume she's some kind of groupie, because she hangs out at their parties but isn't seen base jumping or anything. But she might be there in more of an advisory role since we learn that she was very close to the actual Ozaki. I don't think they ever specify what her relationship is to the others, so there's always this tension that Utah sleeping with her is a betrayal of Bodhi, but it never comes up. Because that guy has no time to worry about boning. He thinks bigger.
Edgar Ramirez (THE COUNSELOR, DELIVER US FROM EVIL) is a very good actor, and does well with Bodhi. He does have the charisma and righteousness to lead an outfit like this, and that weird tension with Johnny Utah where it seems like he knows they're enemies and wants to fuck with him by being his friend. Also I like when he speaks Spanish as kind of a ploy, appealing to his friend's cultural pride to get him to do what he wants.
But – I mean, we all knew this – you cannot compare this character to Patrick Swayze's version unless you want to be disappointed. No candle can be held here. Maybe it was wise to go the unexpected direction and play him subtle like this. Or maybe they should've gotten somebody who would go way over the top? I guess we'll never know. That wasn't their line.
There seems to be plenty of real stunts, but obviously combined with lots of digital FX, so it's fun but doesn't feel as death-defying as the original. I do like the way the score by Tom Holkenborg (aka FURY ROAD's Junkie XL) treats a guy snowboarding like an epic spectacle. The director and cinematographer is Ericson Core, who also shot the first THE FAST AND THE FURIOUS. In other words, he's shot two remakes of POINT BREAK. This has a real nice, sharp look to it, but I could use a little more sunny warmth in some of these beautiful locations. Show what this earth that they want to save is all about.
You know, I forgot all about this until just now, but several years ago they were actually gonna make a POINT BREAK 2, and somebody sent me a copy of the script. If I remember right the main character was revealed to be Bodhi's son, and then there was a part where somebody came to him in a vision and it didn't come out and say that it was Bodhi but I got the impression that they were gonna try to get Swayze to cameo. Of course he passed away and so did the movie and although from what I remember the script was okay, I think this is probly a better outcome. If I didn't have an attachment to the original I'd have no reseravations. This is a perfectly decent high concept b movie.