Two years ago give or take a couple days I wrote about NEVER BACK DOWN as part of some back-to-school themed reviews. To commemorate the historic second anniversary of that review they have decided to make a part 2.
If you never saw the first one I forgive you. And I think you're gonna be okay without it. Of the many mixed martial arts/underground fighting movies of the last few years it's the slickest and most Hollywood. It's the standard teen subculture movie but with MMA instead of breakdancing or BMX bikes or whatever. Troubled new kid in town wants girl, she belongs to popular rich bully who also is the king of a notorious underground fighting tournament. I can't recommend it when BLOOD AND BONE, DAMAGE, UNDISPUTED II–III and FIGHTING have all come out in recent years, but I did sort of enjoy the absurdity of these allegedly high school age dudes having their own Kumite Lite.
NEVER BACK DOWN 2 is the DTV sequel and it happens to be directed by the star of two of the above-mentioned better underground fight movies, Mr. Michael Jai White.
I was hoping NBD2 was just gonna take the name and do something totally unrelated, but MJW and original writer Chris Haughty do about half sticking with the feel of the original and half straightup badass. They keep the same corny teenager shit (now they're college age) but since it's done on a way lower budget it's a different type of shitty. In part 1 there was a party scene with fancy crane shots of hundreds of people dancing outside at this big house overlooking a beach. In this movie the party could be in an actual dorm room or basement, there's an ugly tie-dyed sheet hanging on the wall, but the camera floats around and changes speeds to show you how awesome it is. To be fair there is a guy about to score with a girl and another girl comes over and joins, so it's a decent party.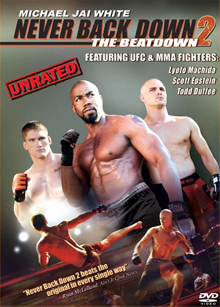 There's still the new kid at school who's ashamed of his dad and has his eye on the hot girlfriend of the douchey guy, but this time the two are forced to learn together along with two other fighters. Their sensei is MJW himself as Case Walker, gruff ex-con fallen MMA star living and teaching out of a beat-up old trailer named Daisy on a lot he doesn't own. He says "You pay me in blood, sweat and money" but also asks for a 20 lb. bag of potatoes as part of his first week's fee.
Case is a great character, a scary Mr. Miyagi who's not about to give his Daniel-San a car, and says he doesn't expect to get any Christmas cards from his students. Which doesn't mean he's Jewish, it means they're not exactly gonna have warm and fuzzy feelings for him. But he's being modest. Even Pai Mei gets Christmas cards. Still, Case is an intimidating dude. One of his rules is "My bad, I forgot to mention shut the fuck up."
During the teen movie parts MJW doesn't seem like a better than average director, but he sure knows how to handle his own parts. Case has a classic entrance where he steps out of some shadows, just looks at a bunch of armed street thugs and causes them to run away. In other words he makes them back down! Don't they know you never do that? Case doesn't talk when he doesn't have to, is rarely nice and never smiles. A great performance and character.
I guess they figured they needed some "real actors" in this thing besides MJW, some pretty boys that the audience is supposed to relate to. Apparently the main kid, Dean Geyer (the wrestler), is a blackbelt in karate, but he's known for being on Australian Idol and a soap opera called Neighbours. The other dude, Alex Meraz (the boxer), plays somebody named "Paul" in all but the first TWILIGHT movie. I can't imagine anybody disagreeing with me that the two experienced MMA fighters in the cast are way more interesting than those two. I'll take friendly giant Todd Duffee's stiff line readings and natural likability over those slick Saved By the Bell kids any day.
The weirdest character is Justin (Scottie Epstein), the kid with dyed black "emo" hair and eyeliner who another kid calls "Kurt Cobain." He works at a comics shop, is rejected by a girl ("Not gonna happen, dork"), gets stabbed and robbed by thugs, and comes to Case to learn how to stand up for himself. He's not as big as Marko Zaror in KILTRO but looks similarly ridiculous in the getup, even before I knew he was a real MMA fighter who usually has minimal hair and is packing a bunch of muscle under those baggy clothes. He seems at first like a corny KARATE KID type character who learns martial arts to stop bullies and get girls, then like comic relief, then goes in directions I didn't expect at all.
The sub-titular "Beatdown" is a fight tournament that returns from part 1, now run by Max (Evan Peters), the geek sidekick from that installment. He's a kid who became a big shot by knowing all the different fighters and without actually fighting himself. "It's like a rave, only instead of drugs we get stoked on mayhem," is how he describes his event.
The Beatdown is one of the lamer underground fighting tournaments in movies, because there's no weapons, no fighting to the death, no exotic locations, and it's just in a beat up old gym with local (admittedly topnotch) talent. The cops don't even try to break it up. The only thing that makes it stand out from other small MMA events is an annoying DJ/commentator (Eddie Bravo). But like in most movies, and not real life, the winner has to go through multiple opponents in one night. That actually was a cool part of the early UFCs before they had to change all the rules because Senator John McCain was campaigning to ban the sport, calling it "human cockfighting."
I feel good that I understood most of the MMA references (Case is friends with Lyoto Machida, we hear he's fought Bas Rutten and Kevin Randleman, etc.), but those are pretty silly and they're meaningless to non-MMA watchers. I don't think that would be a drawback to enjoying the movie though.
I can't claim this is on the level of UNDISPUTED II or BLOOD AND BONE. I didn't like the two lead kids that much, there's lots of cheesy rock music and you gotta be patient with the melodrama of the first 15 minutes before MJW shows up to make you care. I prefer action movies in a pure world of macho danger, not a college dorm where the heroes are worried about trying to ask out girls. Despite all that I kinda loved this movie, found myself re-watching it and showing people my favorite scenes (the first time we see Case, the first time Case sees the kids). It's the original NEVER BACK DOWN hit with an MJW 2-knuckled straight punch to the face.
If nothing else, this movie is notable for the character of Case Walker, a main character but you're left wanting more, hoping part 3 will just be about him fighting and not being a teacher. He has many quotable lines, but his facial expressions are even more memorable.
This movie almost could've not happened because he almost scares away the guys that come to train with him. They think they have an in because Max sent them, but he says "Max? You tell that little wannabe Dana White next time he sends a couple bitches over to train with me he gonna have some damn problems, now get the fuck outta here." When one of his students insults another one he doesn't tell him to cut it out, he tells the other kid to "Punch his ass in the face." The nicest thing he does in the movie is not break a kid's arm when he refuses to tap. He's gotta be one of the most credible and intimidating fight mentors in an American movie. Would've been a hell of a brawl if he ever came across Bone or Iceman Chambers when he was locked up.
Having a great presence like that in the movie lures you in for the primal effectiveness of the sports movie cliches. I mean I know what they're doing to me, still I want to tune in to see if they'll win the tournament. It helps that the formula gets tweaked a little bit. The characters that fit the bill of good guy and bad guy don't end up hating each other, and the guy that fits the geek wish fulfillment role the most turns out to be a psycho and kind of a bully himself.
The fight choreography is by Larnell Stovall (UNDISPUTED III, MORTAL KOMBAT LEGACY, UNIVERSAL SOLDIER: A NEW DIMENSION) and it's good. It's way more grounded in real MMA than the high flying stuff in the UNDISPUTEDs, using all kinds of grappling moves, submission holds and reversals. But it's still exaggerated for the cameras, going quickly from move to move to put on a good show. There are a whole bunch of training montages with some impressive continuous shots where the camera weaves through multiple fighters sparring. Also MJW fights a bunch of cops while handcuffed.
NEVER BACK DOWN 2: THE BEATDOWN fulfills its responsibility to be a DTV sequel that's way better than the theatrical original, as well as its mission to create another classic role for Michael Jai White. Next I would like to see White direct himself in an action movie where he's not tethered to notions of appealing to a young demographic or fans of a previous movie that's not very good. I want to see Michael Jai White in STRAIGHT-AHEAD ACTION MOVIE, a film by Michael Jai White. But this'll do for now.
.
NEVER BACK DOWN 2 comes out September 13. For fuck's sake get it legit-style to support the production of movies like this.
This entry was posted on Thursday, September 8th, 2011 at 1:24 pm and is filed under
Action
,
Martial Arts
,
Reviews
. You can follow any responses to this entry through the
RSS 2.0
feed. You can skip to the end and leave a response. Pinging is currently not allowed.