THE DEVIL'S DOUBLE, the new film from the director of ONCE WERE WARRIORS and THE EDGE, is the fascinating true story of a man forced to be a lookalike decoy version of Uday Hussein, the most depraved of Saddam Hussein's two sons. But shit, I can't lie to you – Lee Tamahori is also the director of xXx: STATE OF THE UNION and NEXT, and the story is mostly bullshit other than how the poor guy got mixed up in this business. In fact, on the DVD Tamahori talks about how he wasn't interested in doing a true story, saying it with disgust as if we're all on the same page and he doesn't have to explain why it would be boring to tell an incredible truth-is-stranger-than-fiction story. But oh well. I still thought it was worth watching.
Dominic Cooper (Iron Man's dad in CAPTAIN AMERICA, but not in the IRON MAN movies) plays Latif, who is called in by old school acquaintance Uday (also Cooper – you know, just like Eddie Murphy would do), who shows him how they look like twins and tells him he will become his "brother" and be a double to him just like the guy his pops has. Latif refuses, so they lock him up and whip him and threaten his family. So on second thought why not, right? He takes the job.
It's definitely more like a mafia movie than a political one. Uday has his staff of scary looking, suit-wearing, cigarette smoking enforcers, part bodyguard, part babysitter. They give Latif a tour of his new toys: fancy palaces, expensive cars, hot girls everywhere instructed to do anything he wants (get him strawberries or whatever), but don't you fucking halfway maybe think about even just barely touching one of Uday's girls. So yeah, it's pretty clear early on what this is gonna be about.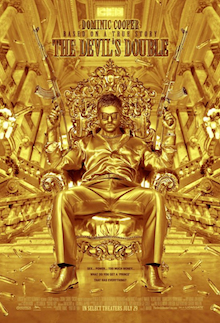 Uday loves women, but also dancing to '80s dance music with transvestites. He patrols the streets looking for school girls to pick up (and I mean in school uniforms, coming home from school, holding school books, the whole thing). In the most horrifying scene (thankfully off screen) he snatches a young bride from her wedding, rapes her in her wedding dress, and it gets worse from there. And when it's clear even to him that he's gone too far his version of feeling bad about it is telling Latif to give the family some money.
My favorite scene is when Latif is telling the other guys that Uday is psychotic. I think he knows they can never agree with him out loud, but he knows from their faces that they can't deny it. And they don't try to. "You're a good man in a bad job," Latif says. All these guys around him, the guys that might kill him, are victims just like he is. None of them seem to enjoy what they're doing, but they do it.
Latif figures out the secret to passing as Uday so that even Uday's inner circle falls for it:
1. Pull what little hair he has down onto his forehead
2. Speak in a higher voice
3. Yell at everybody and smash things
He even does speeches as Uday, and things he does get reported in the paper as Uday. But he doesn't really get seduced by the power and the lifestyle like you might think. He stays aware of being a prisoner to a sick and dangerous world. He gets into trouble by refusing to do things (shoot a guy in the head, etc.) but keeps getting away with it. It seems like as long as they're gonna be making up a fake version of the story they could give him a more dramatic arc than just "he has to do it, then after a while he tries to run off." But that's what we get.
The big historic events, including the invasion of Kuwait, are handled by showing montages of news footage. It feels a little cheap but it was probly the best idea, to deal with the story on a more intimate level. The biggest drawback to using the real footage is that it emphasizes how much the guy playing Saddam doesn't really look or seem very much like Saddam. But he's actually not in it that much.
A bigger problem is that it has this fascinating topic of doubles but doesn't really explain the process that much. I mean surely there's gotta be something more to it than there just happened to be a dude in his school that looked fucking 100% identical to him. I guess he's supposed to be putting on a fake nose or something, but I mean, you see them, they are clearly just the same guy, in real life it wasn't that easy. Wouldn't it to be interesting to know how the real guy really did this, got a guy to pass for him so well that even people who actually knew him sometimes couldn't tell which was which?
And why is it that everyone always believes he's this famous terror, but suddenly when he escapes he's just a dude and can go around and nobody thinks he's Uday anymore? Shouldn't he have to wear a wig or something?
They do play with the doubling in a few interesting ways, like a scene where Uday sends the double to meet with his dad, just to amuse himself. He waits nearby excitedly asking "What did he say? What did he say?" But the double of Uday insists it was the double of Saddam he met with and real-Uday thinks it was real-Saddam. It kind of makes you question if it's really known which events were the real guys and which were the doubles.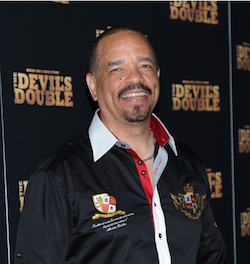 Cooper is good in this, most memorably as Uday. I like that as horrible as he is he seems to have a genuine attachment to Latif. He could just kill him, but he always wants to keep him around, like he's convinced himself they're actually good friends. Even after Latif escapes Uday seems to want him to come back and just act like it never happened. I guess in that one sense being a double to a mad prince is good work to have, because you're hard to replace.
There are many ways this movie should've been better and more substantive, but I can't deny that it's entertaining because of the inherently fascinating topic. This world is scary because they're out of control gangsters, but they never have to worry about the cops. It's like working for Scarface, except he's a rapist, and in a world with no cops.
And yet when somebody tries to assassinate him, thinking he's Uday, he goes into soldier mode and starts firing back at them. Obviously it's self defense, but really he's on the same side as those guys. It's hard out here for a devil's double.