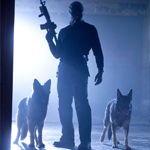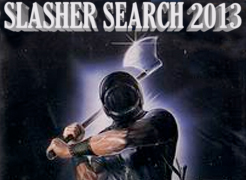 Like its part 1, THE COLLECTOR (2009), I can't say that the 2012 sequel THE COLLECTION is any great shakes. But man, it starts out with a bang.
If you haven't heard of THE COLLECTOR it's because it was a pretty low key release, opening on 1,325 screens. The first SAW movie was released on almost a thousand more screens. I make the comparison because this one's definitely in the SAW vein – in fact it started with a rejected script for a SAW sequel. It has a genius inventor/torturer in an S&M mask who sets up preposterous contraptions, bear traps and hidden razor blades in the sizable home of a rich family. But the cool gimmick is that the protagonist Arkin (Josh Stewart, THE DARK KNIGHT RISES) is a traitor who installed the security system and then tried to rob the place while they were supposed to be on vacation, not tied up by a maniac. He stumbles on this nightmare and tries to do the right thing and help them. They're like "I'm so happy to see you! Wait– why are you here?"
This sequel has Arkin where we last saw him: locked up in a box, one piece in the Mousetrap Game of Death that will set off what's gotta be one of the most audacious first kills in slasher history. Like many horror movies we begin with some young party lovers, they go to a big rave at a warehouse and have a great time dancing terribly. But then Elena (Emma Fitzpatrick) sees her chump boyfriend, who told her he had to work late, kissing some bitch. As she storms out in tears the camera pulls up to reveal the Collector, or The Collection-Haver, whatever the masked killer is called, standing above in the rafters, watching her.
Okay, so I'm thinking he's gonna follow her home and set up his traps. Nope. She finds a side room to cry in, and there's the Arkin-in-a-box. (HERE COMES SPOILING.) When she opens the box a dart shoots out, attached to a cable. With Arkin's help she dodges it, but the camera does one of those PANIC ROOM through-the-walls digital shots where it follows the cable into the wall, around a series of pulleys as it triggers various machinery including a steam powered engine and we're back up above the dance floor with The  Collectionist watching a bunch of huge threshers start up, spin, lower themselves and mow down almost everybody on the dance floor, including some of the characters we've just met. And then everybody who gets away from those gets fenced into a cage like chickens on a factory farm, and then the cage closes in like the STAR WARS trash compactor and poor Elena sits and watches from the outside helplessly as her best friend and a whole bunch of other people get smooshed to death.
Shit! I didn't see that coming! Even you anti-CG zealots gotta respect the crazy-over-the-topness of the idea. If not for the space station crash in JASON X this chump might've caught up with Voorhees on that one.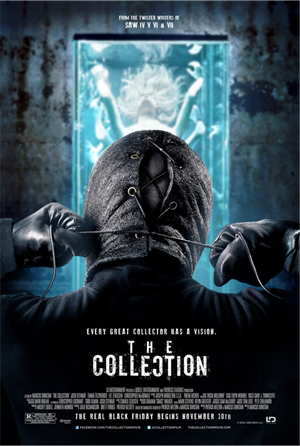 Obviously it doesn't escalate from there, but luckily it has a good premise. Elena ends up in a box, Arkin jumps out a window and escapes to police custody in the hospital (kinda harsh for possibly the sole survivor of what must be the worst American massacre since 9-11). Elena lives in a big house with a rich father (Christopher McDonald) and he's even on crutches, so you've got plenty of room for traps and suspense sequences along the lines of part 1. But the dad has a better idea: he sends his long time head of security Lucello (Lee Tergesen, NO ONE LIVES) to the hospital to bust Arkin out and make him lead a team of mercenaries to the Collector. So it's an ALIENS deal, basically.
Although nothing matches the dance floor massacre, there are several inspired bits of absurdity here. Arkin has a series of self-inflicted scars on his arm that he used to keep track of distance and direction while being transported in the box, and they take him right back to the abandoned hotel where they had him locked up. Inside they find many previous abductees, who are forced to take part in weird games and tests in order to not get killed, and many of them have gone mad. Some are basically like an army of zombie attack dogs. Also he has another collection besides the prisoners, he has all these skeletons and body parts sewn together into different monster shapes. I'm no art critic but I don't like this guy's tastes.
If you saw the first one you may remember that this Collector guy's day job is as an exterminator (how does he afford all these booby traps on a pest control salary? Must invest well or something), so there were alot of weird shots of spiders and stuff. In this one he knows Elena is hiding in a room so he lets loose a bunch of tarantulas, his version of bloodhounds or hunting dogs (although he also has those). She holds up admirably, letting the hairy little fuckers crawl all over her without making a peep.
One nice moment is when they find themselves in a cage and Arkin has to pull off his cast and unset his broken arm in order to stick his hand through a hole and unlock it. Turning his arm into a Reach toothbrush. Also I like when he has two bullets in a gun and his plan is to shoot an innocent bystander out the window, then shoot the ambulance that comes to save him. I don't know why he didn't aim for the guy's leg or something, but it was a pretty good plan for getting help from the police.
It's odd, McDonald appears in the opening scene, driving and giving an emotional talk to young Emma and promising to always be there for her just before getting nailed by another car. I thought it was weird that they could get him for a bit part like that, figured he was friends with the producers or something. Later we find out that he actually survived the crash but remains crippled from it. Oh, okay, that explains it, I thought. Except then we only see him a couple more brief times and he doesn't do a whole lot. Kinda weird.
This weirdo The Collector (played by stuntman Randall Archer, different guy from part 1) is maybe a little too self-conscious about trying to be an iconic horror figure, what with his mask and everything. But they do a good job of keeping him mysterious and vague, and his eyes and smile through that thing are pretty creepy. And when he suddenly bursts through a door with a gun and two dogs that shows that he's not just following the Jigsaw, Voorhees or Krueger playbooks.
Unfortunately, despite alot of good ideas, THE COLLECTION never really recaptures that ballsiness of the opening, and doesn't really build enough onto the cool ideas it has. For example they bring up this concept of the game the prisoners are forced to play, but there's not enough scope or detail to it for it to end up very interesting. And maybe the biggest problem is a lack of memorable characters. Both Stewart and Fitzpatrick are fine in the leads, but nothing more, and not given much personality to work with. And despite watching this recently I've already forgotten everything about the team of mercenaries. It's not an ALIENS or BLADE 2 situation where they're clearly delineated.
Returning director Marcus Dunstan and co-writer Patrick Melton wrote FEAST I-III, SAW IV-VII and PIRANHA 3DD. Dunstan is also doing a segment in ABCS OF DEATH 2 and played a hunter in HATCHET II, so he's probly pretty comfortable doing a sequel. And I guess comfortable is what this is. If you somewhat enjoyed the first one like I did then this will provide you equal or slightly greater somewhat enjoyment.