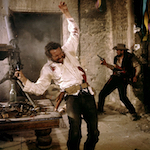 1969. Woodstock and the moon landing and the Manson murders and all that. A different time.
Not just because of bed-ins and bellbottoms, though. Another thing that was different was that people watched westerns. Tons of them! BUTCH CASSIDY AND THE SUNDANCE KID topped the box office, TRUE GRIT won a best actor Oscar for John Wayne, plus there was MORE DEAD THAN ALIVE, CHARRO!, 100 RIFLES, SUPPORT YOUR LOCAL SHERIFF!, SAM WHISKEY, MACKENNA'S GOLD, GUNS OF THE MAGNIFICENT SEVEN, PAINT YOUR WAGON, THE UNDEFEATED, TELL THEM WILLIE BOY IS HERE, A TIME FOR DYING. By comparison, I only count nine super hero movies last year, and to get there I had to include GLASS, HELLBOY, BRIGHTBURN and JOKER.
It couldn't go on forever. John Ford, Anthony Mann, Raoul Walsh and Delmer Daves were done making westerns. Howard Hawks only had one more in him. Several years earlier, Sergio Leone had rebuilt the genre in a completely different style, launching an entire national industry in Italy. Then in '67 BONNIE AND CLYDE pushed the limits of onscreen violence, and in July of '69, the countercultural, modern western EASY RIDER revved the engine on what would be come "New Hollywood" in the '70s.
And Sam Peckinpah was hungry. He'd gotten into trouble with MAJOR DUNDEE in '65, going over budget, fighting with the producer, getting it taken away from him and re-edited. His reputation took a hit, and he got fired from THE CINCINNATI KID a couple days into filming. Luckily NOON WINE, his 1966 hour-long for ABC Stage 67, was well received, giving him the opportunity for a comeback. So what the hell, he went and made an all-timer of a western, but a little different from his previous ones. This was a western made for a time when people were disillusioned about the war in Vietnam and the violent images it brought into their homes.
THE WILD BUNCH is revisionist in both form and content. The amount of film shot, the number of camera setups, the speed of the edits and the use of slow motion were all unusual for the time. The finished film was long, mean and violent. It's weird to think that in that superficial sense Peckinpah was sort of a precursor to Michael Bay!
I come from a subsequent generation, so by the time I saw it it was legendary. It was around the time I was discovering the Dollars trilogy, and it impressed the hell out of me, but I don't think I saw it as being as revolutionary, as rock 'n roll, as Leone. It seemed like an extremely well directed, you know… normal cowboy movie. But I was awed by Peckinpah's depiction of violence, something I had not seen in a movie like that. It appealed to a young man's fascination with transgressive movies, but it felt less like some cool fucked up shit than like a cry of outrage about mankind's savagery.
When I went many years without rewatching it, he thing that really stuck with me when wasn't even the characters – it was the kids dropping a scorpion into a pen of ants they've made, and smiling as it gets torn apart. As if to say that there is no innocence. We don't turn bad (or wild). It's in us from the beginning.
They're just some kids playing in the town where Pike Bishop (William Holden, DAMIEN: OMEN II) and his gang are robbing the railroad office. The job is a disaster of nearly RESERVOIR DOGS proportions – they get ambushed by a team of bounty hunters led by Deke Thornton (Robert Ryan, BAD DAY AT BLACK ROCK, THE OUTFIT), who we will learn is Pike's former partner, which explains why they stare each other down from a distance, and Deke hesitates to kill Pike when he has the chance. The Bishop gang's messy escape pushes back hard against years of sanitized westerns with its indiscriminate hails of gunfire popping juicy squibs on innocent standersby. For example, the tuba player in the South Texas Temperance Union parade gets it. And the kids see the whole thing.
And by that I mean they see the whole movie – kids are everywhere. They're near the rendezvous point, smiling as they listen to the gang joke about whores. There's one that rides around with General Mapache (Emilio Fernandez, RETURN OF THE SEVEN), the main villain of the movie, who will end up killing the hero! And hell, there's a baby being breastfed underneath a bandolier. That pretty much says it all.
But before all that there's kids playing guns after witnessing a real gun fight. There are bodies laying around, locals crying, and bounty hunters (one wearing a cross!) arguing over who get's the bodies. Traditionally, these would've been the good guys, trying to stop robberies, but the brutality of the shootout shatters any illusion of that, and L.Q. Jones and Strother Martin's outlaw-hunters look like ugly, sweaty bandits. And they're just working for the railroad – how can it be worth all this just to protect some giant company's money? One of the locals even chews them out, saying they "turned our town into a battlefield." Yeah, and there will be other towns as the chase continues.
Pike's right hand man is Dutch Engstrom (Ernest Borgnine not long after hanging with that other wild bunch, THE DIRTY DOZEN), and he's also got the Gorch brothers, Lyle (Warren Oates, 1941) and Tector (Ben Johnson right after HANG 'EM HIGH), and this guy Angel (Jaime Sanchez, INVASION USA, FLORIDA STRAITS, BAD LIEUTENANT). But he left behind young Crazy Lee (Bo Hopkins, THE GETAWAY, THE KILLER ELITE, UNCLE SAM) to watch the hostages. Living up to his name, that psycho went Mr. Blonde on them, and he didn't make it out – not that anybody was coming back for him. Which makes it real awkward when they meet up with old Freddie Sykes (Edmond O'Brien) and he asks how his boy did. He didn't mention Crazy Lee was his boy, didn't want him to get special treatment or something.
Oh, uh, you bet, Freddie – your boy did great!
This is not the only abandonment Pike feels guilty about. The big one was back in the day (shown in somewhat awkward flashback) when he fucked up and left Deke to take the fall and go to Yuma Prison. All these years later Deke has come up on a choice to either go back to prison or hunt his former partner for the railroad company, and he's not that torn about it. His posse tracks the bunch down to Mexico, where they get mixed up stealing a box of weapons for the general.
More than the story, the appeal is the theme of these hard-bitten, regretful guys struggling with having outlived their era. That opening robbery was supposed to be one last job, but who are they fooling? Still, Pike says, "We gotta start thinkin beyond our guns. Those days are closing fast."
He's older than some of the others, and has to prove to them (and maybe himself) that he still has it. I love the scene where he falls getting onto his horse because one of the stirrups breaks off. They laugh at him, tell him he needs to hang it up, not just giving him shit but legitimately challenging his leadership. He seems humiliated. But then he gets up on there with only one stirrup and makes it work. Case closed.
There's a whole lot more that happens. You've probly seen it. I don't need to get into it all. It's cool when they blow up the bridge and all, but to me the interesting part is the end. They make Mapache happy by bringing him his weapons, but Angel has a personal feud with the general over a woman and ends up captured. Not content to do a boring torture, they tie him up and drag him behind a car (the ultimate symbol of the changing times!). The general drinks and smokes a cigar and people ride on Angel like a sled. Jesus.
And so the next morning, that wild bunch of guys, having heard what's going on, all start to feel like shit that they didn't stick up for Angel, and all make a decision that they have to go back for him. No more leaving people behind. Doesn't matter if they're all gonna die. (Which they are.) It's probly cinema's most important badass nod/oh shit it's on moment when they all just go out into the sun, look at each other, and know what's up. Dutch smiling and chuckling like oh shit, we're doing this, aren't we? They get their rifles and stroll confidently to their destiny, side-by-side in a row, the camera pulling back to show their surroundings, making them look even more mythic. Where they're going there will be machine guns. There will be blood spouts. There will be vultures, both literal and figurative, picking over their bodies. But what else were they gonna do?
That's what I love most. That mix of melancholy and badass. Too old, too stubborn, going down, don't care. At least they're doing it together.