Recently I made a list of all Clint Eastwood's movies (as an actor) that I haven't seen or don't remember. The list is surprisingly long, and I carry it in my wallet now in case I'm at the video store and don't know what to rent. So hopefully this will be the first of many upcoming doses of Eastwood medicine. (pun)
(you get it, it's a play on Eastern medicine, that's why it's a pun. Needs work I guess.)
HANG 'EM HIGH opens with Clint by himself moving some cattle across the plains. Soon he runs into some deputies who question him and don't believe anything he says. You know how cops can be. He got pulled over for cattledriving-while-Clint.  What we don't know yet is that the cattle really are stolen property. The guy he bought them from was not who he said he was. The real owner was murdered, and that's why the lawmen are hassling Clint.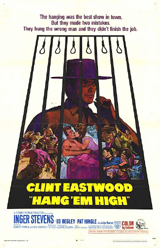 So they throw a rope around his neck and string him from a tree. But after they leave one guy comes back and cuts him down. Clint is still alive. So he's brought into the Fort Grant jail and, after some time, Judge Pat Hingle says his story checks out and lets him go.
Clint used to be a lawman himself, and clearly plans to go after the pricks who lynched him. Hingle convinces him to take a job and do it all legal-like.
See, it's a set-up like that that makes me think originality is overrated. Yeah, I like a stunning new vision as much as the next guy, but a classic is a classic. I can't name a movie with that exact revenge situation, but I figure it's so perfect it can't be the first one.
Surprisingly though it doesn't go the way you expect it to. It would be satisfying if he just tracked those guys and killed them one by one. But in his first American western Clint – by way of his production company, Malpaso – made an entertaining western with a message about American justice. And it's one that's almost more relevant today. I know, I know – a lonely Nigerian kid tried to light his underwear on fire on a plane on Christmas. Shit is dangerous. Enemies could come from anywhere. I don't like it either. We gotta be careful, we gotta do what we can, but we don't gotta go Old West like Bush always wanted to. HANG 'EM HIGH will remind you: a motherfucker needs a fair trial, otherwise you're just making things worse.
Those lawmen had a good reason to assume the guy with the cattle was the killer, but they were wrong. They didn't have to believe him, but they should've given him a trial at least. They made a mistake and what's their suspect doing now? Coming after them for revenge. They created a new killer. Without what they did he would've been out on a ranch somewhere not hurting anybody but cows (and maybe the feelings of a woman somewhere – they always treat the ladies terribly in these westerns).
When Clint finds his men he doesn't follow the Bush Doctrine, he doesn't execute them on the spot or declare them unlawful combatants and lock them up without charges. He does the pain in the ass work of hauling their asses to the jail. He catches the rustlers who really killed the owner of the cattle and drags them back to Fort Grant like only Clint could. And he's hailed as a hero. But he doesn't think 2 of the 3 should hang, because he thinks they were sort of dragged into the rustling, that they didn't do the murder and he knows they saved his life by not helping when the other guy tried to subdue him and escape. Unfortunately Clint's not allowed to make his case at the trial.
The day of the hanging shows you how the movie really feels about hanging 'em high. It's a huge event, people coming into town from all over, filling up all the hotels, like it's a big college football game or something. And as the proceedings commence in the crowded town sqsuare the people sing beautiful hyms, as if religious ritual can hide the ugliness of what's going on here.
Clint wants no part in it, and I honestly thought he was gonna have some plan to rescue the brothers he'd helped unfairly condemn. But no- instead he finds a hooker and treats her bad. I told you, these guys in westerns always gotta treat women bad. Whatever happened to romance? Anyway, he knows the high hanging of 'em is wrong, but there's nothing he can do.
So vigilantism failed, and now the system failed. Fuck. The judge himself argues that only statehood can fix this problem. He knows one man deciding the fate of all suspects is a bad way to do it, even though he's the one man. But that's what he's stuck with for now. So, ironically what this Clint character needs is more red tape. HANG 'EM HIGH and DIRTY HARRY actually end with pretty much the same conclusion (that the system is fucked) but the two characters have different responses (in DIRTY HARRY to throw away his badge, in this to go off and continue the fight, trying to do it as right as he can).
The director is Ted Post, who also did MAGNUM FORCE. He's no Leone, but he's solid. The cast includes some of your usual western guys like Bruce Dern and L.Q. Jones. But also Dennis Hopper, one year before EASY RIDER, has a small role as a crazy dude flipping out at the jail (he's called "The Prophet").