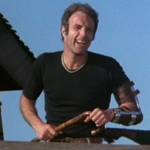 THE KILLER ELITE is Sam Peckinpah's don't-be-naive-these-covert-ops-are-happening-all-the-time thriller kinda like MUNICH. It starts with straight up perfection: a title card explaining that "This film is a work of fiction. There is no company called Communications Integrity NOR ComTeg and the thought that the C.I.A. might employ such an organization for any purpose is, of course, preposterous."
James Caan and Robert Duvall star as Locken and Hansen, two hard-drinking, lady-loving partners who claim to have never heard of the C.I.A. even though we just saw them bomb a building. They've spent enough time together that they're always singing made up songs and saying stupid jokes that seem like you had to be there. But they're obviously having fun.
When they go to a safe house, Locken goes to take a shower and Hansen turns traitor, killing the defector they're supposed to be protecting and then trying to cripple his partner. When he's standing there naked with a gun pointed at him Locken doesn't even get scared because he can only comprehend it as a joke. He really thought he knew that guy, now he's shooting him in the shower? He never took him for a shower-shooter.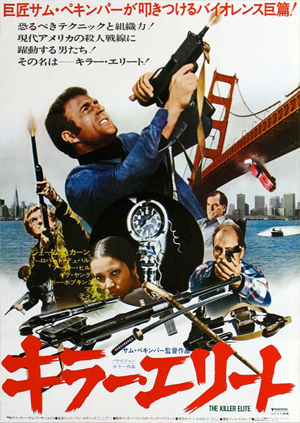 Since Locken is kind of an asshole, turning him into an underdog by crippling him is a good way to make him a little more sympathetic. Alot of movies would skip to two years later or whatever and have him walking with a cane and out of work. But Peckinpah shows the whole process from being drugged and goofy to being told he can't work again, getting the casts off, getting the braces on, practicing walking, eventually beating the predictions, practicing martial arts with a sensei, getting good at it, living with his nurse.
Then of course they decide they need him again. Locken is the best guy to protect their client (Mako), who was attacked by ninjas at the airport (we've all been there) and now has that fuckin rat Hansen after him. Locken takes the job provided he can choose his own team. He picks Miller (Bo Hopkins), a gunman everybody says is a psycho, and Mac (Paulie himself, Burt Young [not the talking parrot Paulie, but the Paulie from ROCKY. The talking parrot Paulie was Jay Mohr I believe, and he is not in this), a driver who's been out of the life for a long time but comes back on for his old friend. Sorry, wife.
They quickly find themselves in full-on urban combat, shoot outs in broad daylight, exchanging fire from their armoured taxi to the San Francisco rooftops. They get chased by cops and don't want to hurt them but might have to. There's a great scene, both tense and funny, where a motorcycle cop pulls up and starts asking questions while Mac is under the car trying to remove a bomb they just realized somebody planted. Mac keeps his priorities straight and kind of ignores the cop while he dismantles the thing rather than getting them blown up. Then he hands the cop the bomb.
I noticed Tom Clancy's name on the opening credits. I thought that was weird but, not knowing much about Clancy, I figured it kinda made sense. He must've had a background in intelligence agencies, or had gotten a reputation as an expert on them or something, so he was cast in the movie as kind of a nod to his work, or to add credibility to the production. But as I started reading about it I realized that no, Clancy was not involved in intelligence at all, he was just an insurance salesman who made it big as a novelist, and not until years after this movie. Then I realized this was a totally different Tom Clancy. Whoops. Just one of those Tom Clancy mixups we all do sometimes.
At the end, yes, there is some ninja fighting, some of it in Peckinpah's trademark slo-mo. (Somebody told me Monte Hellman or somebody really directed this stuff because Peckinpah was too drunk, I can't seem to verify that though.) At one point Locken uses his cane to fight off multiple ninjas. It's stiff and slow by modern standards of fight choreography, but unless you got a stone heart you gotta admit it's pretty cool to see James Caan beating up ninjas with a cane. Come on, man.
One unexpected angle on the character is that he seems more consumed by getting his groove back than getting revenge. He doesn't seem to hate Hansen even after all this. So although it's kind of like DYING OF THE LIGHT with a body ailment instead of a brain one to overcome it doesn't have the same quality of a stubborn crusade to kill a guy. It's sport – just some guys competing in what they're good at. When it turns out his bosses screwed him it makes him sympathize even more with his betrayer. Why be loyal? Why believe in something? Get that money. It's not a racket for good guys.
This one feels a little melancholy, but not joyless. I like the camaraderie between the three rejects, the loyalty of Mac, the casual brutality of Miller, the sometimes humorous dialogue. At the end, while Locken watches his charge formally duel a ninja (which were more of novelty back then rather than an important part of life like they are now), he starts asking condescendingly about their costumes and stuff.
I wouldn't say this has the poetry of the best Peckinpah. And I guess it wouldn't, since this was a for-hire gig he got at a time when he couldn't really get any other jobs. But it's a well done '70s thriller about a world where it's hard to tell who's the good guys and who's the bad guys. You just gotta guess, I suppose. Or maybe everybody's the bad guy. But they should try to be better.
NOTE: The Statham movie KILLER ELITE is not a remake, though it takes place in the same world. There's no "THE" in the title, so I don't know why you would even think they were related. Pay attention.