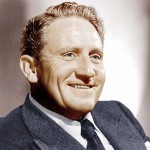 A reader named Stephen A., and probaly some other people in the past, have been reminding me to watch BAD DAY AT BLACK ROCK, a classic 1955 badass picture from director John Sturges (THE GREAT ESCAPE, McQ). So I finally did. Thanks guys.
In a weird way the opening kind of reminded me of a great late '80s, early '90s action movie, because it's widescreen with this train coming and SPENCER TRACY and everybody else's names are in huge letters that fill almost the whole screen. Just like it would say STEVEN SEAGAL if that train was from UNDER SIEGE 2 PART 2: DARKER TERRITORY.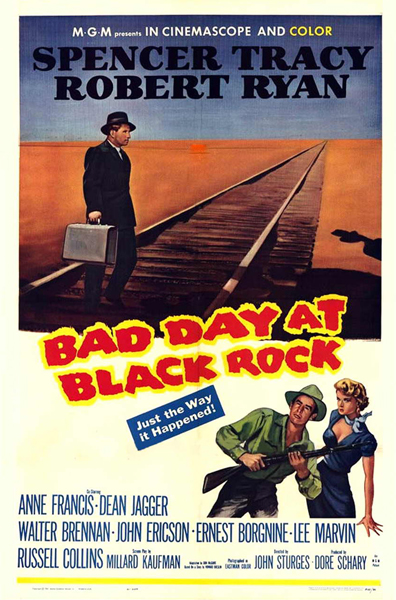 Our boy Spencer plays a mysterious stranger who comes into a tiny little turd of a town in the middle of nowhere. The movie takes place in the '50s but it's alot like a little old western town. And kind of depressing to me in the same way as those towns we have now where when you go into town all you find is a bland little strip mall identical to the strip malls in every other part of the country. The town is so small that everybody in it comes out to watch this guy get off the train, which they say hasn't stopped there in 4 years. So watching it stop is like watching the Olympics I guess.
Spencer is not some drifter like Clint. He came on a specific mission. We just don't know what that mission is yet. He has a suit, a fedora and a briefcase. And only one arm. He is coy about what the hell he's doing there, I figured he was a detective investigating some crime, and the whole town obviously wants him to just get the fuck out. But they won't say it in so many words, they just try to stare at him and make him uncomfortable.
And it's a hell of a group of people to be intimidated by. The guy who turns out to be the top villain is Robert Ryan, and his top thugs are Ernest Borgnine and Lee Marvin. It quickly becomes clear that the rest of the town, including the sherriff, are scared of these guys and helping to conceal some crime. And some of them (especially the sherriff) are completely ashamed of it. And there's a doctor who talks kind of like Alan Alda.
Unfortunately I already SPOILER knew that Spencer Tracy was gonna know karate in this movie. I know it because Steven Seagal used to always mention this movie when defending his status as an actor, asking if Spencer Tracy is no longer an actor after playing a one-armed karate expert in this movie. But still, I love the way they don't let on what an asskicker he is until well into the movie when Ernest Borgnine forces him to unleash it. You could tell he was tough because he didn't seem to have much fear. He wasn't really talking trash or anything, but he would be a little bit of a wiseass and would pretend to not understand as people were threatening him. But in the bar Borgnine is bullying him and trying to provoke him, and obviously not expecting much because the guy has one arm. But then with a handful of karate moves he manages to knock the hell out of Borgnine (and knock the bastard through a door). To everyone who has been singing the praises of this as a great badass scene in the history of badass scenes: you were right.
This is a very slow-paced movie that might kill some modern action fans. It's a slow boil. They used to have those. That bar fight is almost like Takeshi Kitano in the way it's a sudden and quick burst of violence. There has been this threat all throughout the movie but when the shit suddenly goes down it's surprising. There's a car chase at one point and a molotov cocktail, but most of the movie is about talking and smoldering.
What I like best about the movie is how it slowly reveals what's really going on. It turns out Spencer Tracy could've left at the beginning if the townspeople hadn't freaked him out by acting so suspicious of him. But it's a good thing he stayed because his mission is very personal and noble, and it hits on a type of prejudice that was not commonly acknowledged in movies in those days.
I didn't get a chance to listen to the whole film historian commentary track, but the beginning is pretty good. He makes a good argument for this being the type of movie I love most: entertaining b-movie type story but with an unexpected substance at the center. And if you enjoy one-armed karate experts, well, this has one. Merry Christmas.