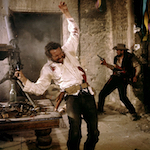 1969. Woodstock and the moon landing and the Manson murders and all that. A different time.
Not just because of bed-ins and bellbottoms, though. Another thing that was different was that people watched westerns. Tons of them! BUTCH CASSIDY AND THE SUNDANCE KID topped the box office, TRUE GRIT won a best actor Oscar for John Wayne, plus there was MORE DEAD THAN ALIVE, CHARRO!, 100 RIFLES, SUPPORT YOUR LOCAL SHERIFF!, SAM WHISKEY, MACKENNA'S GOLD, GUNS OF THE MAGNIFICENT SEVEN, PAINT YOUR WAGON, THE UNDEFEATED, TELL THEM WILLIE BOY IS HERE, A TIME FOR DYING. By comparison, I only count nine super hero movies last year, and to get there I had to include GLASS, HELLBOY, BRIGHTBURN and JOKER.
It couldn't go on forever. John Ford, Anthony Mann, Raoul Walsh and Delmer Daves were done making westerns. Howard Hawks only had one more in him. Several years earlier, Sergio Leone had rebuilt the genre in a completely different style, launching an entire national industry in Italy. Then in '67 BONNIE AND CLYDE pushed the limits of onscreen violence, and in July of '69, the countercultural, modern western EASY RIDER revved the engine on what would be come "New Hollywood" in the '70s.
And Sam Peckinpah was hungry. He'd gotten into trouble with MAJOR DUNDEE in '65, going over budget, fighting with the producer, getting it taken away from him and re-edited. His reputation took a hit, and he got fired from THE CINCINNATI KID a couple days into filming. Luckily NOON WINE, his 1966 hour-long for ABC Stage 67, was well received, giving him the opportunity for a comeback. So what the hell, he went and made an all-timer of a western, but a little different from his previous ones. This was a western made for a time when people were disillusioned about the war in Vietnam and the violent images it brought into their homes. (read the rest of this shit…)