This movie's gettin a squeeze of the ol' limelight again on account of the Minnesota Coens are doing another version of the same book.
In this first version John Wayne plays U.S. Marshall Reuben "Rooster" Cogburn, who everybody talks about as a mean old bastard but let's be honest, he's really a lovably eccentric curmudgeon. I mean even if he says no at first it doesn't take a whole lot to convince him to go on a bounty hunt with a 15 year old rich girl. And then he doesn't rob her or slap her around or anything. In fact the big turning point in the story is when the Texas Ranger who's going along tries to spank the girl with a switch, Rooster decides to put his foot down and enforce an anti-spanking policy.
I see plenty of room for Coen humor here with Mattie Ross, the spanking victim in question who hires Rooster to catch her father's killer. She has a Barton Fink sense of entitlement ("My family owns property and I want to know why I'm being treated this way!") and her repitition of the word "grit" ("I'm looking for someone with grit," "I hear he has grit?" "Is this what you in Fort Smith call grit? Back in Yell County we have a different word for it," etc.) would be right at home in any Coens movie.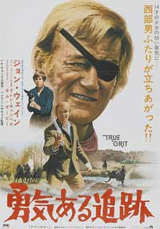 Mattie is played by Kim Darby (you know, the professor from TEEN WOLF TOO) and she was in her early 20s, but her gestures and SOUND OF MUSIC haircut make her believable as a teenage nerd of the old west. Some of my buddies complain that she's too old, but I can't lie, I thought she was a young boy in the first scene. Not an adult woman. So it worked for me. To me Mattie is a really funny character – I'm sure she's too annoying for some people, but I think the way she takes charge, seemingly oblivious to why somebody like her doesn't belong on the trail of outlaws and killers, is kind of endearing. Rooster first hates her, but starts to call her "baby sister" and be protective of her. It's sweet how he grows to really like her. But he never says, "Baby sis, you have grit," even though that's obviously the compliment she's fishing for. She wants to have grit. She tries.
Wayne won an Oscar for this. Conventional wisdom says it was rewarding him for his career, not for that specific role. But that's not giving the performance enough credit – this was a huge stretch. Rooster is a totally different character for Wayne because he wears an eyepatch. Only one eye, but John Wayne in real life had two (I looked it up). What a chameleon!
Okay, so it's just John Wayne with an eyepatch, but I gotta say I really like this character. He's a feared marshal known for having shot a high number of suspects. He lives with a Chinese shop owner named Chen Lee (who he chastises for not knowing the language since he doesn't know the word "lustrum") and a cat named General Sterling Price (who he considers a roommate, not a pet). He likes to bicker, but he's a big old softie. He's always outnumbered, always having to shout over hills pretending to have a whole posse with him, and yet he'd prefer to work alone. And he trusts the little girl more than the Texas Ranger. (I guess he could throw her farther.)
Although his name is Cheney the guy who killed Mattie's father is not exactly the terror of the old west. He's just a dumb drunk who shot Mr. Ross for trying to keep him out of trouble. Luckily he's running with Lucky Ned Pepper (Robert Duvall), a guy Rooster would like to get his hands on. Rooster shot Ned in the lip once and would like to take care of the rest of him.
I talked to a couple people who had seen this and told me it was terrible. I guess I understand. It's a corny old style western – director Henry Hathaway was 71 years old and had been directing westerns since 1932, and here he is doing the same thing five years after FISTFUL OF DOLLARS played westerns like Jimi played the Star Spangled Banner. But I don't care, I enjoyed it for these two goofy characters bouncing off each other. And it has some of those odd, unexpected moments I watch movies for. When Mattie finally comes face to face with Chaney he tries to play the part of the villain, but he's too pathetic to do a good job. She's ceremonial about it, she rattles off the crimes he's responsible for. And he whines, "I been through all that and now I'm shot by a child!" Like he's begging for someone to feel sorry for him. "Everything is against me!" he keeps crying. The poor baby.
After watching the movie I read the book by Charles Portis, which I was assured was way better. Well, it's a great book, but I was surprised how faithful the movie is. I mean, especially back then alot of movies would just take the basic idea and characters of a novel and then go off to movieland. For example the movie of Elmore Leonard's THE BIG BOUNCE ("The second worst movie of all time" –Elmore Leonard) came out that same year, and so did THE MAGIC CHRISTIAN (which was co-headlined by Ringo Starr as a character not even in the book by Terry Southern). TRUE GRIT stays very close to the original storyline and pretty much all the great lines are straight out of the book. I didn't get the sense that Rooster was meaner than in the movie. It's the same deal – they tell you what a drunk he is, but he's never a violent drunk or an angry one. He doesn't have any amends to make or anything.
There are two areas where I think the Coens will be more faithful though. #1, the book is told from the perspective of a grown-up Mattie looking back, and we already know that they'll be following that for the movie. So we'll probly get some of the funny narration and some of the things she mentioned that take place later on, some of them tying in to Rooster's past as a Confederate soldier. (I never said he was a role model.) #2, the climactic scene that takes place in a pit full of snakes is more harrowing in the book, in ways that would've been difficult to film in the '60s but not so much now. So there's probly gonna be a couple shocks there that could be classic cinematic moments for the ages.
I don't know how good the Coens version will be (I'm guessing very) or how beloved Jeff Bridges' version of Rooster will be. But this could definitely come back as a franchise, even without Bridges. I am speaking of course of THE WAR JOURNALS OF GENERAL STERLING PRICE, which could be a syndicated TV series of stories from the perspective of Rooster Cogburn's cat roommate. But it takes place during the civil war, before he met Rooster, leading up to when he saves Chen Lee's life. It would have all kinds of knowing historic cameos like John Brown, Dr. Samuel Mudd, Frederick Douglass, etc. as seen through the unique feline perspective. Also I think maybe the cat should have an eyepatch this time, and there should be an annoying kitten that he has to help.