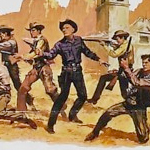 aka RETURN OF THE SEVEN
Six years after THE MAGNIFICENT SEVEN they got tired of waiting for a SEVEN SAMURAI 2 to remake and just went ahead and made up a new story called RETURN OF THE SEVEN (now available on video with magnificence added to the title). John Sturges was not involved. The director, Burt Kennedy, was a fencing double who became a writer with SEVEN MEN FROM NOW and then director with THE CANADIANS. He directed numerous westerns (SUPPORT YOUR LOCAL SHERIFF!, HANNIE CAULDER) but also the first version of THE KILLER INSIDE ME and the only version of SUBURBAN COMMANDO.
But the name on the credits that gave me hope was the writer, future under-recognized genius of horror, blaxploitation and suspense Larry Cohen. In fact, this was his big screen debut after some years in television, during which he created and wrote the western series Branded.
The opening, introducing the plight of another (or maybe the same?) Mexican village at the hands of another group of Mexican bandits (all of the men are run off into the desert at gunpoint) is dishearteningly dull. But this is our connection to the first film – Chico (Horst Buchholz), the young fighter who stayed to live in the village because he fell in love with Petra (Rosenda Monteros), is one of the men captured, so Petra knows to go try to find the great Chris Adams to help.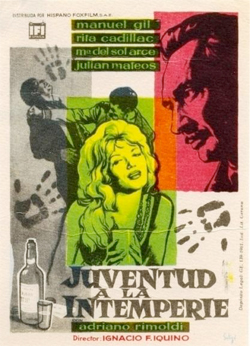 Only I didn't really catch that at first because they're different actors now, Julian Mateos (HELLBENDERS) as Chico and Elisa Montes as Petra. At least Mateos, being Spanish, seems closer to Mexican than German Buchholz did. I can't find any evidence that he was the Spanish James Dean, but he starred in some crime thrillers and a boxing movie called YOUNG SANCHEZ, and maybe this thing called JUVENTUD A LA INTEMPERIE or THE UNSATISFIED could be kind of a juvenile delinquent movie? I don't know.
Yul Brynner returns as Chris Adams, who's still floating around south of the border. Vin finds him in the front row at a bullfight, and Chris does that intimidating not-bothering-to-look-at-him-like-he-doesn't-have-a-care-in-the-world-but-you-fuckin-know-he-could-spin-around-and-drop-him-on-the-drop-of-a-dime-if-he-decided-to thing as they discuss the bounty on his head. Chris seems to assume his old friend has come to collect on him, when in fact he just tracked him so he could warn him and help fend off any other guys looking for him.
This is a really good scene, but it's held back a little by the distraction of having to determine that no, this is not some other old friend we haven't met before, this is supposed to be Steve McQueen's character Vin, now played by Robert Fuller (Laramie, Wagon Train). McQueen had since become a big star with THE GREAT ESCAPE and THE CINCINATTI KID. The historical record is unclear as to whether he just didn't want to do a sequel or Brynner didn't want to work with him again, but he would've been working on NEVADA SMITH or THE SAND PEBBLES around that time since they both came out in '66. But the reteaming would've definitely made this movie much more exciting. Instead you get that weird feeling when Don Cheadle replaced Terence Howard as Rhody in IRON MAN 2 and it's supposed to be continuing the same friendship we were already invested in.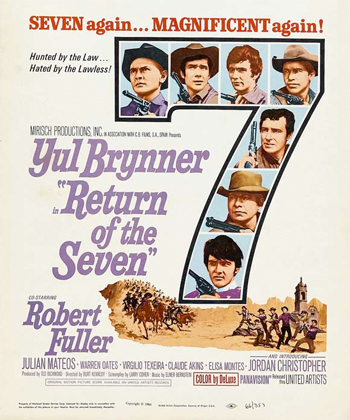 When Petra finds Chris and Vin they agree to go save Chico and the others, because once magnificent always magnificent. But they seem to think these sorts of things can only be done with teams of seven, so they recruit four new guys. Chris goes to the jail and asks about the different prisoners to see if any of them are worth bribing out. He chooses Frank (Claude Akins, RIO BRAVO, THE KILLERS) and Luis (Virgilio Teixeira, THE 7TH VOYAGE OF SINBAD, DOCTOR ZHIVAGO). Then he finds an old gunman buddy named Colbee (Warren Oates) and a guy named Manuel (Jordan Christopher, lead singer of the band The Wild Ones) that he finds at a cockfight. Always good to get in a cockfighting scene in my opinion. (Eight years later Oates would star in COCKFIGHTER.)
Colbee's gimmick is that he's super fucking horny and takes the job because there will be lonely women in the village. If this was SEVEN SAMURAI, that old man would be justified in worrying about his daughter. I am not totally comfortable with his behavior in my opinion.
It turns out that the villain Lorca (Emilio Fernandez, THE WILD BUNCH, BRING ME THE HEAD OF ALFREDO GARCIA) is forcing the abducted men to rebuild a town that was trashed during battle. He doesn't know that he's the bad guy, because he once protected the farmers who live here. He fought bandits, 200 men died, he resents these people who he says did nothing. He wants to rebuild the town as "a monument built with the sweat and blood of those who never fight." He's basically the person Chris could've turned into after THE MAGNIFICENT SEVEN if he was just a total fucking prick.
Lorca even talks down to the priest (Fernando Rey, THE DISCREET CHARM OF THE BOURGEOISIE, FRENCH CONNECTION I and II) when he expresses misgivings about forcing human beings into slavery. "You're the one who wanted a church!" Lorca says. "When you found out you couldn't pray it into existence you came to me." That thing assholes do where they try to justify the despicable thing they did by implying that you secretly need them to do it or the whole system will come crashing down don't be naive my friend.
Probly the best scene in the movie is when Chris rides into the center of town and casually asks Lorca to release the slaves. Lorca says he's either brave of stupid because "One word from me and you'd be dead."
"That'd make two of us," Chris says. "You have five Winchesters pointed at your head." And sure enough, then we see the other five standing on top of hills and towers, aiming at him. They're able to chase Lorca and his men out of town, but he says "There will be a next time," and they believe him. It turns pretty much into part 1 with the boys trying to shore up the village and prepare for Lorca's inevitable return.
I think this is the best looking of the series, and the one with the most production value. There are big sets, many crowd scenes, a scene that's in the rain at night, wide shots of the six of them riding through the desert and over mountains, under grey rolling clouds. And there's all kinds of good scenery. Between the people husking corn on the opening credits, the bullfight scene, and later the scene where they have outdoor drinks at night with fireworks, flamenco dancing and music, this is the only movie in the MAGNIFICENT SEVEN series that creates a strong atmosphere of Mexico instead of just seeming like a bunch of extras were given sombreros and jackets that the studio re-uses for every western. That's ironic, because the first one was filmed in Mexico with actual Mexicans as extras, while this one was filmed in Spain. I read that the on-set Mexican censors for part 1 wouldn't allow the Mexican characters to have dirt on their costumes, so they may have contributed to that feeling of phoniness.
It's always good to see Oates in movies, but my favorite addition to the cast is Akins. He's the type of big quiet capable guy I'd want on my team of seven magnificent people.
And I think I take Brynner for granted. He's so iconic in the cowboy hat from WESTWORLD that I forget he only did about six actual westerns, including these two. Chris Adams is a great character (even though I still can't tell he's cajun) and his commanding presence really makes these work. He's so intense nobody ever questions his lack of sideburns.
Though it's not the same without McQueen, I still like the camaraderie between Chris and Vin, and there's some good dialogue by Cohen. Vin is worried that he's a bad person because of all the people he killed. Chris, who has probly killed more people, doesn't think he is. "Because in all the years l've made my way with a gun, I never once shot a man just to see him fall. That time ever comes, l throw my guns in the water bucket and ride out. So will you."
Well, we'll see. There are still two more sequels.