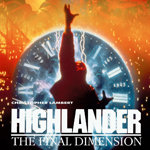 HIGHLANDER: THE FINAL DIMENSION (apparently also called HIGHLANDER III: THE SORCERER) arrived in late 1994 in the U.K., early 1995 in the U.S. It was only about three years after THE QUICKENING and already the producers were like, "I don't know what you mean, 'Planet Zeist.' That's not a thing that was ever mentioned in our movies." And they made a new HIGHLANDER sequel that didn't acknowledge any of that stuff – "a stand-alone alternate sequel to the original film," as Wikipedia puts it. Of course, it takes place in 1994, so in my opinion it is for sure just an adventure Connor MacLeod had shortly before the ozone layer got real bad and he transitioned into the shield-building

industry and then years later was at an opera that reminded him he was from Planet Zeist.
But before they take us to Connor in the '90s they fill in a piece of backstory that was skipped before. Turns out after his mentor Ramirez and then his wife Heather died back on the Highlands he wandered the world "searching for answers" until he "came to Japan, to the mountains of Niri and the cave of the sorcerer Nakano." We see Nakano (motherfuckin Mako, CONAN THE BARBARIAN) forging Connor's familiar sword. A ha*. Prequel.
And as long as you got Mako in your movie you gotta have him say some cool shit with that Mako voice. Either narration or, as in this case, dialogue that would work as narration. "Great danger lies ahead, Highlander," he says. "From a far away land comes another, the most feared and evil among us. He keeps growing stronger every day, feeding on the power of other Immortals. Soon, there will be none left who can stop him. If he wins, the world will suffer eternal damnation."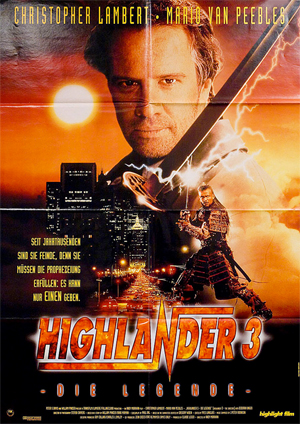 Nakano was right. The asshole's name is Kane (Mario Van Peebles, JAWS: THE REVENGE), and he's riding toward them with a posse of barbarians. They burn down a village of people who won't tell them where Nakano is, so in my opinion they are not nice guys. For some reason Kane is looking for "the Highlander."
Nakano (who not only forged Connor's sword, but trained him in samurai sword skills and taught him to "respect the power of illusion"), wakes Connor up at night and tells him to leave, presumably so that Kane doesn't kill them both and become the last one (besides all the ones who were still alive in the 1986 of the first film). Kane almost immediately wins his duel with Nakano, but at least Nakano's severed head is still able to taunt him and – even better – his Quickening causes the whole cave to collapse on top of them all. Ha ha. Suckers. Built in booby trap.
So, hundreds of years later some company is digging tunnels in that mountain and they accidentally unleash Kane and his two buddies. Kane's first words when he emerges are "Highlander's out there somewhere." I guess he didn't take that time to reconsider his grudges. Like Earl Talbot Blake in Russell Mulcahy's RICOCHET, he has no hobbies but revenge. He later explains, "Hate feeds you. It focuses the mind. Keeps you warm." Then he chops off one of his buddy (Raoul Trujillo, APOCALYPTO, THE SWORDSMAN)'s heads for an extra power boost.
So we're up to 1994. It seems that shortly after receiving The Gift of mortality by being the last remaining (and not buried) Immortal at the end of HIGHLANDER, Connor's happily ever after was cut short by a car accident that killed his sword expert wife Brenda. He survived without a scratch on him, which might make you think he's UNBREAKABLE. But no, the reality is that he was mistaken about getting The Gift, because he wasn't the last one yet. (They never mention the whole thing about how he could hear the thoughts of everyone on earth and all that. Maybe that was a placebo effect.) The Game is still afoot on account of those three dudes he left buried in a collapsed cave hundreds of years ago. I mean, they deserved it. But they're out there.
(Note: I guess this has to be a separate continuity from Highlander: The Series, where he is aware that Duncan MacLeod and six seasons worth of guest star Immortals are still around.)
When Kane kills his lackey, Connor senses The Quickening, figures out Kane is alive, and leaves his adopted son John (Gabriel Kakon) in Marrakesh while he goes "back to New York, the place of The Gathering" and changes into the classic part 1 outfit. There's a goofy tangent where he gets jumped by five dudes in a snowy alley. They shoot him dead and he's taken to the hospital, but since his wounds heal a doctor decides he's crazy (?) and he's locked in a mental ward for a while. This is the kinda pain in the ass thing that can happen to an Immortal in the big city.
He sees a TV report interviewing one Dr. Alexandra Johnson (Deborah Kara Unger in her movie before CRASH) about an archaeological discovery in Japan, so he flashes back to a woman named Sarah Barrington who he was in love with during the French revolution. But here's the thing – THIS WOMAN IS ALSO PLAYED BY DEBORAH KARA UNGER (PAYBACK). That could be cool if it meant she was an Immortal, but no, it's that thing where the same actress plays someone from the past to show they're a reincarnation or some shit (see also BLACULA, CANDYMAN, etc.)
He gets attacked by Kane's surviving pal, Khabul (Jean-Pierre Perusse, BLACK ROBE) and there are some very nice looking shots that show new director Andrew Morahan (another early music video director) and cinematographer Steven Chivers (HARDWARE, Gorillaz Featuring Mos Def and Bobby Womack: "Stylo") take seriously their responsibility to fill Mulcahy's shoes.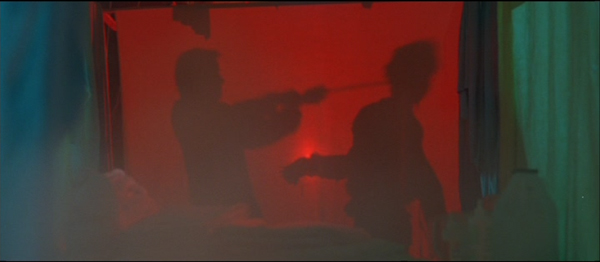 Also there's a pretty funny product placement when Khabul gets beheaded and his Quickening passes through a bunch of cans of Mountain Dew.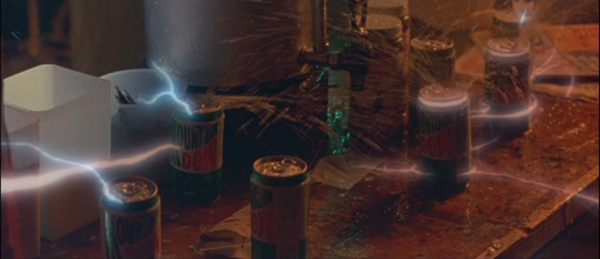 A+ product placement.
An unnecessary but appreciated tie to part 1 is that an angry cop (Martin Neufeld, RENEGADES) finds the headless body and sees Connor in town. He knows him by his old alias "Russell Nash" and vows to prove that he really was "The Head Hunter" after all. (Good luck with that, pal.)
Connor goes to see an old buddy at his… I don't know, judo gym or something, with trampolines and ropes that thankfully get to be used in a fight against Kane. Connor's sword gets broken (that was a gift from Nakano, you dick!) so he returns to Scotland and the exact spot where he lived with his "bonny Heather" to forge a new blade from metal that Dr. Johnson found in Nakano's cave. Which is pretty awesome. The good doctor shows up in time to watch part of a training montage involving sword practice on cliffs, rowing and jogging, all set to a warbly Scottish ballad ("Bonny Portmore" performed by Loreena McKennitt, I believe). Best of all (for him) she looks him in the eyes and intensely explains that she knows who he is, when he was born, that he can't die and they just start kissing and it cuts to them in bed where she's writhing on him like a stripper in a glam metal video.
Though released theatrically as a PG-13, the two added sex scenes on video make it arguably the horniest of HIGHLANDERs, with lots of him sucking on her boobies, a shot of him yanking her panties down, glimpses of both of their (or their doubles') butts, and also a nicely lit barn makeout flashback with her lookalike or past life or whatever.
By the way, on the topic of flashbacks, they do a funny transition where they cut from Connor chopping a grapefruit to somebody getting it with the guillotine. And you realize oh shit, France at that time was the absolute worst place on earth for an Immortal to be hanging out. He must've really been into that lady if he stuck around.
One thing I don't like about Kane: he talks in a pretty laughable raspy evil voice. Another: lots of that familiar brute-out-of-time humor, like he messes with three card monty guys on the street, and he goes to a hooker who hands him a rubber and he thinks he's supposed to eat it. It's actually pretty similar to the New York City fish-out-of-water antics of the Genghis-Khan-descended villain in Mulcahy's THE SHADOW, which came out earlier the same year.
One thing I do like: they say he comes from China, and he wears Mongol-inspired furs and armor, but in my opinion Van Peebles does not seem that Asian. Maybe the best continuation of part 1's mismatched nationality casting tradition.
You know now that I think about it the title THE FINAL DIMENSION has no applicable meaning that I can think of. But I know Kane is the alternate-titular Sorcerer, because he absorbed Nakano's magic powers through intra-Quickening transfusion and now can turn into a bird or make you see things that aren't really there. And he uses it to add some flair to the Kurgan-style misbehavior portion of the movie. He disguises himself as Connor (accurate down to the white shoes, while even the real Connor is wearing brown) and picks John up at the airport. Then he takes him on a joy ride and cackles while he pranks him with illusions that they're going to crash into airplanes and trucks and stuff.
If you listened to my episode of the Suspense Is Killing Us podcast you heard me making fun of Angelina Jolie's character in THE BONE COLLECTOR having a photo with "Me and Dad" handwritten on it. Like at one point she thought You know what, I have a Sharpie, I better write down that this is me and dad so I'll remember who it is. FINAL DIMENSION has a similarly ridiculous photo with writing on it: Kane breaks into Connor's place and he notices a framed photo of John – signed "To dad, love John." It's important, because that's how Kane discovers that Connor has an adopted son. But who the fuck autographs a photo for their dad!? Maybe it's a Marrakesh thing?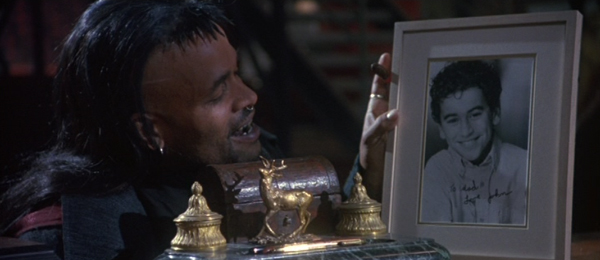 The final duel is in a pretty standard and not particularly visually arresting action location: a factory full of catwalks, steam, fire, and (shout out to Mulcahy) giant fans with lights behind them. This time as a threat as well as a decoration.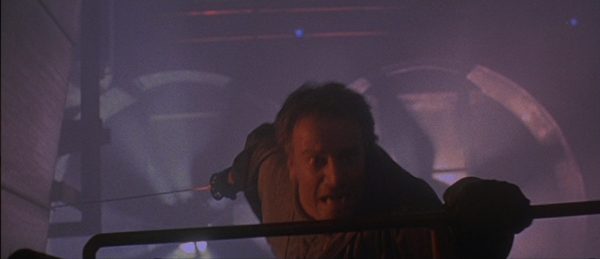 Some rock 'n roll plays during the fight (apparently it's an instrumental of Motley Crue's "Dr. Feelgood"?), but it's no Queen. Kane gets cut in half and reconnects his body, and it doesn't shock Connor as much as it shocks Blade when Deacon Frost does it in BLADE. Connor ultimately wins with an oops-I-didn't-realize-you-got-me-now-my-head-falls-off move, a nice tribute to the samurai influences of his sword.
So I guess now The Game is really over and he really has The Prize? It doesn't really specify. But now he has yet another love of his life, and he goes back to his old place in Scotland. "I'm at peace. It's finally over," he says. But lightning strikes his sword. The ol' leave-it-open-for-a-sequel lightning.
Some new variations they did in this one:
The part where they can't fight because they're on holy ground is a Buddhist site instead of a Christian one.
The opening narration is done by Connor on camera like he's Ferris Bueller or somebody.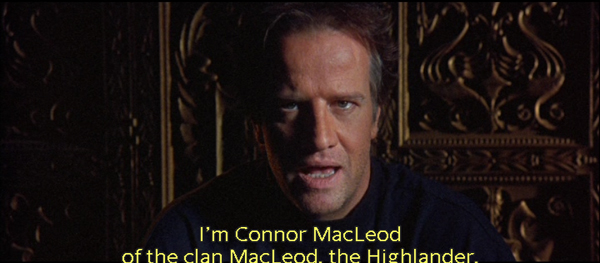 Director Morahan's music video career started with "Wake Me Up Before You Go-Go" by Wham!, and included dozens of collaborations with O.M.D., Pet Shop Boys, Ozzy Osbourne, Van Halen, Tina Turner, Bananarama, Cyndi Lauper, Wang Chung, Spandau Ballet, Guns 'N Roses and many others. This was his first feature, followed by MURDER IN MIND (1997), GOAL III (2009) and BOOGIE MAN (2018). He also directed the Ewan-McGregor-starring Tales From the Crypt episode "Cold War" (1996) and several broadcasts of operas (2014-2015).
I can't say his take on The Highlander is as impressively stylish as parts 1 and 2, but it's definitely slicker and more expensive looking than what will follow. It's not ugly or lazy. There are some nice shots.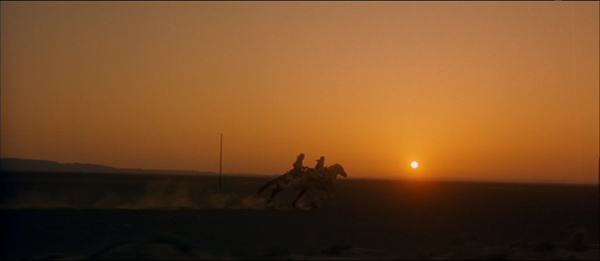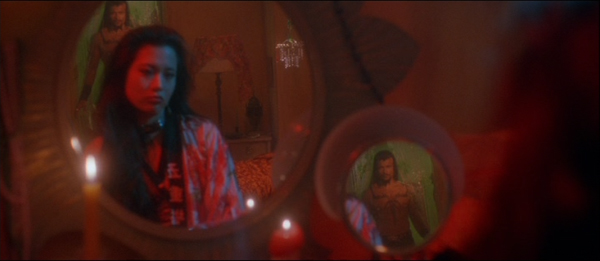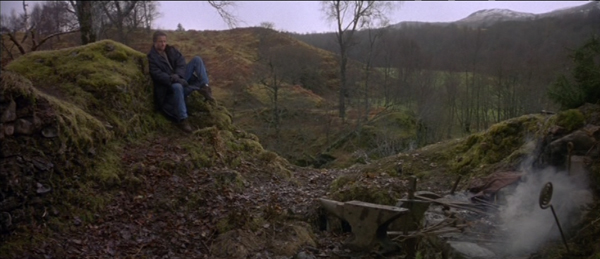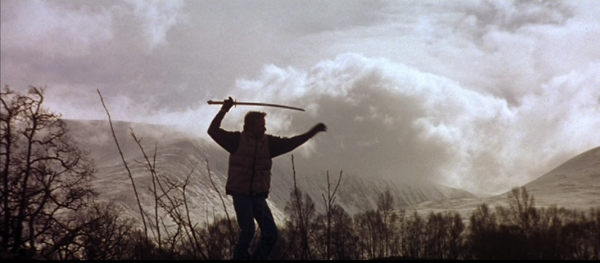 For good and bad, I think part 3 is the most competent and safest of the HIGHLANDER sequels. It's pretty standard for an installment in an ongoing '80s/'90s genre franchise: bring back the star, revisit locations and events from the first film, find a new villain that's kind of a variation on the old one, add some new information to the backstory, make everything kinda the same but also kinda different from the first time. Like a Freddy movie would have to come up with new nightmare sequences, they have to come up with new Quickenings. And by the standards of commercial product (as opposed to visionary pop art) they mostly do a decent job of this task.
So you could say it's the best sequel as far as being traditionally satisfying and minimally infuriating. But I definitely prefer the ambitious weirdness of the other, messier ones.

NEVER FORGET: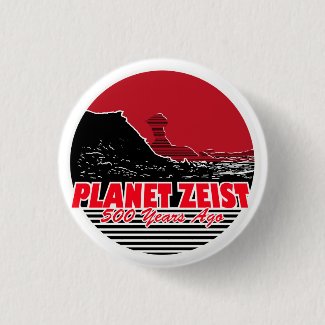 Planet Zeist 500 Years Ago pin
by your friends at VernsFleaMarket
*Speaking of "Ah ha," Morahan directed the videos for A-ha's "Stay on These Roads" and "The Blood That Moves the Body."
CONTEXT:
Other action movies released in 1994:
GUNMEN (also starring Lambert and Van Peebles!), ON DEADLY GROUND (with HIGHLANDER II's John C. McGinley), THE CHASE, SURVIVING THE GAME (also with McGinley), NO ESCAPE, 3 NINJAS KICK BACK, THE CROW, BEVERLY HILLS COP III, SPEED, BLOWN AWAY, THE SHADOW (directed by HIGHLANDER I-II's Russell Mulcahy), PENTATHLON, TRUE LIES, TIMECOP, TERMINAL VELOCITY, THE SPECIALIST, DOUBLE DRAGON, LEON: THE PROFESSIONAL, A LOW DOWN DIRTY SHAME, DROP ZONE, STREET FIGHTER
Other fantasy-ish movies released in 1994:
CABIN BOY, THUMBELINA, THE MASK, THE PAGEMASTER
THE CROW and Mulcahy's THE SHADOW could both be called 1994 action-fantasy hybrids, and I think I like them better than HIGHLANDER III. But for what it's worth I like it more than some of the other movies on these lists.
This entry was posted on Wednesday, May 29th, 2019 at 10:14 am and is filed under
Action
,
Fantasy/Swords
,
Reviews
. You can follow any responses to this entry through the
RSS 2.0
feed. You can skip to the end and leave a response. Pinging is currently not allowed.