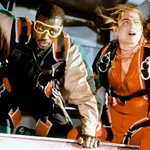 John Badham is pretty much the ultimate journeyman director. Somehow he ended up directing SATURDAY NIGHT FEVER, but for the rest of his career he's had a striking lack of voice or character. Rarely horrible or offensive, sometimes pretty good, usually okay and forgettable. And DROP ZONE is his Wesley Snipes movie.
Snipes plays a U.S. Marshal who, along with his brother (Malcolm Jamal Warner – my notes made me realize he has the same initials as Michael Jai White) has to transport a prisoner (Michael Jeter) on a commercial jet. But the prisoner's unique computer skills make him an asset to a gang of daring criminals who hide guns on the plane, blow a hole in the side and skydive away with the prisoner in tow. And shoot MJW.
Wesley gets suspended but of course investigates the case anyway. He ends up asking for help from "the only person dick-brained enough" to do something like that, Yancy Butler as Jessie Crossman, on-parole troublemaker who runs a skydiving school. She offers him technical consultation, an introduction to the local skydiving community, and (for reasons I didn't totally understand) lessons. We see Wesley floating on a wave of air to practice the balance, and we see stunt people doing alot of crazy skydiving stunts. The team Wesley's on is in an exhibition where they compete against the plane-attackers, so that's how he investigates them.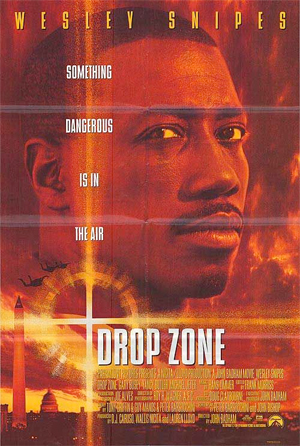 Wesley's always good, but this isn't one of his better characters. He goes for laughs sometimes, like after his first skydive when he can't stop "WHOOOOOH"ing about it. But he's also over-the-edge, as we see in the scene where he traumatizes a little girl who was on the plane, making her un-repress the memories just to get a vague description of one of the guys. He knows he's horrible but he uses his sweetest talking-to-a-little-kid voice.
It was probly inspired by POINT BREAK – the extreme subculture of thrillseekers who also commit crimes – in this case skydiving onto a government building, stealing coke from an evidence locker and breaking into their computer system to get the names of all undercover DEA officers to sell to drug lords. But POINT BREAK already had skydiving… and Gary Busey. And DROP ZONE has no Bodhi.
I always kinda dig these movies that take some group of people, like firefighter pilots in ALWAYS for example, and depict their world where everybody knows each other and they're all wildmen and they hate outsiders. Are there really skydiver bars? I have no idea. But if there are, be careful what table you sit at. You might not be able to beat up 2 guys at once like Wesley.
He's a pretty good fighter. There's a public restroom fight where he tears out one side of a hanging fluorescent light and swings it down on a guy. Also he busts him through stall door. Those things seem sturdier than that. Jessie gets a fight too – there's a woman ont he bad guy team – and she busts her head through a copy machine. Have you noticed that copy machines automatically run off a few copies if somebody's head is smashed in there? You don't gotta turn it on or push a button or anything.
The best move is the last one: Wesley tackles Busey through a window, then pulls his chute. You see the glass and chute in one shot, I think a stuntman really did it. But Busey has no chute so he just dives straight into the windshield of the getaway truck.
Here's something kinda cool: Guy Manos, one of three people credited for writing the story, is a world champion skydiver, and apparently coordinated (and in some cases performed) the aerial stunts.