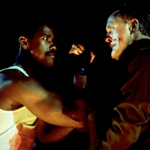 My friends Kevin Clarke, Travis Vogt and Matt Lynch have a podcast called THE SUSPENSE IS KILLING US where they discuss suspense thrillers, mostly of the '80s and '90s. I think they're funny dudes and they joke around a bunch, but they know their movies. You may be familiar with Matt from his popular/grumpy letterboxd account or my old Michael Bay reviews where I mentioned him under the alias "Mr. Armageddon." Kevin started the podcast because he was interested in the idea that these Michael Douglas and Ashley Judd type movies used to be a huge genre that now is virtually non-existent outside of weekly procedural TV shows.
When they invited me to go on I asked if Russell Mulcahy's joyously berserk RICOCHET (1991) starring Denzel Washington counted. They were thrilled by the idea, and since their format is to cover three related movies they made me also watch FALLEN and THE BONE COLLECTOR. Warning: we spoil the shit out of all three.
I have two objectives here:
Put enough positive RICOCHET energy out into the universe to secure a Blu-Ray release
Have this episode get way more listens than all their other ones so they'll respect and fear me
You guys can help me out with #2 if you're interested:
THE SUSPENSE IS KILLING US Episode 7: RICOCHET (& Two Other Denzel Movies)
This entry was posted on Wednesday, April 10th, 2019 at 1:44 am and is filed under
Blog Post (short for weblog)
. You can follow any responses to this entry through the
RSS 2.0
feed. You can skip to the end and leave a response. Pinging is currently not allowed.