MICHAEL CAINE IS… HARRY BROWN, a pensioner with two things left in the world: his wife (but then she dies) and one friend (who is murdered after complaining that he wants to stab the dumb assholes who keep dropping dog shit through his mail slot). So it's about an old dude becoming lonely and deciding to hammer down on the hooligans that are ruining his neighborhood (not soccer/football hooligans, just regular unaffiliated hooligans. In fact an interest in sports or arts of some kind, such as graffiti or beatboxing, might be good for these particular hooligans, give them more of a productive focal point for their hooligannery).
Harry is one of the very best categories of badass: the type with a PHd in killing but who chose to go into another field. The war was a long time ago and he doesn't even like to talk about it. But he told his friend to go to the police, he already had, and they were no help. And Harry is an old man in the same neighborhood, he has to walk past these fuckers too, and he's always taking the scenic route to avoid them which wastes his time and causes him to miss out on opportunities (little things like being there with his wife when she died).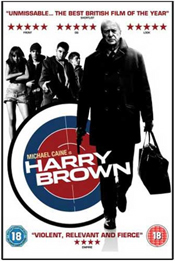 It easily could've been a movie about Harry just being bitter and pissed off and muttering to himself about kids today, but then some dumbshit tries to mug him and unleashes the beast.
I think we're all on the same page with this. We like old guys who kick ass. We resent the way Hollywood tries to take young pretty boys who look like they never dug a hole or chopped wood in their lives, give them a personal trainer to work on their six-pack and figure that's all you need to believe them as a grizzled badass. We respect a movie that admires life experience and appreciates wrinkles and scars and character. So we all agree that it's awesome to see silver-haired Michael Caine in a role like this, reliving his youthful hobby of getting Carter.
Harry's approach is cold and methodical, kind of creepy. He stands at a distance just watching the young people. I wasn't really sure if he was doing surveillance or just preparing himself mentally to fuck them up. He figures out some of the layout of the local criminal empire and starts infiltrating, pretending he wants to buy some guns. He stays Michael-Caine though, he doesn't turn John-Matrix. My favorite line (if I remember this right): "You failed to retain your weapon, sir." I mean, how many vigilantes are polite enough to call the punks and creeps "sir"? Not many.
I think the emotional side of it really works too. I felt his emptiness. They even show him crying. You can imagine yourself doing something similar if put in the same situation. It's not as much revenge as just opportunity. It happens that he has nothing left, and they're pissing him off, so he takes that window.
Also it's a pretty realistic feel, at least before he goes to the gun dealer's place and sees the greenhouse full of pot and the drugged out prostitutes laying around. That might be a little far-fetched. But for the most part these seem like real kids, spoiled little assholes lashing out at their asshole mommies and daddies. No mohawks or chains. The filmatists (director Daniel Barber and writer of THE TOURNAMENT Gary Young) get a palpable "I don't understand these kids today" paranoia without resorting to too much exaggeration.
Also I gotta respect that this is a vigilante movie that doesn't waste your time with a news report or radio call-in show of people for or against the vigilante. I pointed out before that that's in every vigilante movie, so I must credit this one for leaving it out. Good job HARRY BROWN.
So it's a well executed revenge movie and a point for aging badasses. I liked this movie and I think most of you will too. But in the interest of striving for excellence I gotta point out a few things. For one, I don't think this adds anything new to the DEATH WISH story. The only thing that's really modern about it is that they record their crimes on camera phones. That's fucked up and makes for an upsetting opening scene. It's a good example of modern callousness, but as you know I'm against remaking all the old slasher movies just to add text messaging into the stories, so I cannot count this as an important update of the DEATH WISH type story.
(If that's so important why can't we just do what Spielberg did in E.T., take DEATH WISH and A NIGHTMARE ON ELM STREET and cgi in some modern phones, maybe redub a couple lines so the characters make a reference to that TV show "Glee" or to President Obama or something? Would that be enough to trick kids into appreciating the not-even-really-that-old classics?)
I don't need it to re-invent the vigilante genre or put an entirely new spin on it (essay question: is that even possible at this point?) but I've seen so many of these damn things they start to lose their power if they don't. As great as Caine is I'm not sure if he holds up to his younger self in GET CARTER who I never liked as much as Bronson anyway. And in my mind I not only have to compare this to DEATH WISH but also to recent vigilante movies, and I think DEATH SENTENCE is still the modern one to beat. It's much more ludicrous than HARRY BROWN but more fun, the performance by Kevin Bacon is so dedicated, it has some real good action sequences and it seemed more sincere in its message. Or maybe I just agreed with it more. DEATH SENTENCE is in the "revenge makes you as bad as them" camp, HARRY BROWN seemed to me to lean toward the kneejerk "somebody's gotta do something."
Yeah, I think that's where my problem is with this one, to the extent that I have a problem with it, which isn't that much. But I'm still gonna say it. An Empire quote on the front of the DVD calls it "relevant," and the director said something similar in an interview. In my opinion the cell phone stuff is not enough to count this as current events and torn from the headlines. Crime always seems like it's getting worse. Kids always terrify old people. Cities always seem out of control and police never are able to be exactly where they need to be and do what needs to be done to solve your particular problem. This story of a normal good guy getting fed up and shooting the young maniacs who are out of control goes back to the westerns. Old men have had to stand up against outlaws, hot rodders, bikers, Mansonian hippies, Central Park muggers, Larry Fishburne with a boombox, kids on skateboards and rollerblades, and probly Segways before long. If it's relevant it's only because it's always been relevant and always will be relevant. This movie is not of today. We have not just now reached a point where we gotta start shooting people in order to maintain civilization. Yes, it is awesome to watch Michael Caine killing people who shouldn't have fucked with him. But no, it's not an important topic for us to think about. So let's just not pretend it is and then it's cool.
People have also compared HARRY BROWN to GRAN TORINO. They're very different movies but I see the similarities. Both are about an old war vet who, shortly after his wife dies, finds himself pulling guns on young gang members in his neighborhood. But GRAN TORINO has so much more to it – a more complex character, more interesting relationships, and it's much more thoughtful about what he does and why, looking into racism and the trauma of killing in a war and what happens as members of families drift off in different directions. HARRY BROWN only does a tiny bit of that. It might be better to someone who was disappointed when GRAN TORINO didn't turn into a straight up action-revenge deal, or who couldn't get past the awkward performances of the first-time-actor neighbor kids. But for those of us who really liked GRAN TORINO there's no comparison, HARRY BROWN is not in that league.
Still a good one though. I hope they make sequels following the DEATH WISH trajectory and if so I'm really looking forward to part 3.