As the founder and producer of Motown Records, Berry Gordy, Jr. created one of the most successful African American business enterprises in history, re-invented the sound of American music, discovered Smokey Robinson and the Miracles and signed such important artists as The Supremes, Marvin Gaye, The Temptations, The Four Tops, Gladys Knight & the Pips, Stevie Wonder and The Jackson 5. But music wasn't enough to quench his thirst so he moved to L.A. and helped turn Diana Ross into a movie star, producing LADY SINGS THE BLUES and directing MAHOGANY.
Unfortunately, even a man who made such a powerful contribution to music and culture could not escape the funk and soul dead zone historians call "the 1980s." There were black artists changing the world during that decade, but Michael Jackson had left Motown and Prince was never on it. Nobody on Motown could compete with those two, I don't care how popular El DeBarge, Rockwell or Teena Marie were. Proud afros were replaced by drippy perms, tight rhythm sections by cheesy keyboards and drum machines. It was not a good time for Motown.
Let's put it this way: 20th Century Masters – The Millennium Collection: Motown 1980s, Vol. 2 includes Bruce Willis's rendition of "Respect Yourself." So in 1985 we got Berry Gordy's last movie, BERRY GORDY'S THE LAST DRAGON.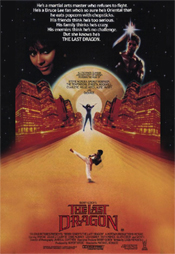 BERRY GORDY'S THE LAST DRAGON is the ludicrous story of Leroy Green – first identified as "Bruce Leroy" – an extremely socially awkward, Bruce-Lee-imitating black martial artist dork who walks around New York in Chinese clothes and hats looking for "the master" who he thinks will help him reach a final level of skill that will cause him to glow. A level Bruce Lee didn't quite get to, I don't think. While on this quest Leroy accidentally crosses Sho Nuff (a guy in a samurai/Afrika Bambaata getup who thinks he's the Shogun of New York) and Eddie Arcadia (a corrupt video game mogul who tries to strongarm TV host Vanity to show his girlfriend's crappy Cyndi Lauper rip-off video).
Sho Nuff comes to Leroy's dojo and challenges him to fight, but in the tradition of THE BIG BOSS and FIST OF FURY he refuses. So then Sho Nuff goes to Leroy's dad's pizza joint, breaks some stuff and puts his loudmouth little brother upside down in a barrel. When Leroy finds out what happened his brother calls him a coward and blames him for the pizza assault because he wouldn't fight Sho Nuff. Then it goes into a furious training montage where Leroy's almost gonna cry and it seems like we're supposed to agree that he shamefully fucked up by not wanting to fight some weirdo for no reason.
Despite his muscles and genuine martial arts skills, Leroy (played by a first time actor named Taimak) comes across as a complete weiner. He talks in stilted English just like what they write for his English-as-a-second-language-sensei. He adds "san" onto the names of his family members. He doesn't understand sex, and gets confused about things his little brother tells him. He's not just naive, he's straightup stupid, and takes the entire movie to figure out what every single person watching figured out in the first scene: that his master was trying to tell him he is the master and had the power all along (SPOILER FOR FIRST SCENE OF MOVIE).
I just do not buy Vanity falling for this kid, especially since I've seen her with Carl Weathers. When she's with him it seems like she's looking after her real boyfriend's little brother. It might be a fun movie if it had a great lead, but this guy makes the kid from NO RETREAT, NO SURRENDER seem cool. I'm sure he's a nice guy, but at least at that age he was not a great movie badass. And it doesn't help that he constantly rips off Bruce Lee's weird battle cries, making it seem like Michael Winslow or somebody doing a lame kung fu parody.
They lay the Bruce Lee worship on way too thick. He wears the GAME OF DEATH yellow jumpsuit to class, gets into an altercation at a Times Square showing of ENTER THE DRAGON, gets an idea from THE BIG BOSS, and Vanity tries to seduce him by showing him FIST OF FURY clips on a giant screen. But instead of getting horny he just has a child-like sense of wonder. You start to think come on man, I love Bruce Lee movies too, but I occasionally shut up about it. This guy is a nerd. Not the kind that is supposed to be good in today's society but the kind that was supposed to be bad before the invention of REVENGE OF THE NERDS. He's a pre-revenge nerd.
There is a part at the beginning where he karate chops an arrow in mid-air, though. I'll give him that. Good job on the arrow chop.
I want to like the movie, because it is a unique specimen, and because I'm a sucker for these cross-cultural type of deals. Jim Kelly was already doing it in the '70s but it's still cool to see an '80s take on combining Asian martial arts with black American culture. I think they're trying to be funny more than trying to turn all mankind into brothers, but they do have this black guy living Chinese and some Chinese guys who try to be soul brothers or whatever and Sho Nuff walks around with his getup and nobody seems to think it's odd. And I'm all for that.
In a way it reminds me of BIG TROUBLE IN LITTLE CHINA (which came out a year later). Both put some ancient Asian magic into an '80s movie city, playing it with a mostly straight-face but also getting silly. Of course, BIG TROUBLE IN LITTLE CHINA has a better story, much more interesting special effects, funnier jokes and a protagonist (I guess I can't really say hero) that is way cooler and more interesting to watch than this Bruce Leroy. Also, the sidekick in BIG TROUBLE IN LITTLE CHINA is way cooler and more interesting to watch than Bruce Leroy.
Which reminds me that at the end suddenly Bruce Leroy has a 12 year old sidekick who's way more badass than him. It's Ernie Reyes Jr. in his first role. Remember that little dude? In fact his TV show was called SIDEKICKS, and he was a little chosen one asskicker who helped a cop played by Gil Gerard. Here he's one of Leroy's students who helps him in a big warehouse fight and has the most impressive moves of anybody in the movie. His dad was one of the fight choreographers (Ron Van Clief was another one). I thought the last time I saw little Ernie was in THE RUNDOWN, but it turns out he was one of those natives that attacked them in the cemetery in KINGDOM OF THE CRYSTAL SKULL. Also he's a stuntman in ALICE IN WONDERLAND and AVATAR.
Anyway, maybe it was ahead of its time in being similar to BIG TROUBLE, but the tone is more like SUPER MARIO BROTHERS or some shit. The bad guy's right hand man is played by Mike Starr, but he's a total bumbler. He has a fish tank with some unseen beast in it that they make a huge deal out of in the beginning and then never pay off. All the villains are played more for laughs than scares but you know how it is, sometimes when you're trying real hard to be funny that doesn't mean you achieve your goal.
There are a couple unexpected faces that pop up. Rudy from THE COSBY SHOW is Leroy's little sister in one scene. William H. Macey is Vanity's producer in one scene. Chazz Palminteri is a henchman with a mustache in one scene.
"The Glow" is pretty cool. In the final fight Leroy and Sho Nuff have sparks and lightning shooting off their hands when they hit each other. I'm sure if they go through with the remake they're talking about it will just be CGI like you've seen a million times before, but back then it was painted on like the lasers in STAR WARS so it looks pretty cool. They gotta get animators to do it frame-by-frame so there's more of an artful design to it.
It's funny though because he gets that glow when he's fighting Sho Nuff, who's just some asshole that wants to prove he's a better fighter than anybody else. His worst crime is vandalism. So of course Leroy beats him to death, but lets the actual mobster who tried to have him killed live. But as far as the movie lets on it seems like we're supposed to accept this as justice.
I'm not sure why Berry Gordy wanted his name in the title. It doesn't seem like he did that much. The music is mostly cheesy as hell. But it's pretty funny to hear Willie Hutch doing "The Glow," his version of those inspiration rock songs in the training montages for KICKBOXER or the ROCKY sequels.
BERRY GORDY'S THE LAST DRAGON was written by a dancer from FAME and directed by a guy named Michael Schultz. I recognized that name so I looked him up, turns out it was because he directed a much more terrible movie I watched recently, DISORDERLIES. I never heard of him and I guess maybe it's because he's more of a journeyman than an auteur type, but it looks like he's kind of a pioneering black director. His credits go back to a 1972 TV movie of TO BE YOUNG, GIFTED AND BLACK and include COOLEY HIGH, CAR WASH, GREASED LIGHTNING, WHICH WAY IS UP?, SGT. PEPPER'S LONELY HEARTS CLUB BAND, BUSTIN' LOOSE and KRUSH GROOVE. In TV he did alot of weird pilots and TV movies including THE JERK TOO, THE SPIRIT (probly better than the big screen version), and HAMMER, SLAMMER, & SLADE (a pilot for an I'M GONNA GIT YOU SUCKA spin-off with a cast including Jim Brown, Bernie Casey, Isaac Hayes, Steve James, Ron O'Neal, Eriq La Salle and Martin Lawrence). Also he's still around and did an episode of CHUCK.
Well, I'm not trying to scare anybody away from this one, but I'm not trying to scare you toward it either. It's pretty bad. Like THE FAT BOYS ARE… DISORDERLIES I sort of had a fun time watching it and scratching my head about what they were going for. It's memorable, at least. But if you saw it back in '85 this might be one of those ones that works much better in the medium of memories than on home video.
* * *
In case you're wondering what that poster says, I transcribed it:
He's a martial arts master who refuses to fight.
He's a Bruce Lee fan who's so sure he's Oriental that
he eats popcorn with chopsticks.
His friends think he's too serious.
His family thinks he's crazy.
His enemies think he's no challenge.
But she knows he's
THE LAST DRAGON.
ALL THE POWER, GLAMOUR,
AND EXCITEMENT OF MOTOWN
FEATURING THE MUSIC OF
STEVIE WONDER, SMOKEY ROBINSON,
THE TEMPTATIONS, SYREETA, ROCKWELL
CHARLENE, WILLIE HUTCH, ALFIE, VANITY
AND
DeBARGE
This entry was posted on Sunday, April 25th, 2010 at 10:46 pm and is filed under
Martial Arts
,
Reviews
. You can follow any responses to this entry through the
RSS 2.0
feed. You can skip to the end and leave a response. Pinging is currently not allowed.