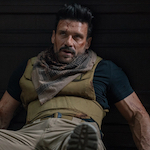 I watched that movie PALM SPRINGS recently. It's a GROUNDHOG DAY time loop romantic comedy type thing that uses the concept in a smart way that makes it a parallel to depression and hopelessness, and it's just a funny movie and I enjoyed it. I also really liked HAPPY DEATH DAY (GROUNDHOG DAY as a slasher movie) and its sequel HAPPY DEATH DAY 2 U was pretty good too.
But I feel a little weird about "GROUNDHOG DAY" being a genre now. The first is still the best and most profound iteration of the form, and it's such a distinctive premise that any movie that does a spin on it can't help but feel a little more like biting than following a tradition. So I wasn't exactly jumping to see Joe Carnahan's BOSS LEVEL, which is GROUNDHOG DAY crossed with an action movie. I'm not too excited about "life is a video game" concepts either, so the title didn't help.
But I shouldn't have hesitated because this is a whole lot of fun, one of Carnahan's best, and I think the script by Chris & Eddie Borey (OPEN GRAVE) and Carnahan earns the use of the time loop. Most of these movies wisely never explain the reason for the phenomenon – this feels very different because it's all about him figuring out what's doing this to him and why, so he has a more traditional, specific problem to solve (though along the way he learns life lessons like in the other ones).
The protagonist is ex-Delta Force tough guy Roy (Frank Grillo, WOLF WARRIOR 2). Similar to PALM SPRINGS, we meet Roy when he has already been stuck in the time loop for a while and gotten used to it, a situation he explains to us in nearly wall-to-wall narration. Every day he wakes up when a dude swings a machete at his head, and then he spends the day running from and battling with various colorful assassins trying to kill him for unknown reasons.
Through trial and error he's developed a routine for how to deal with the knife-wielder and the helicopter firing a PREDATOR-style gun into his apartment. He knows his opponents' moves well enough to dodge them like Nic Cage in NEXT, and he's even worked in a way to get a sip of coffee before splashing it in a guy's face. Then he jumps out the window into a passing truck, rolls off and carjacks the same guy every day.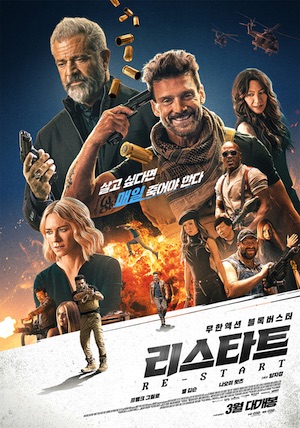 He tells us about his various pursuers, who remind me of the unhinged spirit of SMOKIN' ACES, though this is a much tighter, more controlled movie. There's a sword lady named Guan Yin (Selina Lo, THE DEBT COLLECTOR, TRIPLE THREAT, SCORPION KING 3) who always yells "I am Guan Yin, and I have done this!" after killing him. There's a 4' 3" explosives expert (Aaron Beelner, MONSTER HUNTER) always attaching bombs to him – Roy doesn't get to ask the guy's name, so he decides it's "Kaboom." There are "German Twins" played by Rampage Jackson (Carnahan's THE A-TEAM, Cooper's THE MIDNIGHT MEAT TRAIN) and Rashad Evans (WARRIOR). We get to see lots of cuts to Roy's previous failures. This movie likely has the record for most decapitations of its main character.
But he's never managed to make it past a certain time of day no matter what he tries, so he has settled for going into a certain Chinese diner every day, sitting at the bar and getting hammered until they all show up and kill him. Or at least that's the part of the day he's been hung up on when the movie starts. But one day he accidentally makes it later in the day and realizes maybe there are other things to try, and reasons for hope.
We start to suspect what's going on when he tells us about the day before the day he's stuck on, when he went to see his estranged wife Jemma (Academy Award nominee Naomi Watts, DOWN a.k.a. THE SHAFT) at her job at a fucking defense contractor laboratory doing secretive experiments with a huge scary machine, and she was acting weird and trying to tell him something he didn't understand. Geez, I wonder if that could be related, Roy? He does not make a good impression on Jemma's scary boss (Academy Award winner Mel Gibson, BLOOD FATHER), who sends a team of security meathead giants to get rid of him. The lead henchman Brett is played by Will Sasso (THE THREE STOOGES), who's best known from Mad TV, I think, but he's 6' 3" and makes a good scary security asshole.
Quite a cast there, but the one that caught my eye most was Michelle Yeoh. I read someone saying she was wasted in the movie, so I had no illusions that she'd be in it much. Luckily I also disagree with the criticism. She has a small role but it's more memorable than, like, THE MECHANIC: RESURRECTION because it absolutely honors her, first building her up as something special, then basing her one big scene around letting her fight with a sword again. The thing is I can't think of a single other actor that would've been as cool for that role as Yeoh. Even if it was Donnie Yen, say, it wouldn't have the same excitement for specifically playing a sword master. Maybe Sonny Chiba? But Yeoh is more exciting.
The do-over gimmick allows for lots of over-the-top mayhem, including hand-to-hand, guns, falls and vehicles. Roy gets shot up, blown up, chopped up, hit by a bus and flies through the windshield into the bus and tries to stand back up in front of the horrified passengers… You name it.
(Second unit director/stunt coordinator: Frank Torres [A STAR IS BORN, POINT BLANK]
Fight choreographer: Dan Rizzuto [Wu Assassins]
Fight choreographer/fight coordinator: Bryan Sloyer [previz stunts, FEMALE FIGHT SQUAD])
There's this popular notion that the only good action heroes are vulnerable ones like John McClane. They take a licking and keep getting back up. It's definitely one great way to do it, but I hate when people state that as some universal rule – usually as a way of justifying their lack of appreciation for the Steven Seagal classics – partly because it means their hearts do not know the joy of watching Michael Jai White plow through the world's supply of dumb motherfuckers in BLOOD AND BONE.
But one of the great things about the BOSS LEVEL premise is that it allows him to take both of those approaches to the extreme. We often see him fighting on cheat mode, not only having unfair skill levels, but knowing every single move his foes will make in advance. And yet also he fails disastrously and repeatedly, more than is possible for anybody in a normal movie. You could say he gets to be both Seagal and McClane. But really he gets to be both a god and a chump.
I think this is one of the best showcases so far for the appeal of Grillo, an actor I'd seen in MINORITY REPORT, MOTHER'S DAY and MY SOUL TO TAKE before he really came to my attention with the one-two punch of WARRIOR and Carnahan's own THE GREY. At this point he has plenty of good vehicles we can point to, but you can never have enough. He's a veteran who still feels like an exciting new face. Here he does well in the fight scenes, showing off his cartoonishly giant arm veins and a more ridiculously chiseled than usual torso. More importantly he really gets to flex his muscles in the deadbeat-trying-to-do-better characterization department. He's a likable asshole, which is easier to get humor out of in this life where nihilism seems only fair, where his actions don't have consequences and are mostly against people who have already murdered him dozens of times. That also makes it easy to enjoy the gleeful carnage waged both by and against him as he tries again and again to beat these guys and solve this puzzle. But its all grounded with some heart courtesy of that classic trope of the gruff jerk bonding with a kid, in this case his son who he's afraid to tell is his son (Rio Grillo). Actually, now that I realize that's his real son it's even sweeter, because he used this story about wanting to spend more time with his son as a way to spend more time with his son.
So, thank you to @hueysheridan and @TheRyanAston on Twitter for reminding me to see this one.
(It's on Hulu now, by the way.)
This entry was posted on Tuesday, March 23rd, 2021 at 11:46 am and is filed under
Action
,
Reviews
,
Science Fiction and Space Shit
. You can follow any responses to this entry through the
RSS 2.0
feed. You can skip to the end and leave a response. Pinging is currently not allowed.