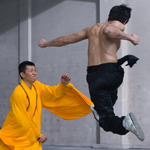 BIRTH OF THE DRAGON is now on video. A very fictionalized riff on the legendary challenge fight between two early '60s Bay Area martial artists named Wong Jack Man and Bruce Lee, it was not exactly welcomed to screens with open arms. Shannon Lee and the Bruce Lee estate (who are currently developing an official Lee movie) did not approve, white director George Nolfi (THE ADJUSTMENT BUREAU) was viewed by most with an understandable raised eyebrow, and an early trailer showing not-in-the-finished-movie first person narration by a white character caused widespread derision (including by me).
But look, I'm fascinated by Bruce Lee, the man and the myth, and by this event in particular. If there's gonna be a movie about it, no matter how possibly misguided, but especially if produced by the prestigious WWE Films and Blumhouse (whuh?), of course I'm gonna watch it. So I did.
First thing's first: this is not the Lee biopic the title implies. If anything, the emphasis is on Wong Jack Man (Xia Yu, DRAGON SQUAD). Presented as a villain who breaks Bruce's back in DRAGON: THE BRUCE LEE STORY, here he's a wise Shaolin grandmaster. Sifu Lee (Philip Wan-Lung Ng, ONCE UPON A TIME IN SHANGHAI, THE KUMITE) assumes Wong has come to San Francisco to keep an eye on him. The white student, Steve (Billy Magnussen, INGRID GOES WEST), sees him as a visiting dignitary. In fact he's come to wash dishes at a restaurant as a lesson in humility after going overboard in a challenge.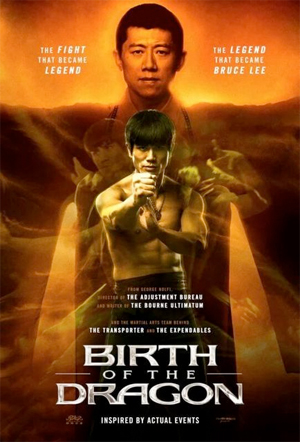 A title specifies that ENTER THE DRAGON is nine years away. Bruce is teaching Wing Chun to a small class in a cramped garage. His talk about street fight applicability and developing the one-inch punch are treated with awe, but this is not a hagiography. He's a charming dick. His claims about Shaolin fearing his ideas seem like they might be too presumptuous, and in his demonstration with a karate champ he comes across as a bully. Moreso when he draws Wong out of the crowd to publicly challenge him. It's kind of embarrassing.
It being a legendary, ego-driven incident with only a few witnesses, there are varying accounts of the actual fight. In Lee's version it was three minutes long and ended with Wong running away from him, getting pounded to the ground and then yielding. In Wong's it was more like 20-25 minutes. The movie has it somewhere in between, with Wong seeming to win at one point, but Lee impetuously refusing to concede. Wong comes across as a guru, backing up a stairway to demonstrate an idea to Lee, getting him to jump off as a literal and figurative leap beyond his perceived limitations.
Then it kind of plays with the idea of winning vs. losing. They don't really have to show who won because what is winning, anyway? The duel ends inconclusively, and the final act of the movie is about the Triads demanding a declaration of a winner for their gambling racket. But for Wong there's not an answer yet, because he has a philosophical definition of winning and losing that depends on whether or not Lee received the lesson he was trying to give him.
According to Lee's widow Linda Lee Cadwell (and DRAGON, which is told in her POV), the fight was about other Chinatown teachers trying to stop Bruce from teaching Caucasians. In the movie Wong does compare that to sharing nuclear secrets with other countries, but he accepts the duel
1) after a contrived story about Triads holding Steve's girlfriend (Qu Jingjing) hostage
2) to teach Lee a lesson. Like, to actually help Bruce improve. Wong changes his mind and no longer opposes Bruce's mission to share kung fu with the world, and feels he's needed to push him to the next level before he can do that.
This is a very charitable interpretation of what happened and is not supported by Bruce Lee's Toughest Fight by Michael Dorgan, the 1980 Official Karate article credited as the source material adapted by Stephen J. Rivele & Christopher Wilkinson (ALI, NIXON, MILES AHEAD). Both it and a more detailed article from Vice's Fightland indicate that Wong did not object to teaching Caucasians, but that Bruce had pissed off half of Chinatown in his arrogant, trash-talking lectures about his superior style, and Wong just responded to his open invitation to fight. Years later Wong regretted the fight, but it did in fact influence the creation of Jeet Kune Do since Lee was embarrassed by how winded he was at the end and decided to change both his approach to fighting and to training.
Now we must discuss co-lead character Steve, who as I mentioned is a white. I have always hated the tendency to shoehorn white POV characters into movies about other races, as if white people can't relate to anybody else in the movies they watch. But I don't think this one deserves our kneejerk rejection as much. This is a story about two teachers and although it doesn't seem to be true, the legend is that their disagreement was over teaching white students. Therefore it makes plenty of sense to have a white student as a go-between character, torn between their two philosophies. And though he does learn from them and kick off the last act battle, he gets beat up and lays in the alley groaning while the two stars do their thing. Definitely not a white savior. More of a white witness to Chinese greatness.
Maybe I would be less open to it if we didn't already have DRAGON and the various Hong Kong biographies going back to BRUCE LEE: THE MAN, THE MYTH and BRUCE LEE MY BROTHER, or the series The Legend of Bruce Lee, or what will hopefully be a great IP MAN-esque series authorized by the estate, not to mention dozens of documentaries. It's not like this version where there's a white guy also in the story is ever going to be the dominant version of it to anybody, and it does reflect the diversity of Lee's students.
The weirder and more distracting part is the origins of the character. I don't know if I would've picked up on this if it wasn't pointed out to me, but Steve McKee is Steve McQueen. He's got the right haircut and clothes, he rides a motorcycle, is from Indiana, was abused. The difference is he's a regular dude, not a rich celebrity. McQueen was one of Lee's students, but not before fame. He started acting in the '50s and by this time had already done THE GREAT ESCAPE.
And by the way, they give Lee three slashes on his chest during a fight, would it have killed them to have Steve jump over a fence on a motorcycle?
I assume they wrote it as McQueen/Lee fan-fiction, but couldn't get the rights to say it was him. Similarly, Bruce mentions having a white wife, but we never see Linda, even though she was one of only a handful of confirmed attendees to the fight. I guess her seat is taken by Vinnie (Simon Yin), a fictional student who I recognized because oh yeah, he's the comic relief guy in THE MAN WITH THE IRON FISTS 2.
It's fitting that this movie has been accused of white washing, because Lee was one of the most famous victims of that practice when his idea for a TV show was ripped off and given to David Carradine (did you know Justin Lin is turning Lee's notes into a show though?) It's also appropriate because I often think of the fight with Wong Jack Man whenever these related conversations about cultural appropriation come up. I'm not asking for blanket okays for white people to commodify elements of other cultures, but I'm always skeptical about where the line must be drawn.
There was a very good episode of The Canon where guest Cameron Esposito explained a gay reading of THE MATRIX that I never thought of before. But she also makes a casual reference to white actors doing martial arts as cultural appropriation, and I just can't believe we've gotten to that point. It seems to me if you're going to take that point of view then you are challenging the (exaggerated or not) legend of Lee bringing kung fu to the world. You're saying yes, he was wrong, those other teachers were right, he shouldn't have been teaching white people, he shouldn't have been making movies, it is wrong for cultures to learn from each other and share and be one. Not to mention the hotbed of problematic-ness that is mixed martial arts, a gigantic worldwide sport based on people of all races and nationalities combining all kinds of martial arts, following Lee's philosophy of cherrypicking what works rather than following specific cultural traditions.
Do you really want to redraw those lines, and tell fictional-Wong that actually he was right in the first place and shouldn't have changed his mind? I say let's not be so progressive that we flip back to the beginning, like getting too high a score on a video game and starting back over at zero.
Like the IP MAN movies, we know this is not historically accurate. Put more bluntly, it's mostly complete bullshit. I don't care that much, especially when it gets into the more fanciful stuff at the end. It's delightful to see this LETHAL WEAPON pairing of monk-like Wong and cocky, stylish Lee storming the gang den as a team and beating up a bunch of thugs to get to the bosses. Since we didn't get to see Lee playing enough characters in movies, it's nice to see characters in movies playing Lee.

And I was impressed by Ng, who looks nothing like Lee but does a very accurate impression of his voice, movements and attitudes. Corey Yuen (EASTERN CONDORS) is credited as martial arts choreographer and "designer," and though this is closer to being grounded than his usual work he does a good job of establishing Lee's Wing Chun-based street fight style vs. Wong's more fanciful Northern Shaolin, and using specific moves for storytelling purposes (a certain kick that's deadly, a wire-assisted jump that represents progressing beyond previous limitations). And I like that Wong wears a bright yellow long sleeved robe that dances around like fire when he fights, so Bruce can flow like water.
I look forward to the estate's movies, which may or may not be closer to historically accurate and, I assume, will be based more firmly in Lee's philosophies. But that doesn't stop this from being a well-meaning and fairly enjoyable piece of Bruceploitation. Or Wongjackmansploitation?
I guess this is one of those times when all I can say is if you like this kind of shit you might like this.