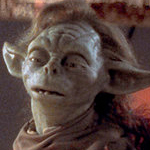 Hey everybody. As you know, certain people enjoy lispy puns, and have turned "May the 4th" into the international day to celebrate Star Wars. Which seemed like a pretty good idea a few years ago when there wasn't a new Star Wars movie coming out at all times.
You know I enjoy the Star Wars but in case some of you get sick of hearing about it today I thought it would be a good time to re-up one of my favorite series I've ever done, LUCAS MINUS STAR WARS. By going through 44 years of everything Lucas had his name on that was not Star Wars-related I think I really showed (or at least convinced myself) what a force (get it) he was in Hollywood even outside of his most beloved creation (Yaddle).
So here for your convenience are links to all Lucas reviews (including a few, like HOWARD THE DUCK, that I wrote before that series) in release order:
THX 1138
AMERICAN GRAFFITI
MORE AMERICAN GRAFFITI
KAGEMUSHA
BODY HEAT
RAIDERS OF THE LOST ARK
TWICE UPON A TIME
INDIANA JONES AND THE TEMPLE OF DOOM
MISHIMA: A LIFE IN FOUR CHAPTERS
LATINO
LABYRINTH
HOWARD THE DUCK
CAPTAIN EO
WILLOW
POWAQQATSI
TUCKER: THE MAN AND HIS DREAM
THE LAND BEFORE TIME
INDIANA JONES AND THE LAST CRUSADE
The Young Indiana Jones Chronicles
RADIOLAND MURDERS
INDIANA JONES AND THE KINGDOM OF THE CRYSTAL SKULL
RED TAILS
STRANGE MAGIC
And, ah hell, I guess I should include my Star Wars writings too. "STAR WARS NO BAGGAGE REVIEWS" was also a proud time in outlawvern.com history, so here they are plus my Ewok ones and the post-Lucas ones:
STAR WARS
THE EMPIRE STRIKES BACK
RETURN OF THE JEDI
THE EWOK ADVENTURE aka CARAVAN OF COURAGE
EWOKS: BATTLE FOR ENDOR
STAR WARS EPISODE I: THE PHANTOM MENACE
STAR WARS EPISODE II: ATTACK OF THE CLONES
STAR WARS EPISODE III: REVENGE OF THE SITH
DISNEY'S STAR WARS MINUS LUCAS: THE FORCE AWAKENS by Disney
ROGUE ONE: A STAR WARS SUPPLEMENT
STAR WARS EPISODE VIII: THE LAST JEDI
SOLO: A STAR WARS JAM
STAR WARS EPISODE IX: THE RISE OF SKYWALKER
This entry was posted on Thursday, May 4th, 2017 at 12:24 pm and is filed under
Blog Post (short for weblog)
. You can follow any responses to this entry through the
RSS 2.0
feed. You can skip to the end and leave a response. Pinging is currently not allowed.