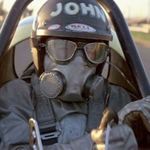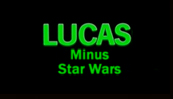 1977 saw the release of George Lucas's third film, STAR WARS. It did well. But the experience of making it was troubling enough to make Lucas rethink his dream of directing films. He decided to redirect his energy toward producing for other directors, and in fact he didn't direct again for 22 years. But in 1979, as an executive producer, he brought back the characters from his second film.
I'm not gonna try to convince you that it was a good idea to make a sequel to AMERICAN GRAFFITI six years after the first one, but this is a much better sequel than I was figuring on. Definitely more interesting and ambitious than you would guess. I bet what happened was they wanted to do MORE THX-1138 but when the first one wasn't a hit they rewrote the script for these characters.
While REGULAR AMOUNT OF AMERICAN GRAFFITI dealt with the cultural shifts of the '60s by nostalgifying the times right before the a changin', this one actually dives straight into the muck. The first thing you see is army helicopters over Vietnam, and there are more hippies and protests in this one than cars cruising the strip. It still doesn't deal directly with the civil rights movement, but there are hints.
The impressive part is the structure. We find the gang back together on New Year's Eve, 1964. Laurie (Cindy Williams) is now pregnant with twins, married to Steve ("special appearance by Ron Howard," but it seems like a genuine role to me, not a cameo). Debbie (Candy Clark) and Terry the Toad (Charles Martin Smith) are still together, but he's shipping out to 'Nam tomorrow to "Kick ass, take names and eat Cong for breakfast." They all come visit their cool drag racer friend John Milner (Paul Le Mat) at the track, where he's trying to win races, attract a sponsorship and build a legit driving career. So it seems like it will be another day-in-the-life with this group of friends as they're all on the verge of major life changes.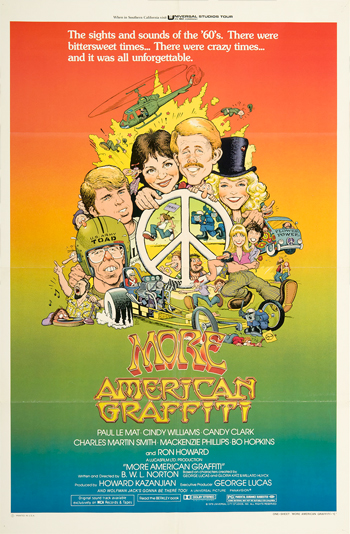 Except it's not. Instead it skips ahead to New Year's Eve 1965, with Toad at war in the jungle. And then '66 with Laurie and Steve at home arguing while their twins tear up the place like little fuckin maniacs. And then '67, with Debbie working as a topless dancer and wanting to marry her dumbass pot-smoking hippie folk singer boyfriend. Kid sister Mackenzie Phillips is also around, now calling herself Rainbow. And then it jumps back to the story in '64 again and we realize that this is how it's gonna work, it's gonna cycle through these four different nights to tell a story that transcends space and time or whatever.
Of course that means it's a big ensemble cast. Look out for a very young Rosanna Arquette in the commune and Delroy Lindo in the army. And the band Deb hangs out with and performs with is Country Joe and the Fish, those guys that were at Woodstock. Not Sha Na Na, the other guys.
I'm sure this sounds like it would be confusing, but we can tell the difference between the time periods because of clever changes in film formats and aspect ratios. The scenes at the race track are in beautiful widescreen.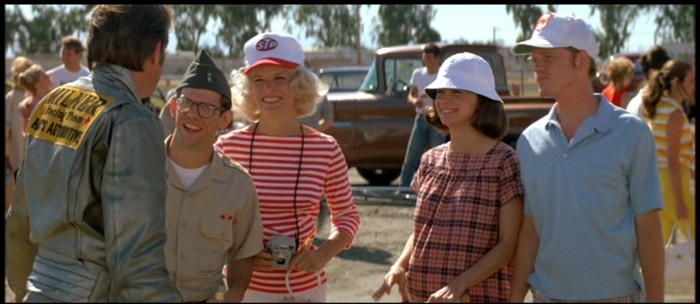 The scenes with Laurie and Steve at home and on campus are narrower.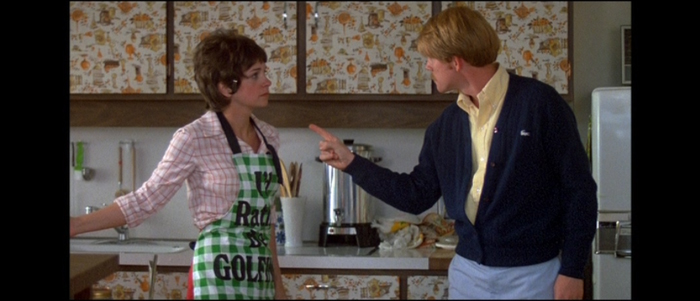 The Vietnam scenes fill even less of the screen, shot in grainy, handheld 16mm, like news footage was at the time.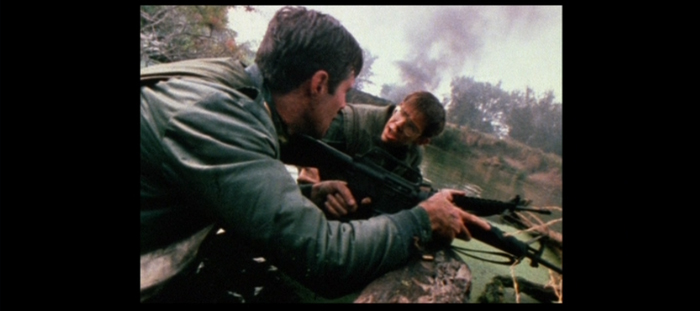 And the hippie music scene portion of the movie jumps around between all different ways to use the frame, including tons of splitscreen, like the WOODSTOCK documentary.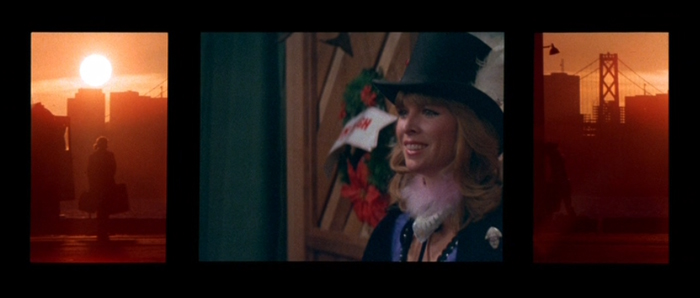 I read that this was all executive producer George Lucas's idea, and that he even shot and edited some of the Vietnam footage himself. I also read that director-for-hire B.W.L. Norton (GARGOYLES) thought it was too confusing, and years later Lucas agreed he was right. Except he wasn't. This is clearly the coolest thing about the movie, and both of them are being weiners. So hats off to George for having the idea and to cinematographer Caleb Deschanel (THE BLACK STALLION, THE RIGHT STUFF, JACK REACHER) for pulling it off. It's a great looking movie.
Everyone is back except Richard Dreyfuss, because why would you do MORE AMERICAN GRAFFITI after you already did JAWS and CLOSE ENCOUNTERS? I mean that's what he had to be thinking, but Harrison "what the fuck are you talking about, I was in STAR WARS and I'm not too god for it" Ford does have an unbilled cameo where we learn that that asshole drag racer Falfa grew up to become the natural enemy of the young drag racer: the asshole traffic cop.
You may wonder, because I sure did, how they're gonna deal with the fact that the text at the end of the first one told us how two of the characters died. Well, they haunt us with it. Some of the comedy is arguably broader than in the first movie, but there's this spectre of death hanging over it the whole time. We remember that Toad was killed in Vietnam, so they really mess with us by showing him in a comical scene where he's trying to shoot himself in the arm to get sent home, but the gun jams, and then he accidentally fires toward his own camp, causing a skirmish (he keeps saying "Terrific. Just terrific," as they shoot at him). Are they really gonna say he died in a slapstick friendly fire incident? No.
I remembered the text said John was killed by a drunk driver, and we see him spending the day on the track, so maybe you think he's safe for now. But then in other time periods people mention that it's the anniversary of their friend John dying. The same happens with Toad.
In some ways the stories are remixes of what happened to the characters before. Instead of hanging out with a kid, John ends up with a foreign exchange student (Anna Bjorn, THE SWORD AND THE SORCERER) who he can't communicate with because she only speaks Icelandic (which he thinks is Swedish). But she's grown up and hot and he ends up deciding he's in love with her. Toad does some more rebellion through pranking, this time in a war setting. And in the most interesting story, Laurie and Steve fight and separate again.
I told you Steve was kind of a dick. Their fight is because he forbids her to get a part time job. He insists that a mother has to be taking care of her kids at all times and when she tries to convince him otherwise he says "Not another word!" Because selling insurance is hard work, wah wah wah.
Laurie gets pissed and goes to stay with her brother Andy (Will Seltzer, Lucas's second choice for Luke Skywalker) at his dorm. Steve comes looking for her on campus to try to get her back without apologizing or admitting he's totally wrong and an asshole and has a dumb mustache, so both of them end up in the middle of a student protest they don't believe in. Williams is great at being the uptight mom but still the one you like. She commands Andy not to burn his draft card ("It's illegal!"), tries to convince him to support the president, and basically acts as a conscientious objector within the protest. It mostly seems like kind of a knee-jerk reaction against the counterculture, but there's a very sincere moment where she and Andy debate whether ending the war would mean her friend Toad's death was for nothing.
Laurie and Steve end up running from, threatened and arrested by billy club swinging cops who don't particularly care about their explanations of "I'm not a demonstrator!" and "I voted Republican." Steve yells "Pacific Benefit and Life!" as a cop puts him in a chokehold. I like that they're put through what should be eye-opening experiences, but the movie doesn't get too heavy-handed or self-righteous about it. One serious moment that I found very effective happens when Laurie ends up arrested and loaded onto a bus full of female prisoners. Some black women on the bus are singing "Baby Love" to pass the time, and a guard tries to make them stop. One of the women defiantly flips off the guard and gets slapped. This finally offends the middle class wife's sense of fairness, so she starts singing "Baby Love" herself, until everyone on the bus joins in and there's not enough man power to bully them into silence anymore. Well, whaddya know, she is a demonstrator.
Like the first one, the movie ends on a very sad note, with Milner driving happily over the horizon into what we know is probly his fatal car accident. But SPOILER there's some good news too. Believe it or not we learn that the text at the end of part 1 may have been based on the best information available but was not entirely accurate in the case of Toad. It turns out that after causing an explosion he went AWOL into Europe. Basically, he faked his death. It's a pretty ridiculous twist but I admire the audacity.
Director Norton followed this up with BABY: SECRET OF THE LOST LEGEND several years later, but spent the '90s directing TV movies and the 2000s directing TV episodes.
This was Lucas's first sequel, and his first time giving the people what they didn't want. But fuck what the people want. Yeah, you know, I'm realizing I liked this movie. I don't think it deserves the bad reputation, which is probly more based on the easy assumption of what it would be like than on people actually seeing it. Too bad they never made EVEN MORE AMERICAN GRAFFITI or THE MOST AMERICAN GRAFFITI.
This entry was posted on Monday, December 7th, 2015 at 10:36 am and is filed under
Comedy/Laffs
,
Reviews
. You can follow any responses to this entry through the
RSS 2.0
feed. You can skip to the end and leave a response. Pinging is currently not allowed.