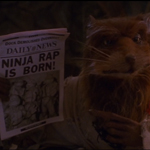 TEENAGE MUTANT NINJA TURTLES II: THE SECRET OF THE OOZE finds the four rubber turtle people (now with different voices, but I only noticed because Corey Feldman was missing) and their master Splinter the rat co-habitating with locally famous human TV reporter April O'Neil (now played by Paige Turco [THE STEPFATHER, The 100] instead of Judith Hoag). They make a mess of her apartment, order stacks of pizza all day and hang up a swimsuit babe poster. They're still trying to keep their existence a secret from other humans, but in the opening a young pizza boy named Keno (Ernie Reyes Jr.) witnesses them stopping a robbery, and helps them using his own martial arts skills.
It seems like a pizza deliverer would be the most desirable possible friend for these turtles, because you see they love pizza is one of the main things we have learned about these characters through years of development in many different mediums, from years of comic books, several different animated series, one live action series, one animated movie, two live action(ish) movie franchises and a live tour. Still, they brush him off and return to Splinter-prescribed secrecy until Keno spots them in the apartment while delivering more pizzas. Splinter gives him some fighting and meditation training but tells him to stay out of their fight against Shredder. Keno completely ignores this, and there are no negative consequences. You don't know what the fuck you're talking about, rat. Who oozed and made you talk, anyway?
If I remember right, Shredder was savagely murdered in part 1. Now he's alive again and henchmanned by a guy named Tatsu (Toshishiro Obata) and an army of bug-eyed ninja called The Foot Clan, who are still supposed to be troubled teens (with martial arts training) recruited off the streets. When somebody says "at risk youth," this is what they mean, they are at risk of becoming mindless ninjas who don't know what they're doing and get beaten badly by wisecracking turtle people.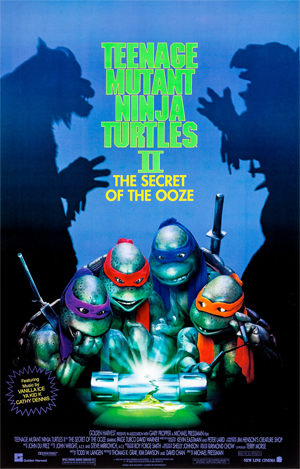 This time Shredder steals the last remaining container of "ooze," the industrial waste that transformed ordinary sewer turtles into musclebound anthropomorphic junk food enthusiasts. His brilliant plan is to use it to turn 2 (two) animals – a turtle and a wolf – into monsters. What better to defeat four highly trained and experienced warrior mutant animals than two that were just born? It can't fail!
The turtles find a new home in an abandoned subway station and team with a scientist (David Warner, MONEY TALKS) who explains, like, all the scientifical shit about ooze and what not. And puts the ooze into a Bart Simpson glass.
I can respect that they mostly treat this "human sized talking fighting turtles" concept matter of factly. They are weird animal people, but they do action hero things, and have areas of expertise and stuff. There's a part where one of the turtles (purple?) is hacking into a computer, and they do a good job of not showing how he is typing with three bulbous fingers. Just believe in it and it is real.
Like the first one this is a Golden Harvest production, and it's impressive to see these elaborate Jim Henson suits doing flips and choreographed fights. This one also has a few notable action people appearing:
*Reyes was a martial arts prodigy, joining his father's demo team at the age of 6 and co-starring in THE LAST DRAGON and RED SONJA at 13. He also starred as a young karate master with magic powers in the TV show Sidekicks with Gil Gerard. He was the fight double for Donatello in the first TEENAGE MUTANT NINJA TURTLES and this time got to be out of the rubber suit. Good for him.
As an adult he had a part in THE RUNDOWN and can be spotted in RUSH HOUR 2 and as the skeleton-painted dude that attacks them in the cemetery in INDIANA JONES AND THE KINGDOM OF THE CRYSTAL SKULL. Check that one out by the way. Fun movie, I'm sure almost anybody would enjoy it.
*The wrestler Kevin Nash (THE PUNISHER, DOA: DEAD OR ALIVE, MAGIC MIKE, JOHN WICK) made his movie debut as Super Shredder, the giant version of Shredder. He drinks the ooze to turn himself larger and also somehow it makes his armor grow larger and spikier. This kinda shit is why we seriously need to stop pollution.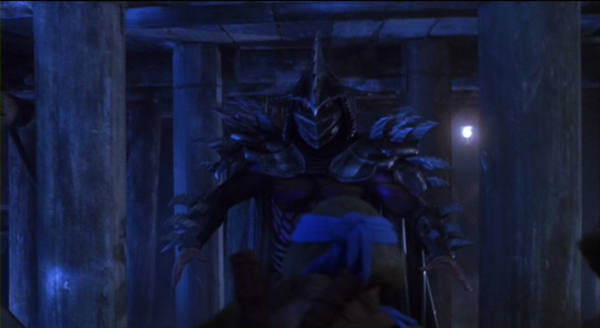 *Toshishiro Obata plays Tatsu, Shredder's henchman who takes over the Foot Clan for approximately two seconds before Shredder turns up still alive. Tough luck, Tatsu. Obata is the founder of the Shinkendo sword fighting system. According to the bio on its websight, in 1994 he set a world record for splitting a helmet in half. He coordinated swordfighting for AMERICAN YAKUZA and appeared in BLACK RAIN, CHINA O'BRIEN, SHOWDOWN IN LITTLE TOKYO, RAGE AND HONOR, DEMOLITION MAN and THE HUNTED.
*Oh yeah, and a baby-faced Michael Jai White appears as one of the youths who show up for the ninja audition.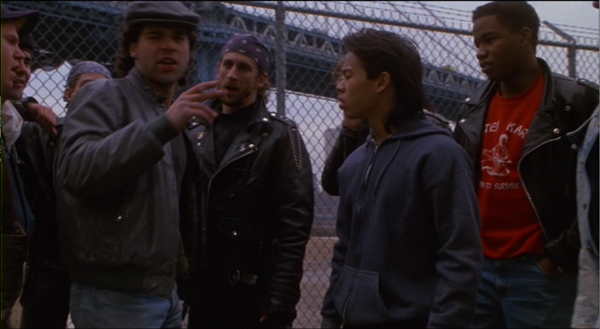 If he's in it after this scene I didn't spot him, which is too bad. You never see him doing any martial arts even though that must be why they hired him.
*Fight choreographer Pat E. Johnson is a 9th degree black belt in American Tang Soo Do who trained under Chuck Norris and did stunts in ENTER THE DRAGON and BLACK BELT JONES. He choreographed the original four KARATE KID pictures (where he also plays the referee) and the first MORTAL KOMBAT. He also got a story credit on Norris's A FORCE OF ONE.
*Vanilla Ice is the star of COOL AS ICE.
Yes, the most famous part of the movie is when the battle makes its way into "The Dockshore Club," where Vanilla Ice is performing. So the turtles are in the middle of the dance floor fighting these monsters, and there are various "jokes" about the clubgoers thinking the club went all out to make the show exciting, etc. Vanilla sees what's going on and improvises the song "Ninja Rap" about it. And still the least believable part of these scene is that a bunch of grown adults would get dressed up and go to a club to see Vanilla Ice.
I remember the first time I saw a picture of the ninja turtles they reminded me of Howard the Duck, so it's fitting that here we have the turtles inexplicably on stage performing with a ridiculous band, keytar and all.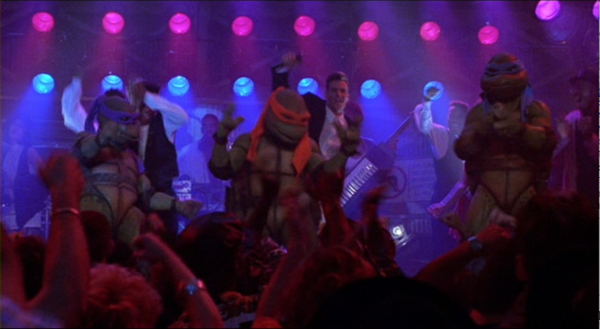 (After their film careers, by the way, the Turtles had a career as a touring rock band.)
In other dated music news, the end credits have some more cheeseball early '90s dance music, including a song called "Awesome (You Are My Hero)" by Ya Kid K (famous for being featured on Technotronic's "Pump Up the Jam.")
The opening scene is interestingly dated. After a montage of people enjoying pizza all around New York City (somebody should cut the intro of Louie into this) we meet Keno in uniform at Roy's Pizza, going to his scooter to make a delivery. There are some young women talking on the sidewalk, and he says to them, "Hey ladies. Which one of you lucky girls gets to ride with me tonight?"
"Dream on, dweeb," one of them says.
"Yeah, okay…"

So that's two things in a row that aren't considered cool anymore: hitting on random strangers and fat-shaming. Three if you count mugging. But this was a different time. Like part 1, most of the things that you can tell are humor are pretty befuddling. Most of the jokes are along the lines of, like… Ha ha, they are gonna totally pig out on potato chips!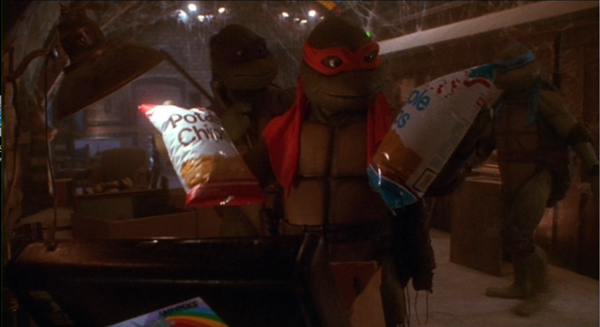 Or, Ha ha, these animals like to jerk off to photos of humans!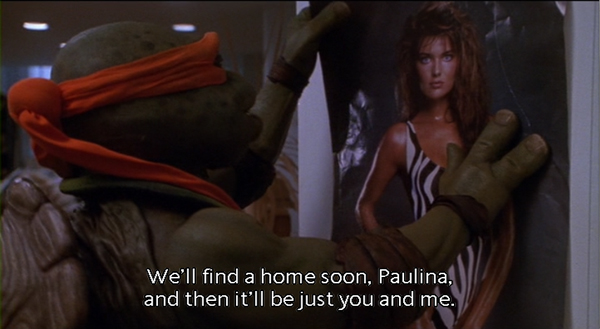 But also sometimes it's like, "I know who Ralph Nader is and I'm gonna make a reference to him."
Anyway, at the end it's Keno who throws the garbage can through the window of Roy's Pizza, starting the riot. Makes you think. There are no easy answers.
At 15 syllables this is the longest title for a movie directed by Michael Pressman, and that's saying something.
runners up:
TO GILLIAN ON HER 37TH BIRTHDAY (12 syllables)
MAN AGAINST THE MOB: THE CHINATOWN MURDERS (11 syllables)
THE BAD NEWS BEARS IN BREAKING TRAINING (9 syllables)
THE GREAT TEXAS DYNAMITE CHASE (8 syllables)
The screenplay is by the same guy as the first one, Wonder Years writer Todd W. Langen.
History: The Teenage Mutant Ninja Turtles was a comic book created in 1984 that was adapted into a surprise hit cartoon and toy empire in 1987, before becoming three live action movies and a live action series and another animated series and another animated series after that and an unrelated animated movie and an unrelated live action with animation movie which had a sequel this summer.
This entry was posted on Tuesday, July 5th, 2016 at 9:30 am and is filed under
Action
,
Comic strips/Super heroes
,
Reviews
. You can follow any responses to this entry through the
RSS 2.0
feed. You can skip to the end and leave a response. Pinging is currently not allowed.