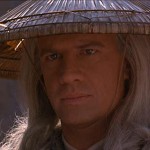 After reviewing Franco Nero in the white ninja movie ENTER THE NINJA, I got some suggestions to check out THE HUNTED. I'm pretty sure at least one person tried to get me to review this a long time ago, so I hope you will enjoy this and forgive me for taking so long.
Christopher Lambert plays a white businessman who, along with his colleagues, has just wrapped up a big sale one night in Tokyo. Don't get too excited, he's not a ninja businessman, just a regular one in a suit and tie. Christopher decides not to go utilize some geishas with his buddies, instead going to a bar to drink by himself. But he sees Joan Chen (ON DEADLY GROUND), drinks some sake with her, ends up going back to her hotel with her. At first he's very shy and polite, doesn't go inside, but she invites him in for traditional Japanese hot tub sex.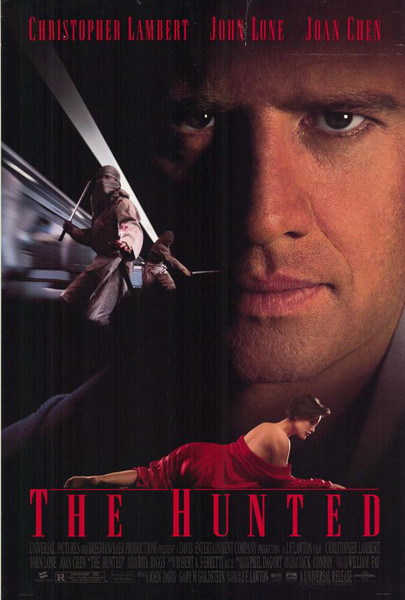 What he doesn't know is that the leader of a deadly ninja cult played by John Lone and some other ninjas were waiting for him to leave so they could come in and chop off Joan's head. Christopher accidentally takes the wrong hotel key with him so he comes back just in time to get hit with a poisoned ninja star and watch his new love get decapitated. Pretty much one of the worst ends ever to an awesome night of sex.
But what the ninjas didn't count on is that Christopher survives. You might say that he's hard to kill. Ninjas aren't used to not killing a guy, especially a sissy white guy like this, so there is alot of turmoil and controversy within the cult. Heads do roll. Or at least, some guys get killed. I wish I could say heads roll literally, but if I remember right they don't. Sorry.
In the hospital Christopher is visited by a badass samurai who insists on being the protection instead of the police. What I forgot to mention is that he saw the ninja leader's face, which is a no no, so he's pretty much a dead man walking. A police inspector tells him all that ninja shit is bullshit, but as he's explaining this he is suddenly killed by an arrow. The samurai's argument starts to seem more convincing.
I didn't have as much fun with this as with ENTER THE NINJA but on a technical level it's a better movie. The most memorable thing is the sequence on a bullet train where the ninjas try to massacre all the passengers just so Christopher doesn't have a crowd to hide in. Even though he's the action star, the movie is smart enough to keep him cowering and getting lucky, the samurai is the one who does most of the fighting. He kills all the ninjas on the train, and the police allow him to leave, but they ask for his sword as evidence. He's so offended at the idea of somebody touching his sword that he stabs it into the ground and breaks the end off before giving it to them. Those guys love their swords, I guess.
The writer/director is J.F. Lawton, best known as the writer of PRETTY WOMAN. But he also wrote UNDER SIEGE and seems to lean more toward these action movies. UNDER SIEGE is not a clever twist kind of movie, it's just a real solid version of a certain type of formula. But this one does kind of defy your expectations, or at least mine. They have a good twist where the samurai turns out to be a little more flawed than you thought (he is stubbornly using Christopher as bait to finish off a centuries old blood feud, and therefore is responsible for the innocent people killed on the train) and the bad guy is not quite as bad as you thought he was (he decides it was wrong to kill Joan Chen so he goes and kills the guy who hired him to do it).
At the end Christopher finally has to samurai up and fight a bunch of ninjas. There are many casualties. Then the camera pulls up to show an ancient temple and it goes to the credits. It's a classy ending, but I think it would be funnier if it showed Christopher in his normal life, either back at home or on the plane going back. And he's all beat up and bruised, but wearing some kind of touristy Tokyo t-shirt or hat.
What really struck me about this movie is that it starts out pretty much the same as that Bill Murray picture LOST IN TRANSLATION. Bill is not a businessman, but he's an actor in town to do a job, he's lonely and drinking by himself in the hotel bar, he meets a hot young woman. Bill's situation is not the happiest, he is married and too old for this girl, but obviously has a connection with her and is going to miss her when he leaves. But wouldn't it be worse if ninjas decapitated Scarlett Johansen in front of him and then came after him? He got lucky, if he had hooked up with the wrong girl in that bar he very well could've been THE HUNTED instead of Christopher.
To be fair to Bill though, I think he could've handled the ninja cult just as well or better than Christopher. Christopher does all these action movies but he's not a martial artist, maybe just a swordsman at best. In the movie he is not supposed to have any supreme skills, he just learns a little bit of sword technique when he becomes drinking buddies with the Hatorri Honzo type making a new sword for the samurai. I think Bill would've made buddies with this guy too, in fact I think they would've gotten along even better, he might've given the good sword to Bill instead of the samurai.
Yeah, I'm sure of it. Bill could've done just as much fighting as Christopher does. Plus, Bill clearly has more anger in him. He is dissatisfied with his life. That is a double-whammy for sword fighting, in my opinion. On one hand, he has nothing to lose. On the other hand, he's hungry, because if he turns out to be good at killing ninjas, he will find a new purpose in life. The more I think about it the more I know in my heart that Bill Murray would've fuckin skinned these ninjas alive and torn out their hearts with his bare hands. So really it's not Bill who's lucky he met Scarlett instead of Joan. It's the ninjas. You ninjas lucked out. You're dead now, but it could've been worse. Don't ever fuck with Bill Murray.
Also there's a pretty cool score by the Japanese drumming group Kodo.