From the director of ENTER THE DRAGON comes Jim Kelly as BLACK BELT JONES. Black Belt Jones is a cool, afro-sporting karate expert and sometimes government agent. He doesn't have any other first name, but you can call him "B.B." if you want. He tries to stay out of conflicts but then a crime lord named Pinky (Malik Carter) kills the owner of the karate school, Poppa "Pops" Byrd (Scatman Crothers). The government or somebody wants the land, so the mafia pushes Pinky, so Pinky is after the karate school. Pops wills it to a daughter nobody knew about named Sydney (Gloria Hendry from BLACK CAESAR), they use threats and kidnapping to try to force her to give it over, Black Belt helps out, etc.
Obviously it's a silly movie and at times it's sloppy, but it has many of the funny and absurd types of moments I look for in a movie like this. A couple of my favorites:
1. Robert Clouse's directing credit is over a freeze frame of Black Belt aiming his gun at a dude who's running away. When it unfreezes the bullet hits the guy in the ass.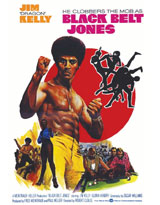 2. Pops owes Pinky $1,000, but when Pinky shows him an I.O.U. it says 11,000. Then after Pops dies he shows the I.O.U. to Sydney and now it says 41,000. He keeps adding more lines to it!
3. Black Belt is not very enlightened about women. When Sydney wants to come along on some dangerous mission he tells her to stay and do the dishes. She shoots the dishes and says, "They're done."
4. Also he doesn't wait for her to put on her panties when they have to make a run for it. Then he doesn't understand why she's still holding onto the panties and throws them out the car window. In my opinion he owes her a pair of panties.
5. In one scene we see B.B. on a beach with some hot chicks bouncing on a trampoline. It seems like it's just there to show the kind of lifestyle a guy like this lives, hanging out on a beach with bouncing women. But later he ends up hiring them for a mission where they have to jump off of portable trampolines. Also, they call him "Mr. Jones." I think he may actually be their trampoline teacher, but I'm not sure.
6. There's a big jokey chase scene on a beach where Black Belt and Sydney flirtatiously fight until they end up stealing somebody's sex tent. One of the goofiest jokes is when they break some fat hippie's acoustic guitar, especially since it's edited to match up to a guitar solo in the theme song.
There's also weird ideas like a climactic fight in car wash suds (reminded me of samurai movies in snow) and a funky as hell theme song by the white-but-funky guitarist Dennis Coffey.
Kelly's a good fighter on screen and an icon of both '70s black cool and that decade's explosion of popularity for the martial arts. They have an all black karate school that promotes discipline without being explicitly political like Black Panthers. Pinky still calls them "commies" though because they ask him to take his shoes off in the dojo.
I don't know that much about karate, but some of the shit they do seems made up. For example I don't believe it's tradition to do a bunch of moves next to the coffin at a funeral. Also, I believe these kids should be allowed to wear shoes when driving a car.
Another thing that's weird is that Kelly keeps doing those cat noises that his former co-star Bruce Lee did. It seems so goofy now because the only people who really make sounds like that are Bruce Lee and people imitating Bruce Lee in comedies. But I know Jim Kelly was really good friends with Bruce Lee, so it was probaly his tribute, since this came out the year after Bruce died.
Sydney is a funny character. She doesn't put up with any shit. When a bunch of "Bogarts" as Pinky calls them threaten her she tells them "I'll make you look like a sick faggot" and then beats them all up. She also tells Black Belt if he wants to have sex with her he has to "take it," and when he says he doesn't need any woman that badly she slaps him across the face and says "What's the matter, you a faggot?" So she is not too good on gay rights or women's issues but she's hilariously self-assured. She doesn't mean any harm, she's just trying to show off that she can hold her own even with a dude like Black Belt Jones.
This is not a great piece of filmatism like, say, SHAFT, and not a home-made affair like DOLEMITE, it's somewhere in between. I guess I would put it in a category with CLEOPATRA JONES as one of the more enjoyably absurd blaxploitation pictures. Too bad they don't have a good DVD of it yet (the one I watched was clearly transferred from VHS.)
This entry was posted on Wednesday, June 17th, 2009 at 1:50 pm and is filed under
Action
,
Martial Arts
,
Reviews
. You can follow any responses to this entry through the
RSS 2.0
feed. You can skip to the end and leave a response. Pinging is currently not allowed.