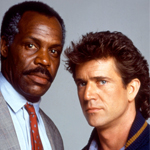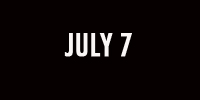 I already wrote about LETHAL WEAPON 2 along with the rest of the LETHAL WEAPON series back in 2014. I'm still happy with that review. It covers much of what's relevant about the movie, and even features a scan from my beloved Summer 1989 Warner Brothers Catalog (as seen in the BATMAN review). But I didn't think I should skip over the movie in this series because it's such a crucial piece of what I'm talking about here. So the earlier review still stands, but here's a partially overlapping supplemental look at LETHAL WEAPON 2 focusing on its place in the action movies of summer '89.
LETHAL WEAPON (1987) was of course a quintessential '80s action movie, the Platonic ideal of a buddy cop picture, and one of the originators of the idea of Mel Gibson and producer Joel Silver (ROAD HOUSE) as action kings. But part 2 is more my idea of what "a LETHAL WEAPON movie" is like because it invented how to sequelize that movie and make it about the continuing adventures of that now-established friendship. It takes what was already seen as heightened and makes it bigger, sexier, funnier, lethal-er (apparently it's the biggest body count in the series at 33), creating a template (and new character in Leo Getz, played by Joe Pesci a year before GOODFELLAS) that would be used for two more sequels in the '90s. (read the rest of this shit…)
VERN has a new action-horror novel out called WORM ON A HOOK! He has been reviewing movies since 1999 and is the author of the film criticism books Seagalogy: A Study of the Ass-Kicking Films of Steven Seagal and Yippee Ki-Yay Moviegoer!: Writings on Bruce Willis, Badass Cinema and Other Important Topics as well as the crime novel Niketown.