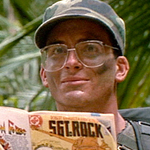 As I'm sure we all heard, Hollywood Reporter is hollywood reporting that Shane Black (LETHAL WEAPON) is writing a treatment for a "reboot" of PREDATOR, to be scripted by his old partner Fred Dekker (MONSTER SQUAD, NIGHT OF THE CREEPS, sorry about ROBOCOP 3) and directed by Black.
Sign me up. Let's discuss why this is good news.
1. The reunion of the Black & Dekker team. These two were buddies in film school, they wrote MONSTER SQUAD together. Back then they worked well together. Also their names sound good together.
2. The return of Dekker. I was late to the party on this guy, so I have zero nostalgia involved in saying that MONSTER SQUAD and NIGHT OF THE CREEPS are the work of a natural born filmatist. He also had a hand in the writing of Russell Mulcahy's insane Denzel/Ice-T picture RICOCHET. And yes, it is understandable why the inexcusable ROBOCOP 3 put him in director jail. But he hasn't had a credit in more than ten years. He's been real good, hasn't stabbed any guards, has written letters of apology to the victims' families. Let's let him out on work release at the very least.
3. Connection to the series. Shane Black, of course, was in PREDATOR. He was out there in the jungle when they were making it. He is possibly the only person who is both qualified to direct PREDATOR and has been killed by Predator. Also he's one of the primary voices of the smart-macho late '80s action era that the movie came out of. So he understands this on a "this is my shit" level, not on the "I grew up wearing the pajamas!" level of most modern rebooteners.
Meanwhile, Dekker worked with PREDATOR-creature-creator Stan Winston on MONSTER SQUAD. As I pointed out when I reviewed that one, the Creature From the Black Lagoon could be Predator's cousin: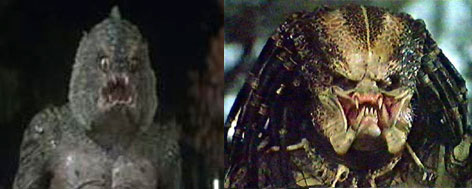 4. I mean shit, I'm always down for a new PREDATOR movie. The first one is a classic. The second one is fun too. The third one was pretty good. It at least understood that it's important to have an ensemble of badass dudes in a PREDATOR. This is a simple monster, concept and tone that is always fun to revisit if done right.
NOTE: The article does not give any indication of what it means by "reboot." The word no longer has a precise meaning. Most people seem to assume it means "remake," but it could also mean a sequel that tries to restart the series in a way that PREDATORS didn't, or it could mean just a totally different take on the concept that isn't the same story about some soldiers in the jungle but also isn't a sequel. To me, any of these possibilities would be fine if it's Black & Dekker in charge. They know what they're doing.
UPDATE: Shane Black says it's a sequel.
I say put Van Damme in one of the predator suits though. Give him another shot.
P.S. Keep in mind, Black gets attached to alot of projects that haven't happened yet. For example he's still trying to do a Doc Savage movie (the article says he met with Chris Hemsworth about it). But you know how Hollywood loves licensed property franchise trademark IP titles.
This entry was posted on Wednesday, June 25th, 2014 at 1:36 am and is filed under
Blog Post (short for weblog)
. You can follow any responses to this entry through the
RSS 2.0
feed. You can skip to the end and leave a response. Pinging is currently not allowed.