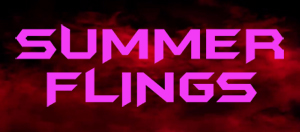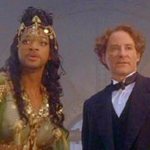 Big Willie Weekend, 1999
Two summers after their hit film MEN IN BLACK, director Barry Sonnenfeld (d.p. of BLOOD SIMPLE) and star Will Smith (SUICIDE SQUAD) tried to bring a similar comedy/special-effects/adventure mix to the old west. It's like a western in that there are cowboy hats, guns, railroads and occasional horses, but also not really because it's about two top agents for the president going undercover and then having a big battle against a giant mechanical spider that's on a rampage and headed for the White House. Not a type of story I've seen done with John Wayne or Clint or anybody.
The basis is The Wild Wild West, a western-meets-spies TV show that lasted four seasons, ending thirty years prior to the movie. It was actually cancelled not due to a lack of popularity, but controversy over violence on television, and did have two followup TV movies. But the last of those was in 1980, and nineteen years later it was at best a cult show, and not yet available on DVD. So this is another expensive blockbuster based on characters that most of its intended youthful audience had never seen, or in this case even heard of.
But they didn't have to know it was based on anything. Waning interest in westerns may have been a bigger problem, but that could've been overcome by the popularity of Smith, or the fun gimmick of the gadgets and steampunk type robotics, or the energetic style and cartoonish humor of the director of the ADDAMS FAMILY movies.
But that didn't happen. (read the rest of this shit…)