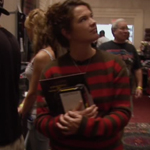 These days most horror fans have heard of the concept of the Final Girl, whether or not they know where it comes from. But they at least know it's the heroine of a horror movie, the one that's left standing at the end, like Laurie in HALLOWEEN or Sally in TEXAS CHAIN SAW MASSACRE or… the ones in the FRIDAY THE 13ths.
There are few as iconic, and almost none as pro-active, as A NIGHTMARE ON ELM STREET's Nancy Thompson, played by Heather Langenkamp. She's the all-American girl next door (or across the street in Johnny Depp's case), she gets terrorized by a supernatural dream killer, the adults don't believe her, not even her overprotective cop father (John Saxon, ENTER THE DRAGON, THE GLOVE). But this is not a heroine who only manages to scrape it out and survive. Nancy gets shit done. She goes to the library and researches, figures out who Freddy is, uncovers his connection to her and her friends' parents, teaches herself to build booby traps and comes up with a clever plan to go into the dreamworld and pull him out and try to kill him. And then she figures out the next step after that. (read the rest of this shit…)
VERN has a new action-horror novel out called WORM ON A HOOK! He has been reviewing movies since 1999 and is the author of the film criticism books Seagalogy: A Study of the Ass-Kicking Films of Steven Seagal and Yippee Ki-Yay Moviegoer!: Writings on Bruce Willis, Badass Cinema and Other Important Topics as well as the crime novel Niketown.