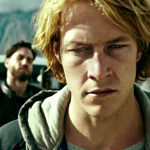 I got a good laugh when I went to see THE LAST WITCH HUNTER and they showed a trailer for the POINT BREAK remake. They'd been advertising it for a while, but this audience clearly didn't know about it since they gasped and groaned in disapproval when the title came up. They knew that this was going too far to remake POINT BREAK, even though they didn't know that a trailer about some guys robbing a bank wearing president masks and then an FBI agent who's a surfer has a theory that the robberies are being done by extreme athletes and he goes undercover in the group but he gets too close to the guru-like leader whose name is Bodhi means this is a remake of POINT BREAK. They didn't recognize it until the title.
But they're kinda right. POINT BREAK cannot be duplicated. It can be ripped off and turned into a great series of movies about globetrotting street racer super-thieves, sure. But it has a unique power that's a combination of a great/goofy premise, a script with a ton of funny dialogue, excellent sequences directed by the great Kathryn Bigelow at the top of her action game, incredible skydiving stunts and photography, a maybe-not-knowingly-funny performance by Keanu Reeves as surfer dude cop Johnny Utah, and most of all a towering performance of charisma and sincerity by Patrick Swayze, who (like Vin Diesel in THE FAST AND THE FURIOUS, actually) seems to truly, deeply believe the philosophy his character spews. (read the rest of this shit…)
VERN has a new action-horror novel out called WORM ON A HOOK! He has been reviewing movies since 1999 and is the author of the film criticism books Seagalogy: A Study of the Ass-Kicking Films of Steven Seagal and Yippee Ki-Yay Moviegoer!: Writings on Bruce Willis, Badass Cinema and Other Important Topics as well as the crime novel Niketown.