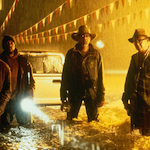 HARD RAIN is a very enjoyable '90s studio action movie (with a side order of disaster) that it turns out I must never have seen. I thought I had, but I would've remembered how good it is!
It starts, like many good films, by pulling out of the Paramount logo and using the logo's mountain as part of its scenery. I was thinking it would be cool if it continued to be in the background of shots throughout the movie, but no dice.
Anyway, a very cool shot that I think combines live action, digital and miniature models establishes the geography of the small town of Huntingburg, Indiana, where the Sheriff (Randy Quaid, VEGAS VACATION) is trying to evacuate the locals as the titular aggressive precipitation causes flooding that will soon be worsened by trouble with levees and dams.
Meanwhile this dude Tom (Christian Slater, THE WIZARD) and his uncle Charlie (Edward Asner, voice of Jabba the Hutt, Star Wars: Return of the Jedi – The Original Radio Drama) are working their shitty job driving an armored car, and they get stuck on a flooded road, unable to move further. Suddenly they're blinded by floodlights and some guys pretend they're going to help, but of course they really intend to rob the car. Uncle Charlie is mistakenly shot to death in the hubbub and Charlie runs away with the money. (read the rest of this shit…)