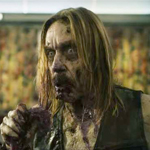 Jim Jarmusch's zombie comedy THE DEAD DON'T DIE is… I mean, it's a zombie comedy by Jim Jarmusch. Which is unexpected. When the trailer came out I couldn't tell if they were trying to mislead us or if Jarmusch had made something totally different from his other movies. The answer is in the middle, leaning toward the first one. It feels closer to normal Jarmusch than to, like, SHAUN OF THE DEAD. It's high on oddness and quirk, low on concept, plot structure or traditional resolution. Compared to ZOMBIELAND or TUCKER AND DALE or something the humor is bone dry and the pace is molasses slow.
But by LIMITS OF CONTROL standards it's an action packed thrill-o-rama. It has a whole bunch of zombies digging out of graves like Thriller or RETURN OF THE LIVING DEAD, pulling out people's intestines for a snack, and getting their heads chopped or blown off. They're respectable zombies, too – o.g. slow shambling style, some personality to them, one played by Iggy Pop (DEAD MAN, THE CROW: CITY OF ANGELS). There's one pretty distinctive touch in that they emit puffs of dust from their wounds. I imagine Jarmusch worked with more FX people on this than on all his other movies combined. (read the rest of this shit…)
VERN has a new action-horror novel out called WORM ON A HOOK! He has been reviewing movies since 1999 and is the author of the film criticism books Seagalogy: A Study of the Ass-Kicking Films of Steven Seagal and Yippee Ki-Yay Moviegoer!: Writings on Bruce Willis, Badass Cinema and Other Important Topics as well as the crime novel Niketown.