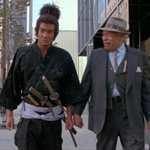 GHOST WARRIOR is sort of a sci-fi action drama that was made in 1984, but shelved and thawed two years later. It's about a samurai named Yoshimitsu (Hiroshi Fujioka, Kamen Rider, IN THE LINE OF DUTY III) who's just minding his own business – okay, I guess he's fighting some dudes and forced to jump falls off a cliff – when suddenly he wakes up 400 years later in a lab. Somebody found him frozen in a cave and he ended up at the California Institute of Cryosurgical Research.
By the time the man in charge, Dr. Alan Richards (John Calvin, Tales of the Gold Monkey, CRITTERS 3), recruits "Oriental history" expert/narrator of the film Chris Welles (Janet Julian, HUMONGOUS, FEAR CITY, KING OF NEW YORK) to consult, she's already read rumors about "The Frozen Shogun" in the newspaper, but just thinks it's an archaeological discovery. It's immediately clear that Dr. Richards is an asshole because when she walks into the lobby to report to the job he's standing right next to her and doesn't bother to welcome her, introduce himself or even look at her. Then he pulls a John Hammond and brings her for a tour without warning her there's gonna be a live samurai involved. (read the rest of this shit…)
VERN has been reviewing movies since 1999 and is the author of the books SEAGALOGY: A STUDY OF THE ASS-KICKING FILMS OF STEVEN SEAGAL, YIPPEE KI-YAY MOVIEGOER!: WRITINGS ON BRUCE WILLIS, BADASS CINEMA AND OTHER IMPORTANT TOPICS and NIKETOWN: A NOVEL. His horror-action novel WORM ON A HOOK will arrive later this year.