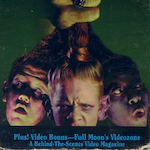 Richard Elfman is the son of novelist Clare Elfman. He grew up in L.A., then worked as an Afro-Latin percussionist in the San Francisco musical theater troupe The Cockettes before moving to Paris to perform, and later returning to form the "commedia dell'arte ensemble" or "surrealist street theatre troupe" The Mystic Knights of the Oingo Boingo. They performed Cab Calloway covers and Russian ballet songs in whiteface, won an episode of The Gong Show, released a doo wop song about the kidnapping of Patty Hearst, and played demons in a hallucination scene in I NEVER PROMISED YOU A ROSE GARDEN. In the late '70s Elfman turned filmmaker, directing the Mystic Knights' black and white cult musical FORBIDDEN ZONE (released in 1982).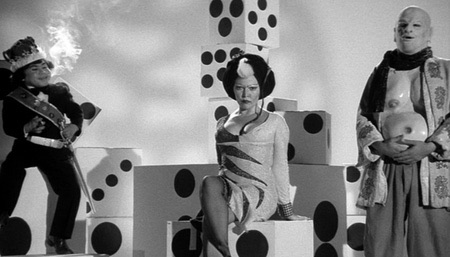 It's a pretty obnoxious and completely amazing movie, filmed on theatrical sets beautifully designed in a German expressionist/Max Fleischer cartoon style (and sometimes noticeably made of paper). It's a short but unrelenting burlesque nightmare of tap dancing frogs and skeletons, adults dressed as children and/or only wearing underwear, lots of Mickey Mouse ears, fezzes and boobs, every single character (and there are tons of them) a weirdo or a grotesque caricature. They move bizarrely and at fast speed, lip sync to old timey big band jazz tunes, simulate humping. It stylishly switches to animation as they plummet to Hell or through the intestine shaped tunnel from the Hercules family's basement to the Sixth Dimension, which is ruled by Susan Tyrrell as the Cruella-meets-drag-queen Queen Doris, and Herve Villechaize as her cheating husband King Fausto.

Elfman's younger brother Danny made some great songs for it and has a scene as Satan, singing "Minnie the Moocher" with a band of hooded, lumpy ghouls. Joe Spinnell shows up as a sleazy, drunk sailor. To me it's soiled by its use of historical racist imagery – I know this is vintage hipster irony or some shit, but opening with a blackface pimp character looking for his heroin is a problem. And you also have to be patient with the inside joke art school forced weirdness nonsense humor ethos that thinks it's hilarious to have  a main character named "Squeezit Henderson," who has a twin sister played by the same actor, who is credited as "Toshiro Boloney." (That's actually Matthew Bright, better known for directing FREEWAY. His well-meaning drama TIPTOES, which infamously co-stars Gary Oldman as a little person, was inspired by the director's friendship with Villechaize.)
Around that time Richard passed the creative direction of the Mystic Knights to Danny, who soon decided to ditch all the theatrics and strip down to the rock band Oingo Boingo. They became very popular and had songs on movies ranging from WEIRD SCIENCE to TEXAS CHAINSAW MASSACRE 2. And during this time, of course, Tim Burton convinced Danny to score PEE-WEE'S BIG ADVENTURE, which led to other scores, and all the sudden he was an A-list film composer.
Meanwhile, Richard directed a few of the band's videos, but didn't make any more movies until 1993, when he resurfaced with a silly but pretty straight forward Mimi Lesseos b-action vehicle I've already reviewed called STREETS OF RAGE. For that he was credited as "Aristide Sumatra," which is the name of a character in his third movie, SHRUNKEN HEADS. Released in 1994, SHRUNKEN HEADS was written by Elfman's old friend Bright (pre-FREEWAY) and produced by Charles Band and his company Full Moon Entertainment. So you better believe it has some tiny little guys in it. Shrunken, like the title says. (read the rest of this shit…)