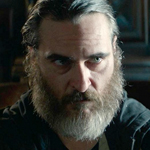 YOU WERE NEVER REALLY HERE is the latest example of what I call "Arthouse Badass" – movies with subject matter and tropes from our beloved crime/action/tough guy movies, but with more interest in formal experimentation and subverting expectations or cliches than in delivering on traditional money shots. It's based on a novella by Jonathan Ames that sounds like a pretty straightforward action kinda thing, but it's written and directed by Lynne Ramsay (WE NEED TO TALK ABOUT KEVIN). Joaquin Phoenix (U TURN) stars as a scary dude who, in the opening scene, has just killed some sex traffickers or somebody and is making an escape. But there will be little emphasis on how badass he is and alot on how damaged and haunted and sad he is.
Like Riggs he regularly contemplates suicide (holding a knife over his mouth, pulling a plastic bag over his head, peering over bridges and onto train tracks). Like Rambo he's covered in scars and sees flashes of war crimes and other traumas, and at one point breaks down crying about the people he's killed. Like Leon the professional, Creasy the man on fire, The Equalizer, Logan, Statham in SAFE or Seagal in OUT OF REACH he finds some kind of life's purpose in protecting a little girl.
But he's not cool. He's a husky, baggy-pants-and-pullover-hoodie guy, with a belly and greasy unbrushed hair and a bushy, graying beard, and he mumbles and lays around lazily eating jellybeans, and the last thing he does in the movie is loudly slurp up the dregs of a melted milkshake. He looks more Jack Black than John Wick, more Devin Faraci than Chow Yun Fat, more George R.R. Martin than Lee Marvin, more guitar tech for Ratt than elite operative. (read the rest of this shit…)
VERN has been reviewing movies since 1999 and is the author of the books SEAGALOGY: A STUDY OF THE ASS-KICKING FILMS OF STEVEN SEAGAL, YIPPEE KI-YAY MOVIEGOER!: WRITINGS ON BRUCE WILLIS, BADASS CINEMA AND OTHER IMPORTANT TOPICS and NIKETOWN: A NOVEL. His horror-action novel WORM ON A HOOK will arrive later this year.