LE SAMOURAI is a movie I've meant to see for years. It just comes up so often when you're into the shit I'm into. It was a big inspiration for THE KILLER and GHOST DOG, and probly THE AMERICAN, and since it's both a crime movie and an instigator of that French wave that was new at the time it appeals to a broad range of movie buffs. People who wouldn't normally watch too many French movies from the '60s might watch it because it's about a hitman, and vice versa. ('Vice versa' is Latin by the way, not French.)
So after hearing about it all these years it's kind of a surprise still, 'cause it turns out I got the wrong impression. The way people talk about it I thought it was gonna be way more arty, way more slow and difficult, way more pretentious. But it's a pretty straightforward crime movie in my opinion. It's not fast-paced by modern standards, but it doesn't have much fat on it either. Just alot of quiet. And a bird chirping.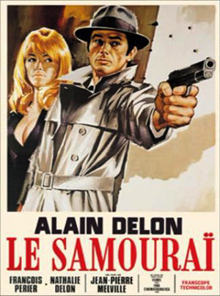 Jef Costello (Alain Delon) is a killer hired by an unknown party to kill a night club owner. He walks in with his cool trenchcoat and fedora, gets into the back room, shoots the guy and leaves. He has an alibi set up, but the cops pick him up at a poker game to be in a lineup. A bunch of witnesses saw him at the club, including a pretty jazz pianist (Caty Rosier) who actually saw him go in the office and heard the gunshot. We know he's the guy who did it, but did anybody get a good enough look at him to be sure? Or if they did, are they going to admit it?
It's interesting, the lineups in 1967 France don't work the way we're familiar with. They actually have them in the same room. The suspect sees the witnesses and hears what they say. Doesn't seem like a good system. Could lead to trouble. I hope they've changed it since then.
(Of course, men didn't all wear hats in 1967 France either Melville just thought it would be cool if they did, I think. This isn't trying to be realistic. But decades and continents removed it seems reasonable that that's what it would've been like then and there. So I'm gonna go ahead and believe it.)
Jef is a stoic individual. He lives alone except for his chirping pet bird. He has a hooker girlfriend he goes to (played by Delon's wife Nathalie), but possibly more as an alibi than even as a hooker. When he manages to (SPOILER) get cleared and released by the cops the main inspector still suspects him 'cause he's never seen anybody handcuffed for 48 hours without saying a word. His calm badassness gives him away. If he would've whined about missing the poker game and been a baby they probly wouldn't have suspected him.
You've probly noticed by now that despite the title it's not about a Japanese guy with a sword. The samurai thing isn't that big a deal. There's just a fake quote from a Bushido text at the beginning about the solitude of the samurai. I guess the idea is since he's such a lone wolf he's like Lone Wolf minus the Cub. His gun is his sword, his coat is his robe, his hat is his topknot, and oh shit I just realized (SPOILS) he basically commits sepukku at the end. I guess maybe there is something there.
I like how procedural the movie is, going through processes in detail. You see how the police investigation works, how cars were stolen in those days, how a bug is planted. There are many great moments: when it looks like he's washing his hands in the restroom and he turns around and has gloves on, the look on the bartender's face when the guy who was released from the lineup yesterday is sitting at his bar today, the way he knows someone is about to attack him by looking in his bird's cage.
For some reason I thought the movie was gonna be in black and white, but it's in color with a great washed out look, grainy film, shot on location, walls always textured like they've been brushed over with charcoal. And that pianist is something to look at too. I looked it up and found out she didn't really play. She was a model and did release an album at one point, but I think she just sang. Good thing because I was getting ready to invent time travel and have a crush on her, that would've been time consuming in my opinion. Not a pianist, though. A total fraud.
So now I finally know what people are talking about when they compare GHOST DOG to this one. The homage is obvious. In fact it made me wonder if Jarmusch was re-watching LE SAMOURAI one day and started thinking it would be cool if the samurai shit was taken more literally and this guy actually used the bird to deliver messages like in ancient times. Costello has his bird, Ghost Dog has his pigeons. LE SAMOURAI has its Bushido quote at the beginning, GHOST DOG has its Hakagure quotes all throughout. Both are hitmen, both have quiet, real time-ish scenes of stealing cars, both have methods of changing license plates. I even think the sort of prog-rockish keyboard music might've influenced the more eerie wind-chime type sounds of RZA's classic GHOST DOG score.
But GHOST DOG is hardly a remake. The plots and themes are entirely different. LE SAMOURAI doesn't have any kind of master-samurai relationship, it doesn't bring up ideas about communication, literature, outmoded codes or aging criminal empires left behind by progress or any of the other topics I always think about when I watch GHOST DOG. The villains he's up against are more clearly threatening. He has less friends. He doesn't read books or eat ice cream. I don't think he cares about his bird as much as Ghost Dog cares about his, it's more of a coal-mine type situation, a watchbird. LE SAMOURAI is more straight ahead. It's the minimalism, the simplicity that makes it great.
Anyway, it's good. I wish there was a sequel called LE NINJA where he was more of a sneaky asshole type of killer.