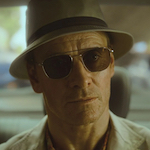 Yeah, I know, I agree – John Woo's THE KILLER is what we mean when we refer to "THE KILLER." Where my KILLER tape at, etc. If we mean the Henry Silva one we say "that Henry Silva movie THE KILLER." But now we also have to say "David Fincher's THE KILLER." And that's okay. I never thought I'd be able to deal with there being two totally different Steve McQueens, but now I'm out there doing it every day. I believe we can get past this. 
The title comes from Le Tueur, the name of the French comic book it's based on. I don't know it but it's 13 volumes from 1998-2014, written by Matz and illustrated by Luc Jacamon. Matz (a.k.a. Alexis Nolent) also wrote Du Plomb Dans La Tete, which became Walter Hill's BULLET TO THE HEAD. And he did another one called Cyclops that James Mangold was supposed to adapt in 2008, so that's probly not happening anymore, but then again Fincher was first announced for this one way back in 2007. Anyway, it's adapted by Andrew Kevin Walker, his first credited collaboration with Fincher since SE7EN, though he's done rewrites on a bunch of them.
Michael Fassbender (THE COUNSELOR) stars as the titular killer, who is never referred to by a real name, and takes all of his aliases from '70s and '80s sitcoms. Other quirks include wearing a bucket hat to look like a German tourist and exclusively listening to The Smiths (there are 11 of their songs in the movie). When I saw him using an iPod I thought for a second it was a period piece, but no, I think the unspoken explanation is that you're gonna have an iPod if you enjoy music but are required by your occupation to smash every cell phone you use. (Or maybe he just prefers it – I use one and I'm not a phone-smasher or a person in the past.)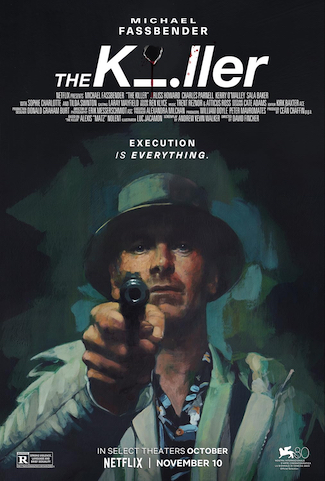 A funny joke in THE KILLER is that it hurls us into a quick spy-TV-show-intro type credits sequence flipping through a bunch of exciting murder scenarios (poison, electrocution, snake) over an "oh shit, it is about to go DOWN!" synth riff by Fincher's boys since THE SOCIAL NETWORK Trent Reznor and Atticus Ross (TEENAGE MUTANT NINJA TURTLES: MUTANT MAYHEM)… then abruptly cuts to quiet. The second line from The Killer, narrating, is "If you're unable to endure boredom, this work is not for you."
Though sequences are edited with momentum (editor: Kirk Baxter) and often accompanied by narration, I do think some will be bored and consider it "slow" for its sparse dialogue and long stretches of just watching him quietly do stuff – travel, dispose of evidence, purchase supplies, put things in place, crack his neck, do yoga. He spends much of the movie waiting around and watching, which I guess you could also say about SNIPER, but I consider this to be what I call "arthouse crime" or "arthouse badass" – hard-nosed movies more rooted in old crime novels, POINT BLANK, GET CARTER and LE SAMOURAI than in modern pacing and pyrotechnics. Others of its type include THE AMERICAN, THE LIMITS OF CONTROL, WIDOWS, also THE LIMEY, HAYWIRE (co-starring Fassbender) or GHOST DOG (co-starring Henry Silva, THE KILLER), although those last three are much more eventful.
Don't get me wrong – I love events. But I also love this approach to a crime story: a matter-of-fact procedural, the mundane steps leading to brief explosions of conflict, and the problem-solving to recover when the plan goes awry. The story is pretty simple, laid out in chapters, titled after the city and a description of the person he intends to kill. (Other lives are lost along the way – all hired hands like himself.)
Like most cinematic killer protagonists, he gets into trouble for not killing someone. Usually they grow a heart and draw a line, like in THE REPLACEMENT KILLERS when Chow Yun Fat (THE KILLER) gets Michael Rooker (HENRY: PORTRAIT OF A SERIAL THE KILLER) in his sights but then sees his wife and kid and can't pull the trigger. This The Killer does pull the trigger, but he misjudges it, a sex worker (Monique Ganderton, Charlize Theron's stunt double in FATE OF THE FURIOUS) steps in the path of the bullet, the maid screams, bodyguards respond, he has to flee, mission cancelled. Usually this type of character would either finish the job or flip and start to protect the target. Here the target is irrelevant. A cancelled Lyft ride, a lost Uber Eats order. We never even find out who he was.
But The Killer loses his 5-star rating, you could say. When he gets home to a hideout in the Dominican Republic he finds a trail of damage and blood, discovers his girlfriend Magdala (Sophie Charlotte) was attacked when they came for him. She survived, proud that she didn't give up any information, and from the hospital she and her brother (Emiliano Pernía) provide enough bread crumbs for The Killer to begin the detective work to find out who did the hit and who ordered it, avenging them and a few other participants and witnesses along the way.
The joy is the friction between what feels like authentic, ordinary life and our knowledge of what sort of nefarious business this character is up to as he walks through the world. Oh shit, hardware store person, do you wonder what he's buying all those saws for? It's about great little touches like the patter of the guy selling him guns out of the back of a hatchback. I was almost convinced they hired some non-actor street salesman for an authentic spiel, didn't realize it was Jack Kesy from DARK WEB: CICADA 3301 and the upcoming Hellboy movie.
You know I say this non-judgmentally in either direction, but this is not, like, a Jason Statham movie. Most of the "fuck yeah" moments are just clever little details like ordering a steak from room service so he can have a knife for self defense. But there's one absolutely great fight scene when a big muscle dude (Sala Baker, "Jesus" – BLOOD AND BONE, "Gang Member 2" – FALCON RISING, "Teddy's Guy" – THE EQUALIZER, "Mercenary" – BRAVEN, motherfuckin Sauron in the LORD OF THE RINGS trilogy!) catches him sneaking into his house, and they go at it for a while, smashing through walls and furniture and (this is so cool) the flat screen TV. It reminded me of a great fight in John Hyams' DRAGON EYES, and then I saw Hyams tweet that the scene made his weekend, so maybe he was thinking the same. The fight coordinator/stunt coordinator is Dave Macomber, who has worked on stuff ranging from G.I. JOE: THE RISE OF COBRA to FAST FIVE to (like everybody) a bunch of Marvel things, but I think maybe his most impressive sounding credit is fight coordinator for "Finale" and "Mayhem Sequence" on BAAHUBALI 2: THE CONCLUSION.
Not a surprise coming from Fincher, but you gotta use words like "exquisite" to describe the visual craftsmanship. Too bad this was a Netflix joint so I didn't get to see it in a theater. Despite the notorious compression issues associated with streaming, I think Fincher and cinematographer Erik Messerschmidt (whose only previous feature films are MANK and DEVOTION) came up with some of the best low light photography I've seen in the digital age. The fight scene takes place in a house with the lights off, mostly lit by outdoor floodlights bleeding into the windows, but it's very visible. 
This is not a reinvention of the genre – it's mostly a meticulously crafted version of it. But one thing that makes it stand out from others of its type is that it does not make its assassin look or sound cool. He's witty sometimes, but he's a weirdo. A dork. He rides a scooter. At least once he wears flip flops. I thought about how Brad Pitt (who Fincher wanted for this years ago) dressed like a tourist in BULLET TRAIN and still comes across as cool. Not the case with The Killer. (Okay, some of his Hawaiian shirts do look good on him.) We assume he's in it for the money, but he's not buying silk suits and fine wine. He drinks Starbucks, eats McDonalds, throws away the muffin part of the McMuffin because he only cares about the protein.
Once again we have a Fincher movie some have accused of being too cold and clinical. I think that's kinda like saying Beavis and Butthead is a dumb show because it's about characters who are dumb. The Killer is detached, but I have emotional reactions to his poor choices, to the fates of other characters who don't seem to deserve what they get (or at least not any more than he does), and to his teetering on the edge of the possibility to grow as a person. Maybe the movie respects you enough to assume you can bring your own emotions to it without bossing you around, and you're the one who's too cold.
I've also heard tell that some hate the narration. I think it could still be a good procedural without it, but it would have an entirely different meaning. It's also a character piece about this guy who justifies his evil with aphorisms like "it's a dog eat dog world" and a quote he doesn't remember comes from Aleister Crowley, and the extent to which he deludes himself about being "one of the few, not of the many," or about his work, the idea that it's just business, he can just be a professional and "not give a fuck." The truth is that most of the people he kills are doing their jobs and following the rules more than he is right now, pursuing his own agenda. Sure – hurting Magdala, the main thing he's avenging, sounds like it might've been a violation of standard protocol. But what good does it do her that "for what it's worth" The Expert (Tilda Swinton, OKJA) says she "objected to" what her colleague did "and told him so"? It's still part of the business. Magdala not giving up any information was her trying to follow the rules of the job as well. The issue here is not a lack of professionalism, it's the profession itself. Obvious to us, but not to them.
I read a few interviews with Fincher and Walker after seeing this, and they're pretty insistent about just wanting to do a genre exercise, not make a grand statement. More of a PANIC ROOM than a FIGHT CLUB. Still, there are undeniable themes and motifs here, drawing parallels between this criminal organization and any real corporation preaching convenience and customer satisfaction while ignoring fairness to workers and other ethical concerns. There's a reason only a handful of THE KILLER's characters have names, and most of the others are just descriptions of service jobs: Airline Ticket Agent, FedEx Clerk, Gym Janitor, Air France Lounge Greeter, Day Doorman, Night Doorman, etc. And it's not an accident that The Killer rents a WeWork office for a stakeout (and used to use AirBnB), that he orders equipment cheap from Amazon, picks it up at an Amazon locker, that he gets past two layers of security not only wearing a uniform and pushing a garbage can, but by sending a FedEx package and following the guy as he delivers it. He notes that even highly protected billionaires let their guard down to order DoorDash.
You gotta wonder if there's something there about Fincher, meticulous craftsman of Nike commercials and expensive studio movies, who famously does not know how to "not give a fuck." He's dependent on giant corporations to practice his art at the level he insists on, and sometimes he must wonder if he's full of shit for making FIGHT CLUB. Is he a guy who thinks "I'm not one of them, I listen to The Smiths!" while trying to kill a human being on behalf of a billionaire hedge fund dude (Arliss Howard, PLAIN CLOTHES!) who himself must think "I'm not one of them, I wear a Sub Pop t-shirt"? Note that The Killer (SPOILER SPOILER SPOILER) lets that guy go at the end (Fincher told GQ it was because he didn't see him as a threat) but the best he could do for the secretary Dolores (Kerry O'Malley, Davey & Goliath's Snowboard Christmas) was kill her in a way where her kids will still be able to claim the insurance money. That was the sign of collegial respect between mid-level workers.
I mean, there's no way Fincher and Walker didn't know they were Saying Something About Capitalism 'n Shit here, but also I'm sure it's true that it wasn't the main thing that interested them in the project. Honestly it's smart to just let people appreciate that aspect if they want to rather than acting like they're gonna change the world with it.
I think the parable I'd like to take out of THE KILLER at this time is one about work-life balance. The Killer is a guy who works for some company, and doesn't really live a life. He brags about Not. Giving. A. Fuck, about serving no god or flag, and yet work is just about his whole life. He doesn't seem to see Magdala all the time, and she feels obligated to give everything for his job too. Aside from the more obvious and important lesson of "don't do evil things for an evil company," he could learn something from his colleague The Expert. She wants to enjoy life while she can, up to and including one last flight of whiskies at her favorite restaurant. I think people could benefit from ditching the American tradition of your shitty job being your whole life and value. If you can't find one where you do give a fuck, for fuck's sake get as short of hours as your bills will allow and spend as much time with Magdala as you can.