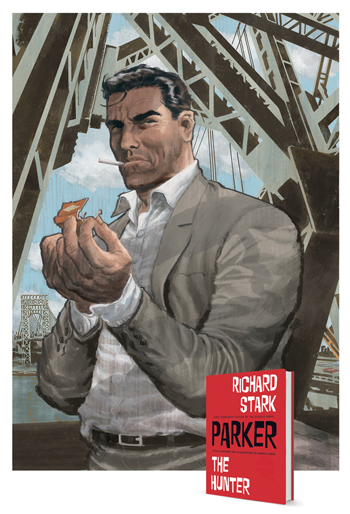 I would like to send out some positive energy to the great artist Darwyn Cooke, who is apparently very ill. Sadly his wife announced today that he is "now receiving palliative care following a bout with aggressive cancer."
You comic book fans must know Cooke for a million things, but of course I know him as the man who since 2009 has been doing comics adaptations of my favorite book series, the Parker novels by Richard Stark. Although of course the change in medium requires a simplification merely by removing most of the words, Cooke (who received the blessings and input of Donald Westlake when he started the project) has been astonishingly faithful to the material. I love his clean, cartoony style, his bold use of shadows, his retro two-tone coloring and his appreciation for the graphic and architectural styles of the 1960s world he sets the books in. The man knows how to draw a good diner sign, and seems to have a catalog of the different types of faces you don't see anymore.
I also think I must have similar tastes in Parker books to Cooke, because I love the choices he's made of which ones to adapt. He started of course with The Hunter (the first one, and basis of POINT BLANK and PAYBACK). Then he skipped to The Outfit, possibly my favorite of the series, but he also included a prologue that's a little mini-version of book two, The Man With the Getaway Face, so that he could include the fun fact that Parker got plastic surgery to hide his identity after The Hunter. And that way Cooke could completely change his character design after his first book.
Then Cooke went for my other possible favorite entry in the series, The Score, the one where they take down an entire mining town. I implore you to read the original novel, an epic heist story, but it's also really cool to see Cooke's visual translation, which is heavy on blueprints and diagrams.
Finally he did Slayground, which is one of my least favorite books in the series, but also the most ripe for this type of reinterpretation. The book has a great premise – Parker hiding in a closed amusement park being hunted while trying to recover a stash of money – but plays more like a recipe for what would be a cool action movie than a successful story in the Parker tradition. Therefore I really enjoyed experiencing it in a visual medium. (The movie starring Peter Coyote doesn't count, because it barely has anything to do with the main part of the book.)
Finding artwork for this post led me to the fact that there are some hardcover editions of the original novels illustrated with Cooke paintings (that's what the ad at the upper right of this post is for). I must've heard about that but forgot all about it. That erases any minor misgivings I had about people maybe using the comics as replacements for the great novels. I should pick those up.
Anyway, I'm very sorry to hear about Cooke and my thoughts are with him and his family. Thanks for all the beautiful pictures bud, you really know your lines and shapes.