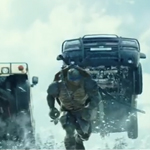 TEENAGE MUTANT NINJA TURTLES (2014) is director Jonathan Liebesman (BATTLE LOS ANGELES, WRATH OF THE TITANS, TEXAS CHAINSAW BEGINNINGS: THE FINDING OF THE SAW) and the Platinum Dunes company's modernized retelling of the classic tale of Raphael, Michelangelo, Leonardo and Donatello, the humanoid turtle monsters who are discovered by a human reporter living in a giant underground sewer home and are trained in ninjitsu by a talking rat so they enjoy pizza but at night they sneak out to fight crime and there's this Japanese guy with armour who wants to kill them because–
You know what, on second thought this is not a story, this is a half-assed explanation for a joke title some guys came up with in the '80s that, through some bizarre series of mishaps and coincidences, accidentally became a multi-million dollar pop culture/merchandising juggernaut. Nobody knows why or ever will. It was even on Unsolved Mysteries.
Seriously, I saw part of a documentary on these turtles, and it explained how the hugely popular cartoon show was built around the toys they wanted to sell. The people who made the cartoon seemed totally surprised and confused that it was something that people liked so much. It's funny to see them try to explain in retrospect that historic moment when a voice actor said "Cowabunga!" and they decided to use it. It seems like they figure it must've been brilliant, but I don't think they get it any more than I do.
This new version is pretty much a simplified rehash of the previous movie version, from what I can remember. You still got TV reporter April O'Neil (like the porn star), now played by Megan Fox, and she discovers that "a vigilante" stopped an attempted chemical robbery by "The Foot Clan," who are masked paramilitary guys now instead of ninjas, except for Shredder and a couple other people at the top. Here's the thing though: she keeps trying to take pictures and video on her phone. That's why they had to do a remake. THIS IS HOW WE LIVE TODAY. (read the rest of this shit…)