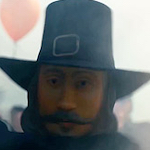 Throughout the 16 (!) years since GRINDHOUSE, there's been talk about Eli Roth turning his fake trailer THANKSGIVING into a real movie. Now it's finally here and the unexpected thing about it that might not have happened if he'd made it earlier (like when he was talking about it as a double feature with Edgar Wright's DON'T) is that he didn't repeat the grimy faux-'80s style of the trailer. Instead he took the premise, a couple of kills and the climax and adapted them into a straight-faced, contemporary horror movie, almost like it's the modern remake of the movie in the original trailer. And I'm thankful for that it's sweeter than pumpkin pie How do you like them sweet potatoes? I think it was a good choice.
It's a holiday slasher movie in the year 2023, obviously it knows you know it's silly, but it's acting in good faith. It's less of a comedy than JACK FROST or MACHETE. There's kind of a post-SCREAM feel to it but it's '80s in its construction. It asks okay, if this is the slasher movie for Thanksgiving then what are the things we gotta do? Pilgrims, turkeys, corn on the cob, potato mashers? As in the trailer, it's set in Plymouth Massachusetts, there's a killer in a pilgrim hat, there's a parade where a guy in a turkey costume gets beheaded, people are tied up at a table and served a human cooked like a turkey. But now there's also a story and characters and what not.
Following a hallowed horror tradition it opens on the night of the holiday, when something goes horribly wrong, then it skips to a year later. The prelude involves a feast at the home of Thomas Wright (Rick Hoffman, HOSTEL), locally famous owner of the Right Mart department store, whose new wife Kathleen (Karen Cliche, SAW VI, TURKEY DROP) convinced him to start the Black Friday sale on Thanksgiving this year, even though it takes their employees away from their families. In fact their friend Mitch (Ty Olsson, "Jock," VALENTINE, "Trucker," DECK THE HALLS) has to leave before dinner with them for last minute shift-coverage.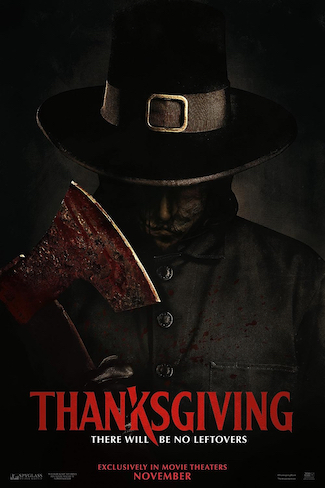 The Right Mart parking lot is filled with rowdy shoppers waiting for the doors to open, swearing at each other in their thick accents. (Like many people from Massachusetts, Roth is very proud of his people allegedly being a bunch of foul-mouthed assholes.) Thomas' daughter Jessica (Nell Verlaque, Big Shot) stops by with her friends, who convince her to let them in through the employee entrance, which provokes the crowd to push over the metal barrier and become literal doorbusters, trampling a security guard (Chris Sandiford, MOONFALL), who will be only the first casualty.
This cold open is a pretty good summary of what's fun about THANKSGIVING. First, it's a clever idea to lump the ridiculousness of Black Friday riots into the Thanksgiving slasher movie. I hadn't expected that. Second, Roth is so enthusiastic about old school slasher movie kills that even scenes that have nothing to do with the masked killer can cause spectacular mutilation. I didn't know Gina Gershon (BEST OF THE BEST 3: NO TURNING BACK) was gonna be in this movie, though I did know from Chucky that she's down to die horribly in a horror tale. Here she gets knocked over, her hair gets caught in the wheel of a shopping cart and part of her scalp is ripped off. Imaginative stuff!
And third, immediately after I was laughing about that gore gag, I was still saddened to see Mitch embrace and cry over his dead wife. She came to bring him some of the Thanksgiving dinner he missed – it's terrible. It's not all a joke. This part we're allowed to take seriously. Or at least I do.
One year after the tragedy, everyone's trying to get things back to normal in Plymouth, which to Thomas means just go ahead and do the Black Friday sale again with a little more security. Jessica's boyfriend at the time, Bobby (Jalen Thomas Brooks, Walker), got his pitching arm fucked up in the riot, left town and ghosted her, so now she's with Ryan (Milo Manheim, PROM PACT). When Bobby shows up in town again at the same time as a killer wearing a pilgrim hat and plastic mask starts killing people involved in the riot, the movie acts like we're gonna believe it could be Bobby, even though he's like a foot and a half shorter than the killer. But maybe it's an attempted rope-a-dope to make us think it's Ryan, because he's slim enough and a prick.
The killer steals the name and ax of John Carver, the actual historical Mayflower pilgrim and Plymouth Colony governor who happens to have a perfect name for a Turkey Day slasher. He taunts his intended victims through social media and posts photos of a dinner table with name cards for each of them. As he kills them he adds their bodies or parts to the table. Jessica and her friends, including Gabby (Addison Rae, HE'S ALL THAT), Yulia (Jenna Warren, My Little Pony), Scuba (Gabriel Davenport, HOTEL FOR THE HOLIDAYS, MISTLETOE TIME MACHINE), and Evan (Tomaso Sanelli, DARK WEB: CICADA 3301) worry and join forces and get chased and murdered and what not. An older dirtbag named McCarty (Joe Delfin, POLAR), known for selling alcohol to minors, sells Scuba a gun. Current People's Sexiest Man Alive Patrick Dempsey (VALENTINE'S DAY) plays Sheriff Eric Newlon, who investigates. There are some red herrings and some misdirects, the killer and motive are revealed, the actor gets to do some enjoyable hamming it up. It stays very true to the sort of thing you imagine when you think "Thanksgiving slasher movie," in a good way.
When I see Christmas horror movies I like them to be loaded with specific seasonal imagery and gimmicks. That's why BLACK CHRISTMAS might be the best slasher movie set at Christmas, but BLACK X-MAS is a better Christmas slasher. (Sorry. That's final.) With the exception of a puzzling part where (mild spoiler?) the killer wears an evil clown mask, Roth does a good job of staying on theme. You've got families getting together (and not getting along), the department store sales, people having to work, a parade, lots of pilgrim imagery, lots of turkey imagery, evil place settings, humans basted and baked, the killer telling everyone to say what they're most thankful for, etc.
Like the Black Friday sale, the parade results in an accidental, extremely over-the-top gore incident that's a highlight. An MPAA-approved movie can't really compete with unrated TERRIFIER 2 on the gore front, but I wonder if they were trying. Lots of intestines, lots of heavy bleeding, lots of imaginatively disgusting things that make you wince in sympathy but also laugh because it's cranked up so far past reasonable. My favorite gore joke is when (favorite gore joke spoiler) half a body is found hanging from the Right Mart next to a sign for the 50% off sale. Hats off to that joke and to prosthetics designer Adrien Morot (MARTYRS, RHYMES FOR YOUNG GHOULS, SICARIO, THE LIGHTHOUSE, THE WHALE, M3GAN).
But it's not all laffs. When Jessica's hated stepmother Kathleen is abducted and tries to escape it's an interesting scene because she's been set up like a jerk character whose death would be played for comedy, but then she puts up a good fight, it's an intense scene, you can't help but root for her. It's a good showcase for the genre's unlikely power of creating empathy. I don't think Roth is a master controller of tone or anything, but at his best he's good at mixing these different flavors in an interesting way.
The script is credited to Jeff Rendell, who also wrote and played the pilgrim in the original trailer. He was Roth's childhood best friend, and they had often joked about a Thanksgiving slasher while growing up, so they put those ideas into the trailer. According to Entertainment Weekly they thought for a while that they didn't need to do a movie because they put it all in the trailer, but the Black Friday riot idea changed their minds. This also fits into Roth's previous interest in making fun of what young people do with social media, and there's a pretty good joke about how Evan takes video of the riot and exploits it for online clout.
Roth has been directing for 21 years now, though surprisingly this is only his eighth narrative feature as a director (he also did a documentary about sharks). To me he tends to seem a little full of shit in his interviews, or at least like a little too polished of a salesman to be relatable, and he has kind of a dumbass provacateur side to him he may never grow out of, plus I hear he's currently supporting a horrible war that's going on, which I will never understand. But I'd still have to say I'm a fan of him as a director because I've gotten something out of all of his movies. Here's the full recap: I really liked CABIN FEVER at the time but I don't think I've ever rewatched it. I kind of liked HOSTEL. I think HOSTEL: PART II is actually really good, his best, especially on a rewatch. I think I enjoyed THE GREEN INFERNO at the time. I liked KNOCK KNOCK quite a bit. DEATH WISH is his most middle of the road, but has its moments. THE HOUSE WITH A CLOCK IN ITS WALLS was cute. And I appreciate him producing and co-writing THE MAN WITH THE IRON FISTS even if he's the idiot who told RZA that fight scenes need to be short so people don't get bored. He really shouldn't be walking around a free man after a heinous crime like that, but he made the movie possible, so I'm sure that's why the judge was so lenient.
Anyway I think THANKSGIVING is one of his best. If there's a sequel I'm not sure what the story would be but I think he left some Thanksgiving theming untouched just in case. We're definitely gonna have to see somebody stuffed. And I think a cranberry sauce can should punch a hole through somebody. Maybe some kind of turkey pardoning reference. Battering somebody with a bag of sweet potatoes. Or cooking them in brown sugar and marshmallows. I'm sure there's some stuff left to work with.