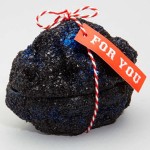 You probaly know director Bob Clark as the guy who did PORKY'S and A CHRISTMAS STORY. More recently he did the two BABY GENIUSES movies and something called KARATE DOG which, judging by the cover, is not a metaphorical title. But back in the day he was a pretty good director of horror movies. One of the ones he did was DEATHDREAM, a really eerie movie about a guy coming back undead from Vietnam and everybody is sort of in denial that he's different. I liked that one a hell of alot better than HOMECOMING, Joe Dante's sort of similar anti-war zombie thing from the Masters of Horror show.
But right after DEATHDREAM Clark did his most famous horror movie, BLACK CHRISTMAS, and it's a pretty good one.
There are no killer Santas, not even maniac elves or savage, carnivorous reindeer. In fact there's not too much of a Christmas ambience in the thing. But it does take place over Christmas break. This sorority house has been getting weird phone calls from some anonymous pervert. In the opening, one of the girls is attacked and suffocated in her room and taken up to the attic. The rest of the characters spend the whole movie trying to find her.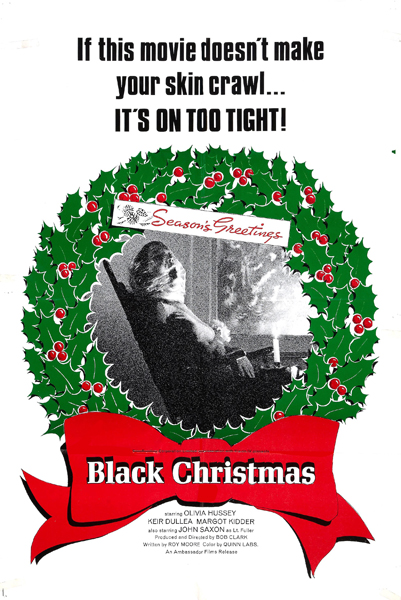 The next day, the girl's dad shows up on campus to pick her up. After waiting forever he starts asking around for help and ends up meeting people who know his daughter, and together they look for her. Luckily her boyfriend has an in with the John Saxon at the police department so they are miraculously able to put together a search party when she hasn't even been gone a day. (It's refreshing to see a movie with a missing person where they don't mention that "she has to be gone for 24 hours before she can be considered missing" thing.)
There's a bunch of different characters. Two of them are alcoholics. Margot Kidder plays the trashiest girl who's always drunk. I don't really get the popularity of Margot Kidder, she is just not that appealing. But she seems like a real person. You also have Olivia Hussey, who is pregnant and wants to get an abortion. I'm not sure how they would portray that these days but in this movie they are sympathetic towards her. And you are definitely supposed to be suspicious of her boyfriend, who wants to keep the baby. He's played by Keir Dullea, and it's nice to see that he can be in college five years after being an astronaut in 2001. He plays kind of a cold, creepy classical pianist. There's a weird scene where he does an important recital drenched in sweat and playing some crazy atonal thing that doesn't go over well. Then later he violently kills the piano. Hmmm.
The phone calls that they get every once in a while are really creepy. In one case they're aggressive and explicit, even using the c-word which is still pretty taboo all these years later (bet they don't use that in the remake). But mostly they're just bizarre and you can't really figure out what they're talking about. The guy keeps referring to himself as "Billy" and changing voices. There is a female voice too. It could be more than one killer or just a weirdo who's good with voices or who knows what exactly. I hope it's not that guy from POLICE ACADEMY who does the sound effects. Or any of those cartoon voice guys, you don't want any of those freaks sneaking around your sorority house attic. Oh shit, or the one uncle from "Full House" who always had to do the Popeye voice and the Bullwinkle voice. That would be fucked up to have that dude stalking you. But at least you'd be able to spot him from a distance because of his Hawaiian shirt.
And seriously, it might be him. Here's a big fuckin SPOILER. The twist at the end is that when you apparently find out who the killer is, it turns out not to be true. And then the movie ends without revealing who the killer really is, just that he's still up there in the attic making phone calls. This is kind of a cool twist, but at the same time a little frustrating. Because you're really programmed to think all this "it's me, Billy" shit is gonna tie together and make perfect sense by the end. But you get no explanation at all. Who the fuck IS Billy? I don't know.
I've always heard from certain horror snobs that HALLOWEEN is an inferior rip-off of BLACK CHRISTMAS. Now that I've seen it I know that idea is pretty ridiculous. Both take place on holidays, but the stories are completely different. The killers are nothing alike, the types of scares are nothing alike and the storylines are nothing alike (BLACK CHRISTMAS is a whodunit complete with black herrings and the whole works). The one major similarity is that both open with an extended voyeuristic shot from the POV of the killer. The scene is way creepier in HALLOWEEN but I have to admit that the one in BLACK CHRISTMAS is shot even better. I guess the cameraman attached a camera to his shoulder so he could turn, look up a ladder and that kind of thing. We go with him as he spies on the sorority house, climbs up the side and crawls into the attic. It's very impressive.
I liked this, it made me want to watch other Bob Clark movies in case I missed some good ones. I'll probaly skip SUPER BABIES, but KARATE DOG isn't out of the question. I'd probaly start with CHILDREN SHOULDN'T PLAY WITH DEAD THINGS, though. Or at least PORKY'S.
I should note, there is a remake of BLACK CHRISTMAS already being made, I believe by the FINAL DESTINATION dudes. I liked their remake of WILLARD so I don't want to write it off, but it seems like a modern version would abandon everything that makes it BLACK CHRISTMAS. I mean, a huge part of the plot has to do with the police desperately trying to trace the phone call, and the killer having a phone hooked up in the attic. That's not gonna cut it in the days of cell phones and caller ID. More importantly, I doubt they would keep the unresolved ending. You know they're gonna come up with a backstory and a solution to the mystery, and since it wasn't planned that way the first time it's gonna feel phony. I think. But hopefully not.
<