I know Valentine's Day is one of those holidays that's sort of made up to sell greeting cards, like Ziggy Day in May or Rehearsal Christmas in September. It's based on an actual Christian martyr but the traditions got nothing to do that, it's all a scam by Hallmark, the chocolatier lobby and Big Flower. Still, it's enough of a real holiday to have a handful of slasher movies based on it, and therefore I am willing to acknowledge it.
The original 1981 Canadian production MY BLOODY VALENTINE is the most famous Valentine's Day horror movie, but I actually never saw it until this year. I saw the 3D remake which was fun in 3D, but this one is different. It only has two Ds.
The story takes place in the small mining town of Valentine Bluffs. You'd think just because of their name they might make a little bigger deal out of Valentine's Day than in other non-Valentine bluffs, but for the last 20 years that has not been the case. See, there used to be an annual Valentine's Day dance at the union hall, but in '61 Harry Warden cut out a couple people's hearts and left them in candy boxes with notes saying not to ever hold the dance again. So they stopped doing it.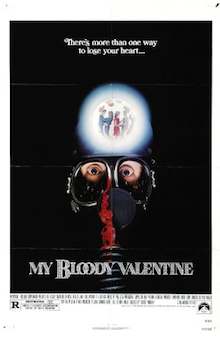 Not to defend Harry, who I personally feel was out of line, but there are some extenuating circumstances. The year before he was in a mine explosion, got trapped underground for like a week with 4 dead bodies (at least one of which he felt he had to nibble on) and came out of the experience perhaps not believing in that saying about "that which does not kill us." He was in a mental hospital for a while and, in my opinion, was not cured. None of this would've happened if the mine supervisors had done their job and checked the methane levels, but they snuck off early to go to the Valentine's Day dance. So Harry is a little sensitive about that stuff.
Well now it's '81 and the town is like fuck it, Harry's been locked up forever let's put hearts on every damn thing in town and get beer and dance and stuff. It's our right. And it seems like a good plan until more hearts start showing up with more threatening notes about the dance. God damn it, Harry. We just can't have nice stuff in Valentine Bluffs.
The killer is dressed as a miner, so he has a pick ax and a gas mask. It's a pretty great slasher getup because it's spooky and identity-hiding but also makes sense with the story. He would want to wear that while getting revenge for what happened to him in the mine. Also he's got a light on his head so they get some mileage out of that. Whenever a flashlight appears you think it could be him at first, so there's lots of false alarms there. And when they do the traditional killer-POV shots it allows everything he's looking at to be lit.
This is a couple years after HALLOWEEN was a huge hit, and here we have another story where somebody that snapped and did murders on a holiday years ago now seems to have escaped the hospital and the sheriff is calling trying to figure out what happened. It also seems influenced by FRIDAY THE 13TH with its music (by Paul Zaza, PROM NIGHT) and its mystery. One thing that really makes it stand out from either of those movies though is that the sheriff smokes a pipe. That is a major highlight of this one. You just don't see that enough in non-period pieces.
Apparently the movie had alot of problems with the MPAA, and a couple minutes was finally added back in in the latest release. One part that definitely had to be added back in (you can tell because the footage suddenly gets grainy) is a pretty great move where the pick axe goes through a guy's head and pops out the other end with an eyeball stuck to the tip like a marshmallow on a stick. There's also a really gruesome body that the sheriff finds in one of the dryers at the laundromat. That scene is kinda goofy because the sheriff zeroes in on little details like some of the heart decorations being upside down, but fails to notice a bloody dryer 2 feet away from him until it pops open on its own.
MY BLOODY VALENTINE is a pretty well-made and enjoyable slasher movie. And it has one pretty unique thing going for it, that it's  set in this working class town inhabited by people who for generations have broken their backs and turned their lungs into dirty rags to make a living. That's unique because so many slasher movies are about middle class suburbanites (HALLOWEEN, A NIGHTMARE ON ELM STREET, SCREAM) or visitors from out of town (FRIDAY THE 13TH, TEXAS CHAIN SAW MASSACRE, I SPIT ON YOUR GRAVE, THE BURNING, SLEEPAWAY CAMP, PSYCHO). Unfortunately I don't like it as much as most of the ones I just listed, because I don't think it does as good of a job of attaching the audience to the characters. Sarah (Lori Hallier) sort of seems like the lead, but she's more passive than a Final Girl, and is mainly there to be fought over by her asshole sort-of-boyfriend Axel (Neil Affleck, no relation) and her back-in-town-after-mysteriously-leaving-for-a-while ex T.J. (Paul Kelman).
There are a ton of other people around, but none of them are really memorable, except there's one dude that looks like John Candy with a goofy mustache. When all the young people decide to move their cancelled party to the mine his way of show that it's "party time" is to start juggling. There's also one of those Wacky Guy characters who's always jumping in front of people making goofy faces and stuff like that. They have the Old Guy Who Gives a Warning (the bartender) who fills us in on the Harry Warden backstory, and everybody listens and then the Wacky Guy makes a fart noise.
Like in the lesser slasher movies there are characters that are first introduced when they're about to have sex in a public place and then get killed. Like in HALLOWEEN the dude has to leave the girl alone so he can go get a beer… even though they're in a mine. You'd think they'd have to bring it with them.
It was filmed in a real mine and that seems like a cool setting, but to me the movie starts to get a little more dull once they get down in there. I think maybe it's because when you're in a mine there's only 2 possible directions the killer could come at you from. It gets kind of repetitive. But there are a couple good gimmicks, including (of course) a scuffle on rolling mine carts.
The final reveal comments on the endless cycle of revenge, or something.
Apparently while promoting DEATH PROOF Quentin Tarantino called this his current favorite slasher movie. I can't abide by that in a world that includes HALLOWEEN, PSYCHO, THE TEXAS CHAIN SAW MASSACRE and etc. I can't say I'm in love with this movie. I wouldn't buy it flowers or nothin. Maybe ask it to dance if it was already there, but not take it there as my date, you know? I can't lie, maybe I'd put my hand on its butt. I guess it would depend on how hard up I was at the time.
I don't necessarily need it to be mine. You can have it if you want. But it's pretty good.