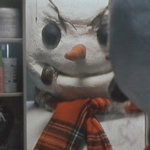 I don't know why it took me more than 20 years, but I've finally seen JACK FROST, "not the Michael Keaton one, the other one," as writer/director Michael Cooney says in his introduction to the (surprisingly) lovingly remastered Blu-Ray from Vinegar Syndrome. "The Michael Keaton one" (1998) is about a guy who tries to be a better father after dying and coming back as a snow man. "The other one" (1997) is the DTV horror movie about a serial killer who tries to continue serial killing after becoming a snowman.
He's a crazy asshole on death row who actually does have the name Jack Frost (Scott MacDonald, LAST ACTION HERO). He tries to escape while being transported through Snowmonton, the small town where a small town sheriff (Christopher Allport, SAVAGE WEEKEND, TO LIVE AND DIE IN L.A., INVADERS FROM MARS) ended his cross country murder spree. But a truck full of some chemical from a super secret experiment – I don't know, some Marvel Comics shit – explodes onto Jack and melts him into shriveled meat and his soul is transformed into liquid form or something so he is able to reconstitute himself into snow. And then, while coming after Sheriff Tiler for revenge, he ends up with coal eyes, a carrot nose, a scarf, stick eyebrows and sometimes a pipe. No magic hat required.
By the way, this is one that does take place at Christmas time. It's more important for the plot that it be winter than it specifically be Christmas, but the opening credits are handwritten onto Christmas tree ornaments, so that's a nice touch. And alot of the score by Chris Anderson and Carl Schurtz (two guys who score alot of Playboy videos) is made up of atonal keyboard renditions of traditional Christmas tunes.
Like most slasher movies you have your young people doing their young people business. Tommy (Darren Campbell, writer of Seagal's THE FOREIGNER if IMDb is correct) is convinced by his girlfriend Jill (pre-AMERICAN PIE Shannon Elizabeth) to break into the sheriff's house to steal wine and have sex. Only by reading Wikipedia did I understand that this very, very, very poor choice of sex location was supposed to be revenge for… I guess her brother was the bully decapitated while sledding and she blamed the sheriff? I don't know.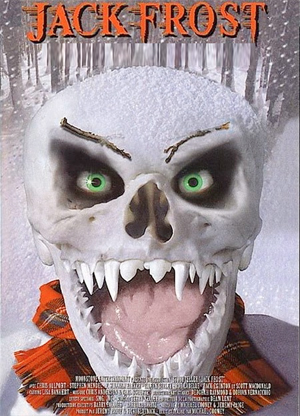 This sequence has a good absurd scare when Tommy goes to the freezer for ice and it's filled with Jack Frost. It also has the one scene that is too sadistic for me, when Jack attacks Jill in the bath tub and… I mean it's not just the indication that he's violating her with his carrot, it's also the way they show him ramming her against the wall. And I sort of respect Elizabeth for going all out on such a ridiculous death scene, assuming she thought it was funny, but for me it pushes the movie over the line from fun-tacky to not-funny-poor-taste.
Otherwise, though, it's a fun time, and the emphasis is more on the Loomises trying to save the day than one-dimensional gimmicky murder victim type characters. Sheriff Tiler teams with his gruff secretary Marla (Marsha Clark, cartoon voice actress, judge on 23 episodes of Days of Our Lives), a trying-a-little-too-hard-to-have-gravitas FBI agent (Stephen Mendel, voice of Splinter on a live action Ninja Turtles TV show), and a sinister guy from the company that made the chemical (Rob LaBelle, WES CRAVEN'S NEW NIGHTMARE, WATCHMEN) to wage a battle that includes setting traps, starting fires, and plugging in lots of blow dryers.
There are some of those little quirks that make you scratch your head, and therefore give the story personality. For example there's this odd thing where the sheriff's son makes him some gross oatmeal concoction in a bag to take to work and he almost throws it away but keeps it out of love and then it turns out to be the perfect weapon against Jack Frost… because it has antifreeze in it. The kid thought it would keep him warm. I know it ends up saving him but I still feel like he takes this too well.
Also, he and the kid both get completely submerged in a pool of antifreeze. Is that healthy?
Yes, there's some of the gore and gimmicky deaths that are required in this type of movie, and Jack's snowman abilities are a major part of the fun. He can shoot deadly icicles out of his hands and turn into water to go under doors or through pipes and all kinds of T-1000 shit. And he grows sharp teeth made out of icicles. It also should be said that it's fun to see a a snowman doing regular human villain things like stealing cars or sneaking up behind people in their houses.
MacDonald does sort of a poor man's Chucky approach, a smartass, boorish asshole with a cartoonish working class accent. In an interview on the Blu-Ray he explains his thinking that going over-the-top is the only way to make something like this work, which I actually disagree with, but admittedly the bad puns and stuff are part of the "this is so dumb" LEPRECHAUN sort of appeal.
That's what I always assumed this was inspired by – those gimmicky, lowbrow DTV franchises that came after the success of CHILD'S PLAY. But on the commentary track Cooney says it was seeing SHOCKER and THE ABYSS that gave him the idea. SHOCKER for the serial killer transformed into electricity, and THE ABYSS for the groundbreaking digital effects. He says an earlier script was almost made on a $30 million budget with Renny Harlin directing. A couple movies from around that time with comparable budgets would be TIMECOP or ROB ROY. Harlin ended up doing CUTTHROAT ISLAND instead, so Cooney and co-writer Jeremy Paige reworked their script into a low budget DTV affair distributed by A-Pix (ICE CREAM MAN, UNCLE SAM, THE DEMOLITIONIST, SAVATE, DA HIP HOP WITCH). Sometimes it had a lenticular cover though, so it's still pretty classy. We're not dealing with amateurs here. Lenticular.
It's not like I would've been disappointed if JACK FROST was really ugly and shitty, but I was pleasantly surprised. It has much more of an "underdogs working together to make a fun low budget movie" sort of vibe than the Full Moon "we have the cover designed already, hurry up and shit something out for these dumb assholes" crassness that I always pictured. Some evidence of this: the yearbook style in-jokey quotes dispersed throughout the end credits as if it's more for the cast and crew to watch together than a real audience. They were clearly having fun fighting this silly snowman puppet and trying to make it look like there was more than a little snow on the ground. It would be hard to mistake for a serious movie, but they play it straight enough to be really amusing when, for example, an ice-pick-wielding victim tells the snowman "Stay back man, all right?" I always enjoy when somebody calls an outlandish monster something casual like "man" or "dude."
I don't want it to sound like I'm making light of it, but I feel like I need to mention that after battling the evil snowman in two JACK FROST movies, Allport was killed in an avalanche in 2008. He'd had a prolific career though, especially in TV, where he did several episodes of a J.J. Abrams one called "The Felicity," and he was somebody's father on Mad Men so they killed his character off in a plane crash.
Cooney is an English screenwriter who had previously written TRACKS OF A KILLER starring Kelly LeBrock and James Brolin and MURDER IN MIND starring Mary-Louise Parker and Jimmy Smits. He later wrote IDENTITY, the James Mangold movie with John Cusack, and 6 SOULS starring Julianne Moore. So he's had a good run writing thrillers, but as a a feature director he was strictly a snowman-man. He did this one and its sequel JACK FROST 2: REVENGE OF THE MUTANT KILLER SNOWMAN (2000), which I'm sure I'll be reviewing next December. He also has tried to get a third going.
This entry was posted on Tuesday, December 18th, 2018 at 11:38 am and is filed under
Comedy/Laffs
,
Horror
,
Reviews
. You can follow any responses to this entry through the
RSS 2.0
feed. You can skip to the end and leave a response. Pinging is currently not allowed.