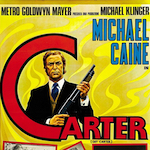 GET CARTER (1971) is one of those bedrock crime movies I saw a long time ago, and as I forgot its specific details its general vibe stayed strong in my memory. Other movies I loosely associate it with in my mind include POINT BLANK (which came out four years earlier) and THE LIMEY (which came out 28 years later and seems influenced by both). It's a strong example of an approach that really appeals to me: a straight forward crime/mystery/revenge story written and directed in a serious, realistic manner like we all got together and agreed that pulp is respectable material now, using atmosphere and quiet and stillness more than flash, but in a way that emphasizes rather than gets in the way of its fierce badassness.
Michael Caine (THE LAST WITCH HUNTER), at the time already well known from movies including THE IPCRESS FILE, ALFIE, and THE ITALIAN JOB, plays Jack Carter, a London gangster who returns home to Newcastle for his brother Frank's funeral. He doesn't buy that his brother died in a drunk driving accident, as they're telling him, so during his stay he basically does an investigation, questioning relatives, then old friends, then rivals and strangers, trying to get to the bottom of it. Just a little business to wrap up before running off to South America with his boss's super hot girlfriend (Britt Ekland, pre-WICKER MAN).
Most of this is not explained up front. He deals with normal funeral arrangement stuff – going to Frank's apartment, reconnecting with his niece Doreen (Petra Markham, SUNDAY BLOODY SUNDAY), inviting her to South America, giving her some cash. One thing I didn't expect – the body is right there in the house before the funeral. And it's not too spacious. At one point he casually shaves right above it.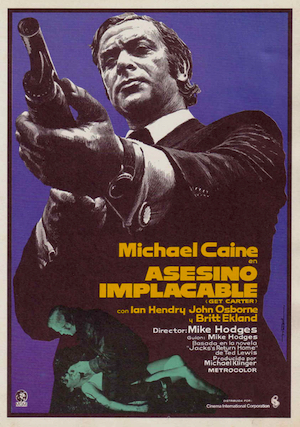 After the funeral he and a couple old associates and Doreen go to a pub for a drink in Frank's honor. This felt familiar to me, this awkward bonding and mourning between people brought together briefly. Doreen is visibly upset by their conversation, until she blows up, throws a drink in a guy's face and storms out, saying they didn't know him. It only occurs to me as I'm writing this that when I was young a cousin blew up at me at my grandma's funeral for not knowing her as well as he did. No drinks were thrown, though.
Jack stays at a little bed & breakfast with a suspicious landlord named Edna (Rosemarie Dunham, CROUPIER). There's a super-sleazy and unusual scene where he tries to quietly engage in phone sex while Edna is sitting in the room. She sits and plays casual with a look between abject terror and uncontrollable horniness, furiously rocking in her chair, her forehead sweaty by the end of the scene. So it seems believable later when she tries to kick him out for causing trouble and ends up sleeping with him instead.
He's one of these anti-heroes who everybody underestimates and he just plows through them. I love when he shows up at this guy Kinnear (John Osborne, author of Look Back in Anger)'s mansion, coming through the woods. When he comes across a guy at the edge of the woods – standing guard, taking a piss, who knows – he looks at the ground, spots a big fat stick, walks up and cracks the guy's skull. Consider that he knew where he was going, and didn't bring any weapons, confident he'd figure something out.
I thought I picked up on some sort of colonialist/racism theme at Osborne's place, because there's a closeup of a Native American design on the wallpaper, an African shield and spear on the wall and the only Black henchman Ray (?) has to come to him like a servant while a bunch of white dudes play cards with him. But nothing comes of that.
Jack can stare a motherfucker into crying, but he also has a way with words. Specifically, he tells old neighborhood friend Eric (Ian Hendry, CHILDREN OF THE DAMNED) that his eyes look like "piss holes in the snow." I love those little bits of personality on this clean skeleton of a story. So many scenes are about conveying a normal piece of information, but something unusual is happening. Like there's a scene in the pub while a singer (Denea Wilde) is performing, and as part of her act she sings to a guy in the crowd and kisses him on the cheek. Then suddenly the guy's furious wife or girlfriend runs and jumps on her like a madwoman, and Jack has a little chuckle about the whole spectacle.
Another good one is when he shows up uninvited at the home of crime boss Brumby (Bryan Mosley, CHARLIE BUBBLES). It's 2 am and Brumby is chasing people out of the house because he's just come home to discover his daughter throwing a huge party. Carter is able to walk in during the chaos, making the confrontation even more confusing to Mr. Brumby.
So there are undercurrents of dry humor, but the overall feel is bleak. He's uncovering things worse than he expects, and everybody involved is gonna get the bad ending they deserve. There are lots of quiet stretches, but the songs and occasional score are by British jazz pianist Roy Budd, who had already scored SOLDIER BLUE, but was still in his early twenties. The main theme is a straight up classic, done with his jazz trio on a low budget. They watched the movie and recorded live, no overdubs. Budd played harpsichord, electric piano and grand piano, sometimes at the same time!
The existence of GET CARTER seems to result from a confluence of events in England in the late '60s. When the murder trial of twin gangsters Ronnie and Reggie Kray (see THE KRAYS and LEGEND for cinematic depictions) was dominating headlines, producer Michael Klinger (REPULSION, CUL-DE-SAC) thought it would be a good time for a new type of realistic British gangster movie to compete with the American ones. He bought the rights to a 1970 book called Jack's Return Home by Ted Lewis (a former cleanup animator on YELLOW SUBMARINE), so, like POINT BLANK, this is a director trying to do something "elevated" with a popular pulp novel. Maybe that's why on the train at the beginning Jack is reading Farewell, My Lovely – source novel of one of the movies that kicked off the entire genre of film noir.
Don't get me wrong – that attitude can be death if done by filmmakers who feel they're too above the genre to retain what makes it entertaining. But this one knows to deliver the goods.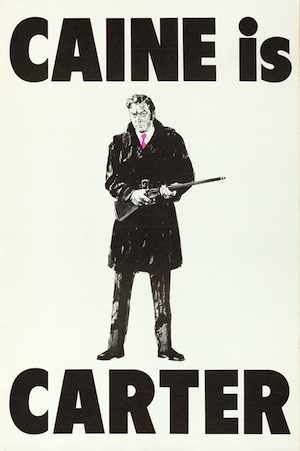 Writer/director Mike Hodges was a TV director hired on the strength of a 1969 ITV Playhouse episode called Suspect, and his experience on some news shows gave him an eye for documentary realism. I haven't read the novel, but from what I understand, Hodges took out a bunch of context – flashbacks to Jack and Frank growing up together, backstory between Jack and the other gangsters – which may be important in the book, but the movie works really well without it. You get the idea without specifics, and the lack of them makes the whole thing sharp. Like he chipped off the edges of the story and carved it into a spear.
In a rare turning of the tables, GET CARTER was actually more appreciated by critics in the U.S. than overseas. I don't know how that happened. But apparently it didn't get much promotion, maybe because MGM had higher hopes for HIT MAN, the George-Armitage-directed Blaxploitation version of the novel that came out in '72. That's interesting, because I noticed how much this had in common with all the '70s Black crime films I've been watching lately. Amoral tough guy coming back to the hood after the death of a family member, single-handedly taking on the underworld for revenge, irresistible to women along the way, and with a funky theme song – it's basically a Britsploitation movie. (I'll be reviewing HIT MAN next.)
Hodges had a weird and interesting career – this was his first theatrical feature, and he ended his career with the similarly-toned Clive Owen crime films CROUPIER (1998) and I'LL SLEEP WHEN I'M DEAD (2003). But in between he wrote DAMIEN: THE OMEN II, directed FLASH GORDON and also (why not?) MORONS FROM OUTER SPACE. A pretty cool obscure one I've seen by him is the 1986 TV movie I found on VHS called FLORIDA STRAITS starring Raul Julia, Fred Ward and Antonio Fargas. But I think he'll always be mainly known as the guy who did GET CARTER.
P.S. Did you know it was a trilogy? Sequels were published in 1974 and 1977.
P.P.S. Check this shit out: